[ad_1]
"The unsettled state of the industry is an unavoidable talking point these days, but my hope is that our festival, as it has done through its 61-year history, will serve as a reminder that the art of cinema is in robust health," said Dennis Lim, the New York Film Festival's director of programing and chair of the main slate selection committee, in a statement last month accompanying the announcement of the titles that will screen as part of the 61st edition of the esteemed festival. From Hollywood's double strike chaos, to worries about artificial intelligence, to the ongoing threat that streaming poses to the theatrical model—if there was ever a time when we needed that reminder, it's now.
While all the features in the main slate this year enjoyed their world premiere earlier in the year at Sundance, Berlinale, Cannes, Toronto, and beyond, many will have their North American premiere at the festival. Among them are the opening night film, May December, Todd Haynes's melodrama about two women whose personal and professional lines blur as they work on a film based a real-life May-December romance; the centerpiece selection, Priscilla, Sofia Coppola's film about the relationship between teenage Priscilla Presley and Elvis; Hong Sang-soo's latest, existentially fraught sketches of life in the realm of the mundane, In Our Day and In Water; and the closing night film, Ferrari, Michael Mann's biopic of automotive icon Enzo Ferrari.
All but six of the films in the festival's main slate have distribution, and among the most notable are Nuri Bilge Ceylan's About Dry Grasses, a gorgeously novelistic look at the life of a teacher in the wake of him being accused of inappropriate behavior toward a student; Justine Triet's Palme d'Or-winning Anatomy of a Fall, a riveting treatise on a relationship facing public scrutiny after a German writer is accused of her husband's murder; Catherine Breillat's Last Summer, an unwaveringly sober look at a middle-aged woman's tryst with her teenaged stepson; and Jonathan Glazer's hypnotically austere adaptation of the late Martin Amis's Zone of Interest, about a Nazi commandant who lives next to Auschwitz with his family.
Among those returning to the festival with new films are Alice Rohrwacher (La Chimera), Aki Kaurismäki (Fallen Leaves), Hamaguchi Ryûsuke (Evil Does Not Exist), Bertrand Bonello (The Beast), and Wim Wenders (Wim Wenders). But perhaps no return is more anticipated than that of Victor Erice, with his first feature in over three decades, Close Your Eyes, an elegy to cinema that revolves around the mysterious disappearance of a famous actor during a film shoot.
The festival's noteworthy sidebars include Spotlight, a showcase of the season's most anticipated and significant films (among them Bradley Cooper's Maestro, Harmony Korine's Aggro Dr1ft, Miyazaki Hayao's The Boy and the Heron, Richard Linklater's Hit Man, Frederick Wiseman's Menus-Plaisirs Les Troisgros, and Nathan Fielder and Benny Safdie's The Curse); Currents, which seeks to place an emphasis on "new and innovative forms and voices," as proven by such works as Eduardo Williams's The Human Surge 3, Joanna Arnow's The Feeling That the Time for Doing Something Has Passed, and Pham Tien An's Inside the Yellow Cocoon Shell, Pierre Creton's A Prince, and Rosine Mbakam's Mambar Pierrette; and Revivals, a generous selection of digitally remastered, restored, and preserved films (among them Manoel de Oliveira's Abraham's Valley, Tewfik Saleh's The Dupes, Nancy Savoca's Household Saints, Abel Gance's La Roue, and Jean Renoir's The Woman on the Beach). Ed Gonzalez
For full reviews of the films in this year's lineup, click on the links in the capsules below. (Titles will be added across the upcoming weeks.) For a complete schedule of films, screening times, and ticket information, visit Film at Lincoln Center.
About Dry Grasses (Nuri Bilge Ceylan)
About Dry Grasses primarily concerns a complaint about transgressive behavior by Samet (Deniz Celiloglu) toward one of his female students, 14-year-old Sevim (Ece Bagci), with whom he's nurtured a caring bond within an institution where any expression of affection would be fundamentally at odds with its pedagogy and ethos. But Nuri Bilge Ceylan's novelist's ability to interweave interlocking narrative layers is such that he keeps the film from ever seeming topical. The institutional drama is only one of Samet's preoccupations, along with the inability to find an audience for his insightful musings, an outlet for his artistic needs, a remedy for desolation and the suspicion of having botched his existence. Hence the accuracy and pointed irony of the film's English title. About Dry Grasses is just as much about the harshness of a landscape, which mirrors the spirit of its inhabitants, as it is about a barrage of much more elusive things, rendered tangible by an incredible aesthete's hands. Diego Semerene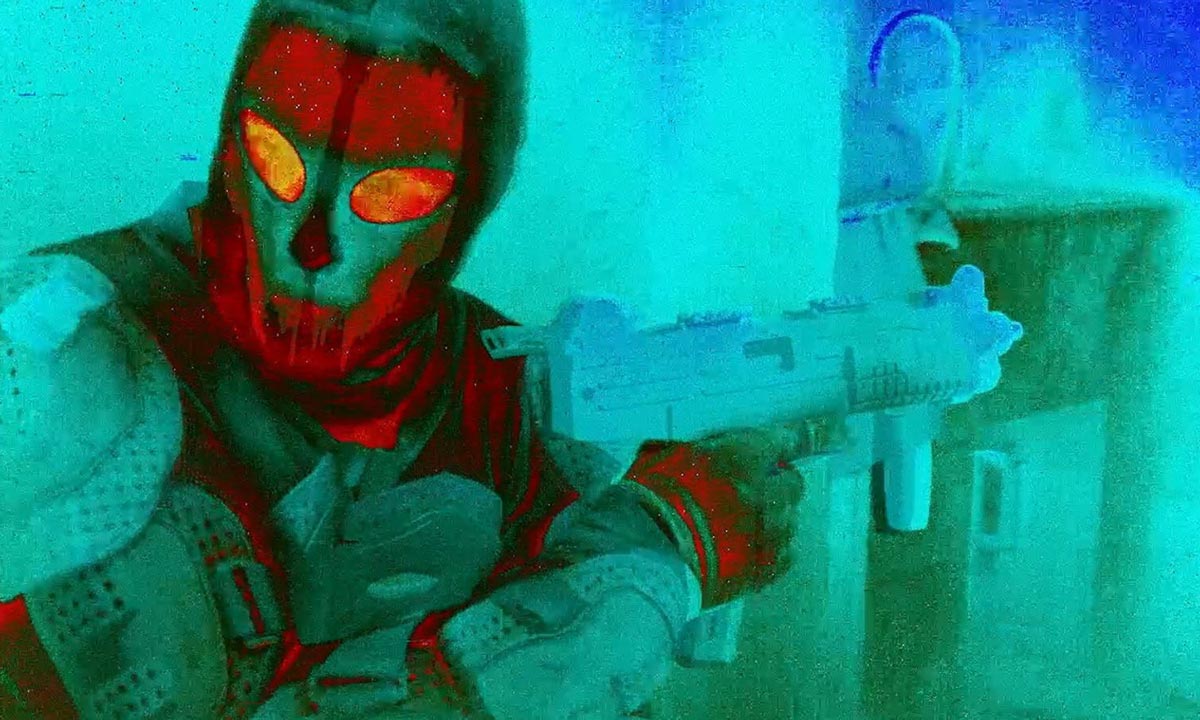 Aggro Dr1ft (Harmony Korine)
Harmony Korine's Aggro Dr1ft cedes control of its images to pure vibes. The film was shot entirely in thermal vision, resulting in a hallucinatory aesthetic of neon colors that simultaneously assaults and seduces the senses. Coupled with an aggressive electronic soundscape, the film is a Miami Vice-on-acid stupor that's less concerned with antiquated notions of coherent storytelling than in transporting (or perhaps banishing) audiences into another physiological realm altogether. Whether Korine's vaporwave fever dream actually means anything at all seems beside the point. The totality of Aggro Dr1ft's audiovisual experience acts like a serotonin shot to the brain the longer one sits with it. It may indeed be the perfect cinematic representation of our current media landscape, adapting to our collective brain rot from being terminally online instead of fighting against it. Mark Hanson
All of Us Strangers (Andrew Haigh)
When focusing on Adam (Andrew Scott) and Harry's (Paul Mescal) sensual and spiritual connection, Andrew Haigh allows himself to put aside some of the magical realism of All of Us Strangers and rediscover the magic of realism that powered such incisive love stories as Weekend and 45 Years. The seduction leading up to Adam and Harry's first sexual encounter is as poignant as any scene in Haigh's filmography. As the two men struggle to find the verbal and physical language to express what they both want but cannot articulate, the scene proceeds with tactile attention to each tentative shift in their demeanor. While no moment that follows is nearly as sensational, Mescal's extraordinary capacity for empathetic, reactive listening leaves his sections of the film littered with gently accentuating grace notes. Marshall Shaffer
Anatomy of a Fall (Justine Triet)
At first, it seems like Justine Triet's Palme d'Or-winning Anatomy of a Fall may turn into a courtroom spin on Basic Instinct. Like Sharon Stone's Catherine Tramell, Sandra (Sandra Hüller) is a famous novelist whose books seem to contain troubling portents of the crime she's accused of. Coupled with her outwardly cold demeanor, the film baits us into thinking she could be a criminal mastermind hiding in plain sight. But as the exhaustive courtroom drama at its center proceeds, it's clear that Triet's film has more on its mind than the simple question of Sandra's innocence or guilt, a position that becomes more or less clear far before the final verdict is handed down. At its best, Anatomy of a Fall is nothing less than a rigorous modern treatise on the knotty interpersonal dynamics of long-term relationships and how conveniently they can be distorted when exposed to public scrutiny. Hanson
The Beast (Bertrand Bonello)
We're all products of our time and circumstance, but how frequently do we push back against the forces—on the beasts both real and imagined—that keep us in anonymizing check? And, having taken such risks, how often do our own stories still end in tragedy? But then again, is the endpoint, our endpoint, the true crux of the matter? A line from Henry James's 1903 novella The Beast in the Jungle, the loose inspiration for the disquieting The Beast, illuminates what is likely writer-director Bertrand Bonello's main goal: "It wouldn't have been failure to be bankrupt, dishonored, pilloried, hanged; it was failure not to be anything." What the film most acutely captures, as its sprawling canvas expands and contracts before us, is the ceaseless cycle of two people failing to be over several lifetimes, in certain instances because of circumstances beyond their control, and in others because of their own purposeful inertia. Keith Uhlich
La Chimera (Alice Rohrwacher)
In Alice Rohrwacher's La Chimera, though, the importance of time is seemingly felt by everyone, suggesting a great sinkhole beneath the feet of the film's characters, who make note of the fact that even as they justify their looting of ancient artifacts as reclamation from an extinct people that one day they, too, may be looted by the civilization that takes their place. That all brings a melancholic tinge to a largely satirical film, which ties back to Arthur's (Josh O'Connor) discontent. Part of his frostiness can be attributed to his past relationship to Beniamina (Yile Vianello). She's only glimpsed in a series of wistful flashbacks—and they're so dreamy that one wonders if the woman was ever real. Gradually, she becomes just another ghost in this land of the dead, a sobering reminder to O'Connor's treasure hunter that even the living become little more than a faint memory of themselves in the places they once called home. Jake Cole
Close Your Eyes (Victor Erice)
After three decades and a smattering of shorts, Close Your Eyes marks Victor Erice's return to—and reckoning with—feature filmmaking. Its opening scene, set in an ivy-ensnared chateau in rural 1940s France, seems of a piece with the rest of his work: softly lit, prudently edited, and shot on velvety celluloid. Then, suddenly, it ends. This isn't Close Your Eyes. Rather, it's an excerpt from The Farewell Gaze, a film-within-a-film that was left unfinished in the early '90s following the unexplained disappearance of lead actor Julio Arenas (Jose Coronado). In a stark, digitally shot 2012, the film's aging director, Miguel Garay (Manolo Solo), agrees to take part in a television special about Julio, thrusting himself back into a mystery he's spent 20 years trying to forget. On its most basic level, Close Your Eyes functions as a stirring detective story. But its true interests lie not in unspooling Julio's past so much as in reckoning with the ways those connected to him have also, in their own manner, begun fading away. Cole Kronman
The Delinquents (Rodrigo Moreno)
The best capers are endowed with a professional gambler's spirit of self-assured play, and this mischievousness is both taken to logical extremes and given a less flashy treatment in Rodrigo Moreno's The Delinquents. The film constantly toys with its audience, deploying genre cues only to sidestep their expected payoffs and moral resolutions. Whether one interprets the routes that it takes as relatively frivolous fun or serious arthouse theme-making hardly affects the pleasure of watching it. That distinction is just one of many that are defied in a film that treats the very notion of identity like an easily foiled con man. The Delinquents alternatingly dares the viewer to read it as a caper, a moral parable, a comedy of coincidences, and an existential probe. And the confrontation with the meaninglessness of it all is presented with a spirit of levity, with those doing the confronting coming across more like haps than heroes. Pat Brown
Do Not Expect Too Much from the End of the World (Radu Jude)
Radu Jude's Do Not Expect Too Much from the End of the World presents a nightmare vision of modern life. At the center of it is Angela (Ilinca Manolache), an overworked Uber driver and production assistant who's tasked with conducting auditions with working-class employees of an Austrian furniture company who were injured on the job. The film's plot, inasmuch as it has one, ultimately hinges on a man left partially paralyzed in a car-related accident, so it's fair to say that Jude has vehicles on his mind. His camera observes them as economic necessities, environmental hazards, physical dangers, and, perhaps above all, unsightly detritus cluttering modern cities, embodiments of our dependence on technology. This is a film that listens avidly to what a cross section of ordinary citizens have to say about the war in Ukraine, Putin, Viktor Orbán, Jewish and Romani people, poverty, exploitation, and any other subject that would come up naturally in the course of visiting people in their homes. Seth Katz
Evil Does Not Exist (Hamaguchi Ryûsuke)
The forest is a pivotal part of Evil Does Not Exist's chief setting, Mizubiki Village, a small and isolated countryside community that's far enough from Tokyo to offer a relief from the clutter and freneticism of city life but close enough to be easily reachable by city folk. Precisely because it's so beautiful, the community is destined to be gobbled up by developers as a vacation paradise for the wealthy, and Hamaguchi Ryûsuke's elliptical narrative charts the beginning of this invasion. Curtailing his narratives, seizing up his action, which he foreshadows with the clipped-off score and strange tracking shots, Hamaguchi forces us to reckon with the industrialization of nature—and stew in it. Evil Does Not Exist is a politically engaged act of coitus interruptus, then, though you may not be convinced that Hamaguchi's new interest in theme over character is a wonderful development in the long run. Preachers are a dime a dozen, while true humanists are as endangered as the woods of Mizubiki Village. Chuck Bowen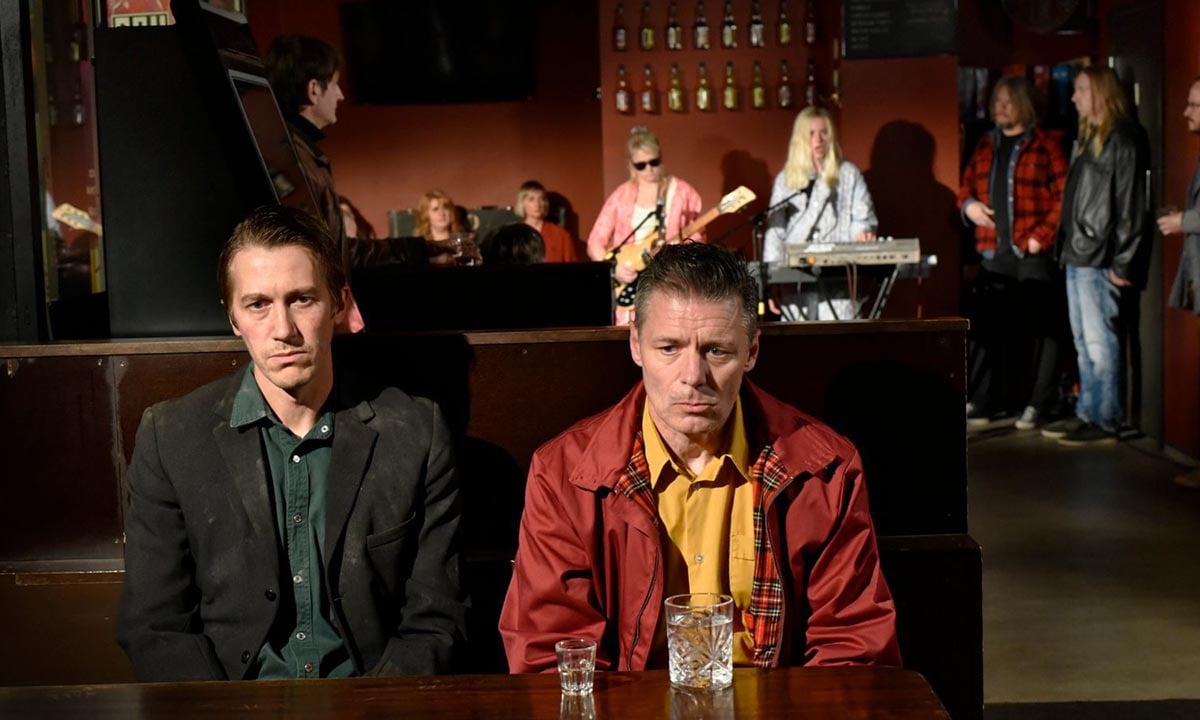 Fallen Leaves (Aki Kaurismäki)
Aki Kaurismäki's Fallen Leaves is built around crosscutting between two narrative strands. In one, the defeatist Holappa (Jussi Vatanen) tries to hang on to a job sandblasting large metalware while sneaking swigs of vodka. In the other, the headstrong Ansa (Alma Pöysti) contends with bureaucratic nonsense and bad luck at a string of dead-end jobs. The film isn't particularly complicated, but it's deeply alert to the sensory pleasures of the world, which is what elevates it above the miserabilism latent in its scenario. And in an amusing tribute from one iconoclastic filmmaker to another, Kaurismäki sets Ansa and Holappa's first date at a screening of Jim Jarmusch's The Dead Don't Die, a film that depicts a zombie invasion that brings a bored, anesthetized populace to the brink of extinction. That the budding lovers still leave the theater in a rare state of euphoria indicates Kaurismäki's abiding belief that not all is lost if art and beauty can still surround us in unlikely places. Carson Lund
The Feeling That the Time for Doing Something Has Passed (Joanna Arnow)
In The Feeling That the Time for Doing Something Has Passed, writer-director-star Joanna Arnow plays Ann, a thirtysomething woman in a long-term BDSM relationship with the much older Allen (Scott Cohen). "I love how you don't care if I get off," Ann coos to him at the start of the film. "It's like I don't even exist." While this moment immediately establishing the playful rules of Ann and Allen's sexual agreement, Arnow also hits on an apt metaphor for the existential crisis of so many modern millennials: that they're exposed and ignored in an unforgiving social climate still dominated by older generations. In her first feature, Arnow, who speaks in an unwavering deadpan tone throughout, crafts a style that could be described as equal parts Girls and Napoleon Dynamite. Arnow's dry sense of humor is particularly apparent in the scenes between Ann and Allen, piercing the provocative mystique of a BDSM relationship by displaying their sexual exploits in an exceedingly monotonous way. Hanson
Here (Bas Devos)
Here is as delicate and unobtrusive a film as Bad Devos's previous cinematic journey through Brussels, Ghost Tropic. The story gently, elliptically slides from setting to setting as Stefan (Stefan Gota), a Romanian construction worker on the cusp of his summer vacation, delivers containers of soup whipped up from the remaining fresh food in his fridge to his friends around town. His journey overlaps and eventually intersects with that of Shuxiu (Liyo Gong), a Chinese-Belgian botanist whose musings on the pseudo-relationship between words and things begins in voiceover some minutes before she actually appears in the film. Establishing a deeper connection with the world appears to be a potential cure for what ails Stefan. Here presents this theme with a modesty that seems to radiate from Stefan himself, offering his world to us through rich, dreamy imagery and with an endearing simplicity. Brown
The Human Surge 3 (Eduardo Williams)
Exhibiting a deliberately fragmentary aesthetic that sought to emulate the context-free disorientation of life mediated through laptops and phone screens, Eduardo Williams's The Human Surge earned him the Golden Leopard at 2016's Locarno Film Festival, as well as no small amount of bemusement and scorn from other quarters. The idea that such an obtuse experimental work could have any franchise potential inspired the jokey title of the Argentine filmmaker's latest effort, The Human Surge 3. Though mostly unrelated to its predecessor, the film shares its jarring, hyperlinked structure and focus on the leisure time and everyday routines of unmoored, underemployed youths in liminal settings around the world. David Robb
In Our Day (Hong Sang-soo)
Hong Sang-soo's In Our Day is composed of two alternating strands, both pivoting on conversations between artists and their acolytes. The film has no plot in the conventional sense, even by Hong's spare standards, and the audacious structural gamesmanship of films like Walk Up has been abandoned. In Our Day is meant to feel tossed-off, though Hong's braiding of scenes—by echoes, symbols, and subjects—is characteristically deliberate. The uninitiated may find In Our Day baffling or uneventful, as inscrutability is a risk that Hong is willing to run for his art, but for the admirer the familiarity of Hong's subjects and patterns is pleasing and reflective of a working ethos so obsessive that it's become a life philosophy. Hong keeps chipping away at the mandates of commercial narrative cinema, fashioning a radical cinema aesthetic that abounds in the fleeting observational textures of poetry or journals. Bowen
Inside the Yellow Cocoon Shell (Pham Tien An)
Compared to his numbed reaction to the present, Thien (Le Phong Vu) finds motivation in retracing the past he left behind when he moved to Saigon, and Pham Tien An's Inside the Yellow Cocoon Shell patiently observes him rekindling prior relationships in his rural hometown, whether checking in with village elders or running into an ex-girlfriend (Nguyen Thi Truc Quynh), who's since become a nun. One gradually gets the sense that, though the man left his home to get away from a feeling of being suffocated, he feels far more at ease in the realm of nostalgia than he does in the uncertainty of the present moment. Thien may feel cut off from the world, but Inside the Yellow Cocoon Shell is deeply in harmony with it, from its masterful sound design that fills in off-screen space with ambient noises, to its observant long takes, to the deference it shows to the wisdom and experience that elders can impart on the young. Cole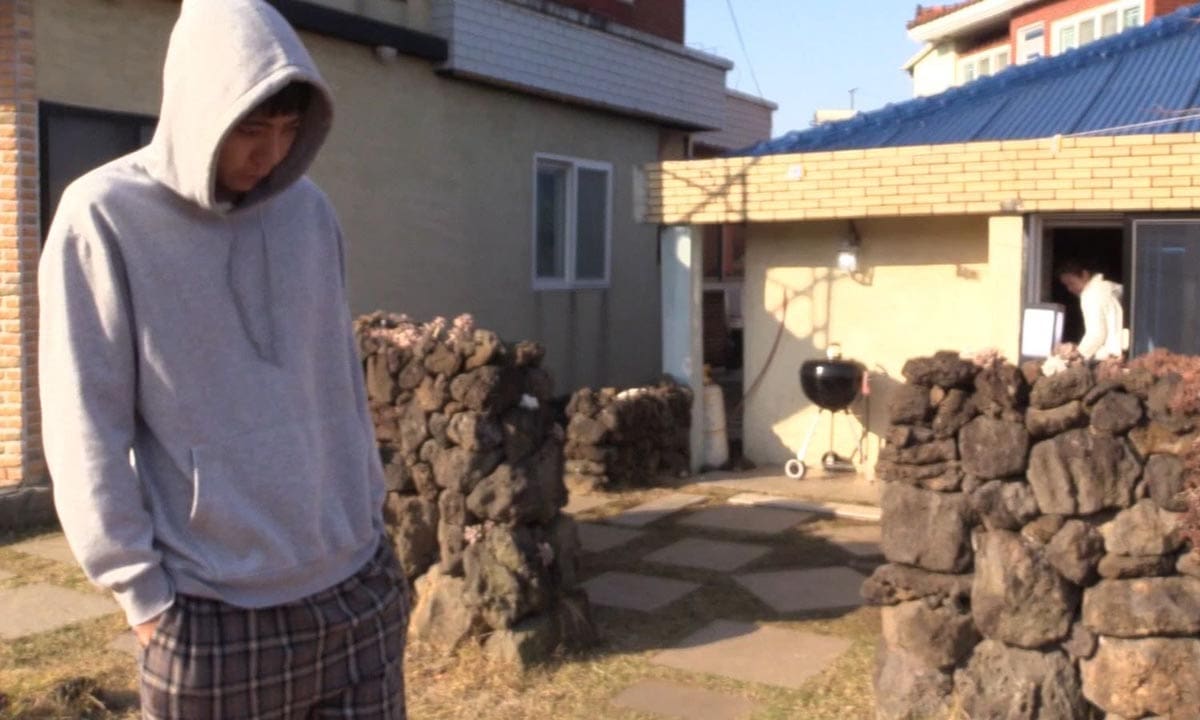 In Water (Hong Sang-soo)
Early on, In Water offers a window into Hong Sang-soo's astonishingly free working methods. An actor turned aspiring director, Seoung-mo (Shin Seok-ho), scouts an alleyway with his cameraman, Sang-guk (Ha Seong-guk), and actress, Nam-Hee (Kim Seung-yun). Throughout the sequence, Hong shows the audience how he hides his artfulness in plain sight, working In Water's formal DNA into its very narrative. Such sequences of transcendent minimalism suggest Picasso knocking off a sketch on a piece of paper in a matter of seconds. At times, it's as if Hong is daring you to call his bluff, contesting whether or not In Water is even a film. Perhaps he even wants us to call him out. And yet, his compositions are hauntingly beautiful. Hong really seems able to make intensely personal cinema out of anything, and perhaps, rather than Picasso, he's the filmmaking equivalent of the chef who can turn a piece of stale bread, some rotten fruit, and a few odds and ends in the pantry into a revelatory dessert. Bowen
Kidnapped (Marco Bellocchio)
Marco Bellocchio treats the Edgardo Mortara case as an unabashed melodrama, one kept at a stress-inducing simmer with occasional surges of operatic emotion. The key scene comes early, when the freshly abducted Edgardo—played by Enea Sala as a child and Leonardo Maltese as an adult—is loaded onto a boat by his captors. He's been a screaming wreck up to this point, but as Francesco DiGiacomo's camera holds on his face, it stiffens into a chillingly opaque expression. Ripped from his familiar life, the young Mortara has become a suggestible non-person, more readily able to be molded by whoever proves to be the prevailing influence. Kidnapped may sometimes tread a little too close to a palatable prestige drama. Yet as in his late-career masterwork, The Traitor, Bellocchio often uses middlebrow signifiers as aesthetic Trojan Horses, lulling his audience just enough so that the physical and psychological violence, when it comes, hits with a brute force that feels equally rooted in cinema and theater. Uhlich
Last Summer (Catherine Breillat)
In Last Summer, Catherine Breillat brings her icy, unwaveringly sober sensibilities to one of the most common of American pop cultural sex fantasies: a teenager's tryst with a MILF. At their home in the suburbs of Paris, we see Anne (Léa Drucker) with her older husband, Pierre (Olivier Rabourdin), who's successful but scans as dull and schlubby when compared to his trim and attractive wife. If we know Last Summer's narrative ahead of time, we may feel as if an equation is being established that's typical of older-woman, younger-man sex fantasies: that a boring husband gives a wife license to get her groove back elsewhere. But we'd be wrong. Elsewhere, Breillat doesn't mar the realtionship between Ann and Théo (Samuel Kircher), Pierre's 17-year-old son, in the harlequin clichés a daydream. The reality of this situation is always compacted by Breillat's committed and very pointed objectivity. No one in Last Summer is sentimentalized, and Breillat denies neither the ickiness of this affair nor its potential pull. Bowen
Music (Angela Schanelec)
Crudely summarized, Music is a modern re-telling of Oedipus Rex. Angela Schanelec composes her shots with a beautiful but harsh precision, holding them longer than even the contemporary masters of slow cinema, but the primary action always seems to be just off screen, either spatially or temporally. In fact, the most impressive component of this style is how much she's able to get the viewer to piece together, and how captivating it can all be. It's as if she wants us to play the absent film in our head during the long stretches of silence that begin and end virtually every shot. We're invited not just to draw the connections between the events of the film and the Oedipus myth, but also to read between the lines, to infer story from indirect signifiers. Initially, more than mere fun, this makes for surprisingly affecting storytelling, but once you've figured out how to play, the game begins to feel a bit, well, ancient. Brown
Menus-Plaisirs Les Troisgros (Frederick Wiseman)
In Menus-Plaisirs Les Troisgros, Frederick Wiseman settles into a three-star Michelin eatery in Roanne, France, and unearths another of his temples of contemplation. In a kitchen populated by working-class heroes looking to prove themselves, hysterics might seem inevitable, but here the chefs and other artists and technicians seem to take their brilliance as a given, seeking to coax it to its fullest expression. The sophisticated feng shui of La Maison Troisgros meshes intimately with Wiseman's beautifully lucid long takes, and the filmmaker is alive to the class tensions that separate La Maison Troisgros's kitchen from that of a less rarefied restaurant. Wiseman has made a career documenting class in various social systems, but he allows such differences to remain implicit. An artist himself, Wiseman is less interested in landing classist broadsides than in honoring the internal biorhythms of the realm surrounding him. Bowen
Perfect Days (Wim Wenders)
With Perfect Days, Wim Wenders aims for simplicity, following a middle-aged man, Hirayama (Yakusho Kôji), as he goes about his day cleaning Tokyo's toilets, taking pictures of trees, listening to American rock, reading classic literature, and savoring the humble sources of day-to-day affirmation that we tend to take for granted. The film wants to be an invitingly human movie that homes in intensely on the little moments of a man's life so as to unearth universal truths. A few scenes late in Perfect Days hint at trauma that Hirayama may be suppressing, but Wenders generally sees him as a man without warts. He does nothing that would disrupt the filmmaker's fetishizing of his immaculate grace. In other words, Wenders hasn't quite escaped one of his straitjackets: characters that scan only as symbols. There's even something cutesy and self-congratulatory about an act as simple as how Hirayama drinks ice water after work at his favorite restaurant—yet another testament to the man's purity. Bowen
The Shadowless Tower (Zhang Lu)
Zhang Lu, who was an established novelist before pursuing filmmaking, handles the parallels between his characters' out-of-time-ness and the cultural confusion of an evolving state with literary finesse. Moments of contemplative silence between Gu Wentong (Xin Balqing), a divorced father whose life has settled into a dispassionate existence, and Ouyang Wenhui (Hung Yao), a young photographer, take the place of what might have been internal monologues or omniscient third-person narration on the page, letting the nonverbal gestures speak to the film's ideas. These characters are often framed in doorframes and windows, or reflected in mirrors—subtle indications of how they always feel on the precipice of performing an action that never fully takes place. The Shadowless Tower spends much of its 140-minute neck-deep in ennui, but the tentative efforts at rapprochement between Wentong and his father (Tian Zhuangzhuang) belatedly justify the inviting warmth of Piao Songri's cinematography as an undercurrent of hope that refuses to accept alienation as a permanent condition of contemporary life. Cole
Strange Way of Life (Pedro Almodóvar)
Strange Way of Life feels tame and flat, given that this was Pedro Almodóvar's chance to turn the western inside out in his unique way. His penchant for eye-catching production design has often helped him play with the tropes of melodrama, noir, and sex comedy—the sets elaborating upon the director's goals in exploring how genre is shaped by material space. But this short has no such desire to tinker with how color influences our perception of what a western is or looks like. If the history of the queer western is built on innuendo and a certain kind of subversion, and Almodóvar's specialty is deranging genre itself, it's frustrating to encounter something like this that doesn't take advantage of interrogating the literalism of "queering the western" itself and what that ethos means. The western, with its anxieties about masculinity, modernity, and the natural, is as perfect a place to find the danger of desire blister beneath the desert sun. But Strange Way of Life ends up as unremarkable as any clay-colored rock. Kyle Turner
The Sweet East (Sean Price Williams)
It's not much of a spoiler to say that the final image of Sean Price Williams's solo feature directorial debut, The Sweet East, is that of Lillian (Talia Ryder) nonchalantly strolling toward and past the camera, a smirk on her face. That's effectively the whole vibe of the film, an odyssey that traipses through the world of white supremacist academics, PizzaGate conspiracy theorists, self-satisfied filmmakers, mixed-media artists of questionable talent, and religious zealots. For all the tactility of Price Williams's cinematography, the film is pretty fuzzy on what it wants its national tour of brainless dogma to mean. Lilian drifts from milieu to milieu, sometimes without a phone, sometimes with an ambition of what kind of person she wants to transform into, sometimes with her eye on whatever platform can surveil her at any given moment. But seldom with enough cohesion to pass the movie off as a character study of someone living in, as playwright Matthew Gasda would call it, "the dumbest of times." Turner
Youth (Spring) (Wang Bing)
Whereas Wang Bing's 15 Hours seems very much designed to be absorbed in sections in a gallery setting, and Bitter Money scanned as a bleaker portrait of capitalist exploitation, Youth (Spring)'s immersion in the social culture of textile laborers projects mainly a sense of buoyancy and curiosity. An assortment of Mando-pop songs play over tinny speakers as Wang's subjects engage in both synchronized and syncopated labor, their choreographed hands dancing around sewing machine needles. During these sequences, and without any overt aestheticization, the film sometimes takes on the feel of a movie musical. There's a tension at work here between mechanical, collective labor and the expression of individualism, which seems continually catalyzed by the musical accompaniment—not only in that it causes workers to break their stoical facades to sing along, but also because the music's romantic narratives seem to spur the little flirtations and courtships that unfold in front of us on the factory floor. Sam C. Mac
The Zone of Interest (Jonathan Glazer)
Rather than put gruesome imagery of death and cruelty front and center on screen throughout Zone of Interest, Jonathan Glazer uses the film's grueling sound design to represent the unfathomable scope of Nazi Germany's crimes. It's an aural hell punctuated by rhythmic interludes, courtesy of frequent collaborator Mica Levi, that suggests a dance party in Dante's Inferno. To heighten the disturbing mood, Lukasz Zal's camera often places a character in the dead center of the frame, and dollies alongside them as they walk to and fro, channeling the lockstep behind Adolf Hitler. Otherwise, though, it plays the stable voyeur with a lens angle just wide enough to feel unreal. This is no simple political message movie, nor is it even a portrait of one of the most horrific moments in history. Instead, The Zone of Interest is the hellish counterpart to The Man in the Gray Flannel Suit, another film about the soulless march of the careerist's life. Only in Glazer's version, the march is a goose step. Zach Lewis
If you can, please consider supporting Slant Magazine.
Since 2001, we've brought you uncompromising, candid takes on the world of film, music, television, video games, theater, and more. Independently owned and operated publications like Slant have been hit hard in recent years, but we're committed to keeping our content free and accessible—meaning no paywalls or fees.
If you like what we do, please consider subscribing to our Patreon or making a donation.
[ad_2]
Source link