[ad_1]
Whether you want to celebrate Hispanic Heritage Month or see dogs in costume, Salem has plenty happening this weekend. Here's your guide to events for Friday, Sept. 22, through Sunday, Sept. 24.
Viva Salem
Salem's first Hispanic Heritage Festival comes to Riverfront Park Saturday, Sept. 23, with a free family-friendly day of activities including face painting, Mexican cowboy demonstrations and more.
The city event will bring local and regional performers to the stage, accompanied by vendors, artists and food. The event runs from noon to 6 p.m., with performances all day. More information is available on the city website.
Read more about the event here:
Rodeo finals
Didn't get your fill of rodeo at the state fair? The Northwest Professional Rodeo Association has a final competition Friday, Sept. 22, at the state fairgrounds at 7 p.m. Come watch the top dozen cowboys and cowgirls compete for glory in 11 events, including steer wrestling, wild cow milking and saddle bronc.
Tickets start at $22.50. The fairgrounds are located at 2330 17th St N.E. Learn more or buy tickets online.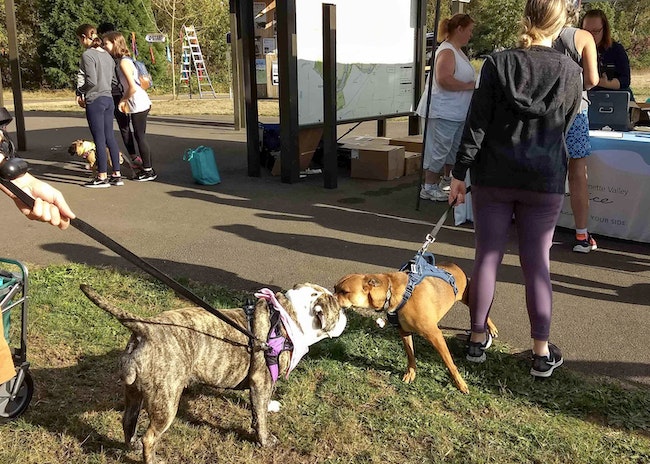 Walk-n-Wag
Fans of pets or hospice care will come together Saturday, Sept. 23, for the annual Walk-N-Wag fundraiser at Minto Brown Island Park, benefitting Willamette Vital Health. The fun goes from 1-4 p.m. and includes a walk in the park, dog watching and food and drink.
Registration is open online through Friday for $10, and is $15 in-person the day of the event. Learn more online.
Taste unique Oregon food
The Oregon Angel Food Marketplace brings 50 food and beverage entrepreneurs to Chemeketa Community College's agriculture complex on Saturday, Sept. 23, from 11 a.m. to 4 p.m.
Visitors can sample products and talk to people making unique Oregon foods and beverages, including chutneys, pistachio butter, pre-packaged African foods, hot sauces, non-alcoholic cocktails, granola, desserts and more.
The event is put on by the Oregon Entrepreneurs Network and SEDCOR, and is intended to give small businesses a chance to pitch their products, make connections and find new customers.
The agriculture complex is located on the east side of the college campus in Salem, off the 3900 block of Northeast 45th Street.
Read more about the marketplace here:
Market for the Strange
If you're looking to get an early start on Halloween, head to Salem's Market of the Strange, which returns Sunday, Sept. 24, at the Salem Convention Center, 200 Commercial St. S.E.
The event features local vendors of the weird, occult and creative, and runs from 11 a.m. to 6 p.m. Admission is free.
A unique concert
Satiric songwriter Roy Zimmerman will entertain with a night of live music at Salem's Unitarian Universalist Congregation, 5090 Center Street N.E. "Roy's signature blend of heart and hilarity has never been more necessary. In a career spanning more than 30 years, Roy's songs have been heard on HBO and Showtime, and his videos have garnered hundreds of millions of views," an event description says.
The show is Friday, Sept. 22 at 7 p.m. Cost is $25 or pay what you can.
Get on skates
Travelin Wheelz has a disco-themed pop-up roller rink Saturday, Sept. 23. Admission is $10.
Sessions run from 4-6:30 p.m. or 7:30-10 p.m. at the Madhouse, 1335 Madison St. N.E. Skate rentals are available for $5. Learn more on Facebook.
Contact reporter Rachel Alexander: [email protected] or 503-575-1241.
SUPPORT OUR WORK – We depend on subscribers for resources to report on Salem with care and depth, fairness and accuracy. Subscribe today to get our daily newsletters and more. Click I want to subscribe!
Rachel Alexander is Salem Reporter's managing editor. She joined Salem Reporter when it was founded in 2018 and covers city news, education, nonprofits and a little bit of everything else. She's been a journalist in Oregon and Washington for a decade. Outside of work, she's a skater and board member with Salem's Cherry City Roller Derby and can often be found with her nose buried in a book.
[ad_2]
Source link