[ad_1]
Gear up to watch the exclusive broadcast of the event
Event transcript
Uncorrected transcript: Check against delivery
JOHN F.W. ROGERS: Ladies and gentlemen, if I can just have your attention for a moment. Good evening, your excellencies, ladies, and gentlemen.
Each year, we gather during the United Nations General Assembly week to underscore the Atlantic Council's commitment to promoting constructive global leadership, both to meet the world's most pressing challenges and to ensure that freedom and opportunity and prosperity can be more widely realized across nations. In navigating the increasingly intertwined social, economic, and political challenges that define the twenty-first century, it is critical that we are guided by leaders whose intellect, their experience, and their single-minded resolve can be galvanized in the face of a myriad of obstacles to continue the collective march towards a safer and a more secure world order.
To this end, tonight we honor such leaders and luminaries who have taken up the call to serve a purpose greater than oneself, who are beacons of the Atlantic Council's principles, and who together comprise this truly remarkable group and gathering of our 2023 Global Citizens. We are fortunate to have them and to be able to celebrate them this evening in New York. We convene, however, at a pivotal time for the Atlantic Council in the broader global community, as we endure an era of uncommon, if not disconcerting, geopolitical uncertainty.
As the unprovoked war against the people of Ukraine continues, we bear witness to the unshakable resilience of the Ukrainian people as they defend their country and a fundamental way of life, underpinned by the principles of peace, stability, and the basic right to determine their future. For our part, at the Council, our efforts demand a rigorous focus on deploying and delivering upon our expanded global mission, helping US leadership work in tandem with our long-term partners and allies to respond strategically, appropriately to these recent events, and to advance the broader cause of democracy across the global stage.
Despite the challenges, I say, with optimism and great confidence, that the Atlantic Council has never been more robust operationally, substantively, or financially. And in the face of such complex, daunting, and worldwide challenges—including economic, societal, and political dislocation—the Council's formidable strength comes at a time when our work has never been more integral or imperative for a relative world order.
Our venue here tonight is a New York landmark which houses such institutions as the New York Stock Exchange. It is in many ways an ideal setting which to recognize our honorees tonight, because standing before you this architectural triumph of Greek Revival, the style was historically considered to be an expression of civic virtue, a symbol of the moral duty to put the common good above self-interest in a society. And in this way and in this setting, tonight we pay tribute to individuals who have in turn made selfless and enduring impacts on the world, who have themselves been expressions of civic virtue, symbols of self-regard giving way to the common good. And in so doing, we are in awe of their achievements, inspired by their character, and humbled by their presence.
Ladies and gentlemen, it is now my distinct honor and privilege to recognize the five recipients who join the roles of the Council's Distinguished Citizen. Born in West Germany to parents in the textile industry, our first honoree would someday earn a law degree, eventually find his way into politics as a member of parliament, and ultimately become the ninth chancellor of Germany. A staunch advocate for governance and society, moored in mutual respect and consensus building, he continues to work at home and abroad with international partners towards securing a peaceful and stable European continent, and beyond.
Tonight we also honor the child of a Japanese government official who attended elementary school in New York, where his coming-of-age experiences would ignite and inspire his interest in justice and politics. Following an earlier career in law and finance, he was elected to the house of representatives, eventually becoming Prime Minister of Japan. Today, as the president of the G7, his transformative leadership has strengthened the Global South and promoted worldwide cooperation and democratic values across regions and borders.
Time magazine's Person of the Year, and also lesser-known winner of Ukraine's Dancing with the Stars. He met his wife in high school, he dated her in university, and would eventually marry and have two children. The actor, the comedian, the entrepreneur, he founded his country's most successful and prolific entertainment company and he would go on to a history-altering career change with his landslide victory election as the sixth president of Ukraine.
Soon after he would confront unspeakable Russian aggression and atrocities but lead a tenacious defense of his people that would earn him the admiration of the world.
We pay tribute to our fourth honoree, the first woman US Treasury secretary, and is featured in the Hamilton musical mixtape. She's the inspiration for the indie hip-hop song "Who's Yellen Now." Born to elementary school teacher and a family physician who worked from the ground floor of their family home over her more than forty-year career as an economist and policy maker, she has helped to build a more resilient and inclusive US and global economy, including greater focus on poverty and inequality and wages. But I think it's expressed more appropriately by the artist Dessa and her single about her, about her triple crown, about her three-sided coin that always comes up heads.
Ladies and gentlemen, watch yourself. There's busted glass. She broke another ceiling. She's the first that led the Council of Economic Advisers, the Treasury, and the Fed, and most appropriate for tonight, ladies and gentlemen, lift up your mojitos because she's managing the Mint.
And, finally, we had the great honor of bestowing on one of our own family the Distinguished Service Award on Victor L. L. Chu, the chairman and CEO of First Eastern Investment Group, for his contributions as co-founder of the Global Citizens Award and as a member of the council's International Advisory Board. We are not only immensely appreciative of Victor's generous support but laud his dedication to improving the state of the world, which has earned him numerous awards and accolades including the Global Economy Prize. Tonight's celebration would not exist without Victor's innovative vision and his commitment to extraordinary public and humanitarian service.
On that befitting note, ladies and gentlemen, this evening we raise our hands to say salute to these truly distinguished honorees and the Council's overarching mission. Thank you.
And so now let's take a look at tonight's first honoree.
VOICEOVER: Chancellor Olaf Scholz's leadership shines particularly as he has spearheaded efforts to fortify European unity. His clear and strategic vision is an example not only to his European counterparts but to countries around the world.
As a leader who places diplomacy and dialogue at the forefront, Chancellor Olaf Scholz has emerged as a beacon of hope. His unwavering commitment to creating peace and confronting threats to global democracy cements his legacy as a remarkable global citizen and a great leader for our times.
The Atlantic Council is pleased to honor him for his efforts tonight.
NGOZI OKONJO-IWEALA: Good evening, everyone. Excellencies, ladies and gentlemen, distinguished guests, I would like to thank John Rogers, Fred Kempe, and the Atlantic Council for giving me the honor and the opportunity to present the 2023 Global Citizen Award to Chancellor Olaf Scholz of Germany.
Let me take a moment to recognize and congratulate this year's other awardees: Prime Minister Kishida, US Secretary Treasury Janet Yellen, a good friend, Victor Chu, and President Zelenskyy.
I'm really delighted to say a few words about Chancellor Scholz, a giant in Germany and Europe who is doing so much to foster the international cooperation and solidarity we need to meet challenges, even as he remains clear-eyed about the threats that confront global peace and security.
Chancellor Scholz has been on the global stage for years with earlier stints as finance minister and labor minister. His passion for social justice started as early as when he was seventeen and has never wavered. This passion has infused his political career and underpinned his achievements. His understanding of the complexities that shape our interconnected world was shaped by his roots in Hamburg, a port city open to the world, but also one where heavy industries have struggled with economic transition.
Chancellor Scholz is a powerful advocate for global trade that is open, free, and fair, but when there are dislocations, he also knows how and when to complement open markets with domestic policies that provide appropriate safety nets to cushion workers and enable them to take advantage of new opportunities. His commitment to fostering a more equitable global economic framework is visible in the instrumental role he plays in the G7 and G20, advocating for a global minimum tax for multinational corporations and championing digital taxation.
Chancellor Scholz is a great advocate for getting the world to net zero carbon emissions by 2050 or earlier. His concept of a climate club or alliance has broken new ground in finding ways to incentivize our economies at different levels of development to collectively take ambitious climate action that protects our planet. Chancellor Scholz's strong support for developing nations stands as a testament to his commitment to equity and inclusivity.
He has been a leading voice in calling for global resilience through the diversification of global production networks for key goods by bringing in countries on the margins of global markets. Increasing the production of fertilizer or rare earths and minerals in developing countries and empowering those nations to add value to these commodities instead of exporting unprocessed raw materials will promote development and job creation while making global supplies more resilient to climate or geopolitical shocks.
This is what we call a reimagined globalization or re-globalization at the WTO, a word I want all of you to take away with you tonight. I'm personally inspired by Chancellor Scholz's dedication to fostering greater global understanding in a world that seems increasingly and frighteningly divided.
Distinguished guests, ladies and gentlemen, it is with the utmost admiration and respect that we welcome Chancellor Scholz here tonight in presenting this year's Global Citizens Award. Thank you.
OLAF SCHOLZ: President Zelenskyy, Prime Minister Kishida, Secretary Yellen, Director-General Okonjo-Iweala, dear Mr. Kempe, excellencies, ladies and gentlemen, first of all, thank you for your kind words, dear Ngozi. I'm always very happy to exchange ideas with you, not only because we are friends but also because we share the same convictions on many issues. We are, for instance, both determined advocates for free trade. Free trade: That has led to unprecedented economic growth and helped lift hundreds of millions of people in Africa, and Asia, and in Latin America out of poverty. That is why I share your conviction, Ngozi, that decoupling, reducing trade to just friends, or ever higher trade barriers are not the answer. On the contrary, you put it perfectly in your essay, "Why the World Still Needs Trade," that was published in June, and I highly recommend.
Deconcentrated and more diversified global supply chains offer a route to interdependence without overdependence. And they offer a way in for countries and communities that have so far been excluded from global value chains. However, being free traders puts us into a category of species that seems to be increasingly endangered, even in its natural habitat here in the United States. So I'm glad to have you by my side as we work towards the preservation and recovery of that particular species.
When I first learned that the Atlantic Council wanted to honor me with the Global Citizen Award, I was hesitant to accept. In my German hometown of Hamburg, there is a tradition that forbids citizens to accept declarations from foreign powers. The reason lies in this city's past. Hamburg was a free republic long before that became fashionable, located between empires and kingdoms all craving for power, staying free and independent of foreign influence was the survival strategy for small city-state. To accept a declaration, so the tradition holds, meant placing oneself above others, which was not in line with the ideal of a society of equals trading with other independent cities and countries.
Nevertheless, as the Global Citizen Award is clearly not a declaration, I'm very honored to accept it today. Because this award emphasizes precisely what I just said, that we strive for an interconnected world whose citizens cooperate with each other to protect our global common goods and to create growth in a way that benefits all. This belief is also embodied in the UN Charter. That charter is the backbone of an international order of equals, equal in their sovereignty and equal in their duty not to violate the borders of their neighbors.
President Zelenskyy, it is a privilege to receive this award together with you as the representative of the brave people of Ukraine. Your courage inspires us all, and the suffering of your people breaks our hearts. Russia's brutal war of aggression against Ukraine is being fought in Europe, but it is at the same time an attack against fundamental principles of our international order. That is why I called it a watershed moment, a Zeitenwende. There is a before and an after.
In Germany, we overcame long-standing certainties. Second only to the United States, we are the biggest supporter of Ukraine economically, in terms of humanitarian aid, as well as military training and heavy weapons. We are investing more in our own security and defense, and that of our friends and allies. For instance, by decisively increasing our military presence in the Baltic states. Within months, we have become independent from Russian energy. And last, but truly not least, Russia's war against Ukraine has also led to a historic deepening of our transatlantic alliance. I'm proud to say today our relations with the United States are stronger than ever.
Ladies and gentlemen, Russia's war has failed utterly because of the courage of the Ukrainians and because of the unity of all those who stand for an international order of equals. But the suffering is not over. Russia continues its brutal aggression against the people of Ukraine and against the very foundation of international law. And that is why we, too, will continue steadfast in our support for Ukraine for as long as it takes.
Danke schön.
VOICEOVER: With a steadfast commitment to fairness, equality, and peace, Prime Minister Fumio Kishida utilizes his extensive diplomatic experience to shape global policies that benefit not only Japan but also the entire global community. As the G7 president, he worked tirelessly to foster dialogue among the world's leading economies, uniting them to address pressing issues such as climate change, global health, and economic inequality. The Atlantic Council salutes Prime Minister Kishida for his transformative leadership to strengthen the Global South and promote worldwide cooperation.
URSULA VON DER LEYEN: Good evening. It's a pleasure and an honor to be here tonight and speak at this esteemed gathering about an ally and a friend and a most deserving recipient of this award, Prime Minister Fumio Kishida.
I could tell the audience about our amazing cooperation of these years, dear Prime Minister, about how we coordinated our actions in the wake and in the aftermath of Russia's full-scale aggression of Ukraine, or how you hosted an incredibly successful G7 at Hiroshima, but there is another moment that is even more telling of your courage and your leadership. I'm talking about your visit to the small Ukrainian town of Bucha, a symbol of Russia's brutality and of Ukraine's resistance.
Bucha was liberated by Ukraine's brave soldiers in the early weeks of the war, but Russian troops left a trail of blood and death and destruction. They executed dozens of civilians in cold blood in one of the worst war crimes since the start of Russia's brutal war. And you, dear Fumio, decided to make the long and difficult trip to Bucha to see with your own eyes the horror that Russia left behind, but also Ukraine's determination to resist and to fight for its freedom.
For the first time since World War II, a Japanese prime minister visited a country at war, and you brought with you Japan's solidarity in words and deeds. From the very beginning of this war, you opened your country to Ukrainian refugees, you joined us in sanctioning Russia for its crimes, and you stood at our side when Putin tried to blackmail Europe with gas. Ukraine, and the whole of Europe, will be forever grateful to you for this. Arigatou, dear Fumio.
You have done this because you know that although Ukrainians are paying the highest price, this war is not only about Ukraine. And it is not only about European security. This is about the basic principles of the UN Charter, which have protected global peace since the end of World War Two. It is about the simple, yet vital, rule that borders cannot be changed by force and that every country should be free to chart its own path. You, dear Fumio, understood this from day one. You understood that we must all contribute to upholding the UN Charter, because in a lawless world, any country might face the same fate as Ukraine.
In your words, you said, "Ukraine today, maybe East Asia tomorrow," end of quote. European security and Indo-Pacific security are one and the same. Your vision of a free and open Indo-Pacific is also our vision. So we are bound to work together. And in these two years, Prime Minister, you have forged ever-stronger ties between Japan and your like-minded friends, near and far, from East Asia to Europe and North America. You have reconnected Japan to its most trusted partners and built new bridges across the world. Thanks to your leadership, today our three continents are closer than ever before.
Distinguished guests, there is a Japanese proverb that tells a lot about the country and about its prime minister. It says onkochishin and it means "explore the past to learn new things." You, dear Prime Minister, showed me the meaning of this proverb during the G7 summit in Japan last year. You brought us to your hometown of Hiroshima, the place where you have your roots and which has deeply shaped your life and leadership. Many of your relatives lost their life when the atomic bomb razed Hiroshima to the ground. You have grown up with the stories of the survivors. And you wanted us to listen to the same stories, to face the past, and learn something about the future.
It was a sobering start to the G7, and one that I will not forget, especially at a time when Russia threatens to use nuclear weapons once again. It is heinous. It is dangerous. And in the shadow of Hiroshima, it is unforgivable. No one is better poised than Japan to warn us of the extreme danger and of this recklessness. Right from the beginning of this war, Japan's position was clear. As the only country that has suffered from atomic bombings, you have made the whole world listen. Today, Russia's nuclear saber-rattling has been condemned not only by our like-minded partners in the G7, but by the whole world. And your diplomatic efforts have been crucial to reach this outcome.
This is true leadership—the kind of leadership that the world needs in these troubled days, leadership that is not afraid to learn from the past to shape a different future. So it is a pleasure to be with you today to celebrate your work and your vision.
Distinguished guests, please join me in congratulating Prime Minister Kishida on earning the 2023 Atlantic Council Award.
FUMIO KISHIDA: Thank you for your kind introduction. We're good friends for long and it makes me especially happy that you talk only good things about me tonight. Thank you very much.
And thank you, President Kempe and the Atlantic Council, for this prestigious award. I'm very much honored to receive this.
In May I hosted the G7 summit in Hiroshima, a symbol itself of the place for peace. At the summit the G7 leaders and many other leaders from around the world had the opportunity to directly listen to the experiences, stories, and wishes of hibakusha, the survivors of the atomic bombings, as well as to learn firsthand the devastation through their visit to the Hiroshima Peace Memorial Park. There we shared in a renewed determination to work together towards a world without nuclear weapons and to pass on the same conviction and resolve to the generation that will follow.
Ladies and gentlemen, here in Manhattan there is a large statue of a Buddhist monk. This statue stood in Hiroshima seventy-eight years ago and it survived the atomic bomb. Every year on August 6, citizens here in New York gather in front of this statue and pray for peace and a world without nuclear weapons.
Hibakusha and the citizens of Hiroshima and Nagasaki have devoted their lives to sharing their stories and prayers. Many others too have dedicated their lives to promoting nuclear disarmament or advancing radiological sciences.
Today let us remember those who gave their lives and sacrificed everything for peace. All of us here are standing on the shoulders of those unsung heroes. We should never let their efforts and sacrifices end as a mere dream. It is the responsibility of every political leader to find [a] pathway to overcome the harsh realities of the world and take the lead to achieve such peace. I humbly accept this award on their behalf as prime minister of Japan and as a citizen of Hiroshima. Thank you very much.
ADRIENNE ARSHT: Good evening. I wanted to take a brief moment to acknowledge the Ukrainian artwork that is being displayed around the room. If you look around, and when the lights come back up take another look, the exhibition gives a glimpse of the scope and diversity of the creativity of Ukrainian and Ukrainian-American artists over the past century.
What a special evening, and congratulations to all our honorees this evening. As many of you know, I feel a deep connection to music and to all of the arts. It's after experiencing moments like this that I feel it is particularly appropriate that we look to music. Music is a universal language, and I cannot think of any song more fitting than this one to pay tribute to President Zelenskyy. This song is also an anthem for each and every one of us.
So, from the Metropolitan Opera, please welcome soprano Maureen McKay to sing the 1955 classic "Let The Be Peace On Earth."
FREDERICK KEMPE: As my daughter would say, OMG. Tonight, we celebrate remarkable global citizens. And, by doing so, we hope to inspire others to great accomplishments.
However, I'd like to start this part of the evening, heading into our very special guests in a couple of minutes and then the dinner break, by saluting the courage and resilience of an individual who cannot be with us tonight. That's Evan Gershkovich, the Wall Street Journal reporter who's been detained in Moscow since March 29, falsely and cynically accused of espionage.
Having, myself, spent more than twenty-five years as a foreign correspondent and editor at the Wall Street Journal before coming to the Atlantic Council, I perhaps have stronger feelings than many in this room about the need to free Evan as soon as humanly possible. Any of us who've been journalists in war zones or troubled situations know it could easily be us, and we don't know whether we might have his courage or his resilience.
Tonight, however, we're joined by two individuals who have experienced this on an even more personal level. They are Evan's parents, Mikhail Gershkovich and Ella Milman. Mikhail and Ella, please rise and let us applaud you and Evan. We stand with you and we are prepared to do whatever we can as a global community to bring Evan home as soon as is humanely possible. Thank you for everyone to support this cause.
The Atlantic Council's mission simply stated is shaping the global future together—shaping the global future together. This is only five words, but they powerfully express who we are and why so many of you are here tonight to support that mission and our work behind it. The first word is shaping. We don't just publish, convene, or advocate—though we do a lot of all those things in a nonpartisan internationalist bipartisan, but incredibly response-oriented, results-oriented way. We aspire to shape a better world through our actions, projects, and advocacy across our sixteen programs and centers and across the world.
The second term: the global future. We are at the beginning—not in the middle, not at the end—of a new era. The fourth inflection point since World War I and the global future is up for grabs again, as it was after World War I, after World War II, and the Cold War. We got it tragically wrong after World War I, better after World War II, somewhere in between after the end of the Cold War, where we expanded the European Union, NATO, the area of free markets and free peoples, but there was so much work left undone.
And the fourth inflection point will have to do with the outcome of the war in Ukraine—Russia's war in Ukraine—and how we handle this now and how we handle this not just now, but into the future, and you've heard that from our awardees so far. The coming months and years will determine what values, what institutions, [and] what set of countries will forge what sort of future. These are consequential times as you'll hear from our next awardee.
Third, together—the word, together—shaping the global future together. This is perhaps the most important of these five words—not America alone, not America from behind, not America first, but alongside partners and allies—and together with all the six hundred of you, from more than thirty countries, including several of our previous award honorees, including President Ursula von der Leyen, Former Prime Minister Magdalena Andersson, Dr. Ngozi Okonjo-Iweala, Klaus Schwab. These are previous awardees all in the room.
And previous awardees of our distinguished service award, Adrienne Arsht, General Jim Jones, Bahaa Hariri. You'll also be introduced soon to Victor Chu, who will be the fifth person ever to win this award. It was those three—Victor Chu, Henry Kissinger—that's five people in the sixty-year history of the Atlantic Council to have been recognized for this award.
For more than six decades, we've worked across borders, across the aisle, on a wide set of defining issues that have shaped the twentieth and twenty-first [centuries]. Last night we gathered at Gracie Mansion, the official home of the mayor of New York City, for a dinner with the Global Citizen Award co-chair partners, and it was hosted by Mayor Eric Adams. I think the mayor is in the audience, is that right?
Mr. Mayor? Where are you? Could you please stand so we can salute you?
Mr. Mayor, you've got a pretty cool home. Thank you for sharing it with us. And thank you for your gracious hospitality.
I am fortunate here tonight among the—to be among the largest number of Global Citizen Award co-chairs and partners in our history for this dinner. It's a great problem to have. I want to salute these individuals who make tonight's dinner and so much of our work possible.
Please stand as I call your name. I ask the audience to hold its applause until we get to the end of this list. It's a pretty long list, which my finance chair is incredibly happy about. And here are the names. Please stand. Please hold your applause.
Robert J. Abernethy. AEVEX Aerospace, represented by Brian Raduenz. African Rainbow Minerals, represented by my friend Patrice Motsepe. Air Products, represented by Seifi Ghasemi. ANA Holdings, represented by Yoji Ohashi. Adrienne Arsht. Atlas Technologies Group, represented by Guang Yang. Bank of America, represented by Larry Di Rita. Sarah Beshar. Blackstone Charitable Foundation represented by Stephen A. Schwarzman. Bradley, represented by Karl Hopkins. David L. Kaplan. Chopivsky Family Foundation, represented by George Chopivsky, Jr. DAI, represented by James Boomgard. Edelman, represented by Richard Edelman. Eni, Claudio Descalzi. First Eastern Investment Group, represented by Victor L. L. Chu. HIF Global, represented by Meg Gentle. Laurel strategies, represented by Alan H. Fleischmann and Dafna Tapiero. Mapa Group, represented by Mehmet Nazif Gunal. William Marron. Nomura Holdings, Inc, represented by Kentaro Okuda. One American Bank, represented by George Lund. Ahmet M. Oren. Palm Drive Capital, represented by Seamon Chan. Pfizer, Inc, represented by Dr. Albert Bourla. John F. W. Rogers. RTX Corporation, represented by Gregory J. Hayes. S&P Global, represented by Douglas L. Peterson. SICPA Holding, represented by Philippe Amon. SK, represented by Chairman Tae-won Chey. Sumitomo Mitsui Banking Corporation, represented by Makoto Takashima. Sustainable Development Capital, represented by Jonathan Maxwell. Nader Tavakoli. Broad Capital, represented by Danladi Verheijen. Zurich Insurance Group, represented by John Diaz.
A huge round of applause for this incredible set of individuals.
Without you, this dinner doesn't happen. Without many of you, the work we do every year doesn't happen. As General Jones, our two-time chairman—our chairman emeritus says to me, vision without resources is hallucination. We are not going to hallucinate. We're going to continue to exercise our vision. And thanks to you, we can do that.
This is a moment that is the most favorite moment, where I ask you to—a few people to rise and for you to really give a round of applause. I am lucky to work with people that allow this dinner to happen, to be executed with such detail, to have so much care about what they do, to open—I wake up every morning, wanting to be relevant. I tell them, don't be so naive to think you can change the world every day. But don't work at the Atlantic Council if you don't want to give it a try. You shouldn't be here.
So, Atlantic Council staff, board, international advisory board, please stand for applause. What a pleasure it is to work with you all. Ladies and gentlemen, please turn your attention to the screens for our next honoree.
VOICEOVER: In May of 2023, Atlantic Council Chairman John F.W. Rogers and President and CEO Frederick Kempe traveled to Kyiv, Ukraine, to present President Volodymyr Zelenskyy with the Global Citizen Award. While meeting with Ukrainian Cabinet members, the Atlantic Council staff experienced Zelenskyy's leadership firsthand and witnessed all that he continues to do for the people of Ukraine.
We are pleased to honor him tonight and to salute his ongoing commitment to defending an independent and democratic nation. We are honored to continue our commitment to Ukraine's future, building on last year's Distinguished Leadership Award to the people of Ukraine as we honor President Zelenskyy tonight.
JOHN F. W. ROGERS: Ladies and gentlemen, it's my great honor to formally recognize Ukrainian President Zelenskyy for his fortitude and leadership, for his country's heroic fight against authoritarian aggression, for his unyielding defense of the sanctity and the solidarity for democracies everywhere. The bravery and the resolve exhibited by Ukraine's soldiers and citizens alike has been nothing short of an inspiration to the world.
It is something that I have witnessed firsthand. I had the privilege to meet with the president and his team on two separate occasions spanning the many months of this war. It was important that we went and signaled to Russia and other nations that we are committed to a free and independent Ukraine. And on these journeys, we had an opportunity to engage with many officials and leaders to discuss the situation on the ground and its ramifications globally.
But due to the threats in the land and the air, the airport is closed. So, consequently, months after the war began I went by train from the Polish border to Kyiv. And for the first time since the fall of the Soviet Union, I was there. The windows of the train were taped to avoid shattered glass in the event of an explosion. And on that train, I saw many Ukrainian women and children who had fled but they were returning to visit husbands and fathers and brothers.
I shared a compartment with a family, a Ukrainian woman and her three-year-old son and her mother. And they were eager to reunite the boys—with the boy's father, who had just received a few days of leave from fighting on the frontlines.
I also met an elderly couple, Ludmila and Viktor. They were visiting their young daughter in Poland, whom they had not seen since the war started in February. They themselves would not leave their country. They said: If my president stays, I stay.
I also met a young woman who was returning back to her hometown to see her only brother. He had recently been called up to serve in the army. She was filled with tears, worried about her brother—not about her own safety, only about her brother.
Now, these and other tearful conversations set the tone for the rest of my trip. And as I stayed there thinking about the future, I was assured by what I saw in these people's eyes—hope and courage and sacrifice.
The human side and the toll of this war is captured in these everyday realities. We are living through the greatest period of uncertainty and unrest in more than two decades, driven in a significant way by the worldwide reverberations from the Russian war. As we navigate through, it is even more critical that we understand those moments, where it may lead, and each of our roles within it.
At such a formidable time, there is no better example of the right leader at the right time rising to meet the moment than President Zelenskyy and his unwavering resolve. He has won the trust and the hearts of nearly every Ukrainian and much of the world, delivering a master class in communication and advocacy for a modern nation under primeval siege. Even as we present him with this award and honor his courage, we know that he accepts these accolades on behalf of and for the benefit of his people and his country.
And when you think of the themes of civic virtue and the common good above self-interest, as I reflect upon the two leaders of these nations at war, the contrast could not be more glaring, the differences more stark. In Ukraine, everyday images of the reckless and unnecessary loss of life persist as Putin targets innocent civilians. His persona even ventures into the bizarre, with art forms comparing him to Hercules. Our mythical monsters are replaced with modern adversaries such as a multiheaded hydra of Western sanctions.
And in a contrasting worldview, President Zelenskyy at his inauguration instructed I do not want my picture in your offices. The president is not an icon. He's not an idol or a portrait. Hang your kids' photos instead and look at them each time you're making a decision.
Ladies and gentlemen, it's my honor and privilege to present to all of you the president of Ukraine and this year's recipient of the Global Citizens Award.
VOLODYMYR ZELENSKYY: Thank you very much. A great honor to be here.
Thank you very much, a great honor to be here. I didn't prepare a long speech. Sorry, too much for one day. And tomorrow, I'll be in [the] White House, so I have to save energy. I'm not alone here; I'm with my wife, I just want to see her somewhere… And our team, you there. Thank you so much that you invited us. Really, I don't have, in real life, I don't have, often, I don't have time to be near with my wife, together, so thank you so much. Yes, if you want to applause, please. Thank you very much.
Really, to be serious and to be very honest, this is not my award, and I address this award to all Ukrainian men and women in uniform. I address this award to all our sweet children who have been killed by Russian terrorists—I will never forget them. I address this award to our fathers [and] mothers who brought up [such] brave Ukrainian soldiers. And to all teachers and to all doctors who didn't leave the Ukraine from [the] first days of full-scale war, have been together with us, taught our clever boys and girls; even under Russian missiles, taking Russian missiles and Iranian drones. And of course, I address this award to all the partners: United States, EU, all brave countries who have been with us and supported us. Thank you so much.
And, of course, I address this award to all the people in the world who fight for freedom and democracy like we, we Ukrainians. Slava Ukraini.
JOHN F. W. ROGERS: I would now like to ask our guests to remain seated and ask for each of our honorees to join us onstage so we all have a photograph together with President Zelenskyy.
VOICEOVER: Victor L.L. Chu is the reason we are here tonight. Mr. Chu's involvement in the annual Atlantic Council Global Citizen Awards has solidified his dedication to recognizing and celebrating individuals who are actively driving positive change on a global scale.
In 2010, Victor and Atlantic Council President and CEO Fred Kempe co-founded the annual Atlantic Council Global Citizen Awards Dinner, which takes place alongside the UN General Assembly. The Atlantic Council salutes Victor with a special Distinguished Service Award for his contributions to the Atlantic Council and to forging a better world.
KLAUS SCHWAB: Distinguished participants, I would like to start with a personal remark. My earliest memory dates back to World War II, where I was sitting in a bomb shelter having my teddy bear in the arms and hearing the bombs coming down. And that was, let's say, the start of never war again in Europe. President Zelensky, you are a hero. And we have to make sure that the brutal aggression never succeeds.  
Now, it's my great pleasure to introduce Victor L.L. Chu, who is being honored this evening with the Distinguished Service Award, an honor only given a few times previously for extraordinary service to the Atlantic Council. We have honored this evening outstanding political leaders. But there are also statesman business leaders, and many of you are also here in the room—business leaders which do not only create prosperity, but really serve the people and society.
Victor, I must admit it's quite a challenge trying to do justice to your accomplishments in such a limited time. In some way, it feels a bit like capturing the essence of a symphony in one single note. Victor, you are not only an accomplished professional with a long and distinguished career as an entrepreneur, financier, and philanthropist. You are also an exceptional human being and a dear friend since three decades. Your life journey has nothing been short of extraordinary achievements. You embarked in many ways to serve society already as a young—as a young person. You became actually the youngest governor of the Hong Kong Stock Exchange, at the age of thirty-one. And the World Economic Forum had the pleasure to nominate you a global leader for tomorrow thirty years ago. And you fulfilled our expectations.
Victor's history of public service is prodigious. His contributions to numerous boards and advisory boards of highly reputed organizations demonstrate his unwavering commitment to addressing global challenges from a holistic perspective. What sets you really apart, my dear Victor, is the multidisciplinary nature of your service. You have tirelessly championed, in business, investments, policy, education, and philanthropy. Your role in the international advisory councils of the mayors of London, New York, and Rome, coupled with your leadership as chair of both the Hong Kong-Europe Business Council and the Hong Kong-US Business Council demonstrates your ability to navigate this intricate nexus between policy and business with great sophistication and, I should add, humility.
Moreover, your contribution to education as the council chair at University College London, and your involvement with many other prestigious universities, highlight your commitment to shape the next generation of leaders. Perhaps the most remarkable aspect of your career is your dedication to improving understanding between the East and the West. And here, I particularly acknowledge your extraordinary engagement with the Atlantic Council over so many years.
Your global vision and tireless efforts have made you a true ambassador of cultural and economic exchange, fostering understanding and collaboration on an international scale. On behalf of all of us, I want to congratulate you, Victor, on this much-deserved recognition. We honor not only your achievements, but also the enduring legacy you leave for future generations—one characterized by a commitment to service, a spirit of unity, and an unwavering belief in the power of bridging divides. We wish you all the best for continuous success in every way, and we look forward to many years of your magic to continue to work.
Victor, please join me, and please celebrate a great business statesman.
VICTOR L. L. CHU: Thank you so much, Klaus. You and Hilde have been a mentor and role model for Irene and myself for more than thirty years to which we are eternally grateful. So thank you again, Klaus, for your generous words.
Distinguished guests, ladies and gentlemen, I'd like to start by thanking the leadership of the Atlantic Council for this exceptional honor, which I feel extremely humbled. I want to thank in particular John and Deborah, Fred and Pam, Adrienne, Steve, amongst many other good friends.
I want to thank my family who are here en masse. Quite a few of them are here. And particularly my first cousin, Albert Chu, who is also celebrating his sixtieth birthday today. Happy birthday, Albert
I want to thank so many of my good friends who are here. Without your support and encouragement, we would not have such a wonderful success at the Global Citizen Award. Many of you have come from overseas to join us this evening.
I would particularly like to thank Chairman Ohashi of ANA and also President Inoue of ANA. The three of us are, I suppose, the original partners in the creation of Peach Airline, which is the leading low-cost carrier in Asia, and thank you, Ohashi-san and Inoue-san, for joining us today.
I also want to mention my dear friend Robbie Lyle from London, who has been a friend and a mentor of mine again for forty years, and he's here with Lizanne (ph). So thank you, Robbie, for your really great friendship over many years.
Ladies and gentlemen, I was very blessed that at a very young age, I was instilled by my parents the value of dedication and public service. Sadly they are no longer with us, but I was wondering that if my mother is here tonight she will be completely thrilled and delighted. My father would have been pleased, but he would say that Victor, this is not good enough. Yeah, I can hear that. And in many ways, he was right for those of us who have been brought up in the last sixty, seventy years, in a period of peace, stability, and strong economic growth. In my father's words, we have never weathered the storm.
However, the world has become a lot more complicated. And as I've said almost every year for the last twelve years, the challenges to society today [are] unprecedented. Last time we talked about cyber, climate, food security and conflicts in Europe. And this year we've added the challenges of ChatGPT and the threat of advanced AI.
So multifaceted problems require a cross-disciplinary approach and also global collaboration. I remember, as a young man, every morning at school in Hong Kong we were asked to remember the instructions of St. Paul—faith, hope, love. And the greatest of the three is love.
Love in today's terminology is really an extension of tolerance and kindness. And here we are today, faced with these extremely complicated problems. Let me call upon all of us to rise to the occasion. We need to have more compassion. We need to communicate constructively. We need to engage more frequently. And, where necessary, a little bit of constructive ambiguity would do no wrong.
So as a Liverpool Football Club fan for more than fifty-one years, let me conclude by saying we have to remember we never walk alone.
Thank you, ladies and gentlemen.
VOICEOVER: US Treasury Secretary Janet Yellen stands as a distinguished economist and policy leader who has made remarkable contributions to building a more resilient US and global economy. Her extensive expertise and commitment to economic justice have shaped her career and policy agenda. Her dedication to evidence-based policymaking and her commitment to addressing economic disparities make her a pivotal figure in shaping a more equitable and fruitful future for all.
Yellen's legacy will undoubtedly leave a lasting impact on economic policy and the pursuit of a fairer, more prosperous world. The Atlantic Council is honored to celebrate her and her illustrious career tonight.
MINISTER CHRYSTIA FREELAND: Bonjour mes amis. C'est un très très grand plaisir, c'est une très honneur, d'être ici avec vous ce soir pour célébrer mon amie, l'excellente secrétaire du trésor des États-Unis, madame Janet Yellen.
We are today living through the most consequential moment in world history since the fall of the Berlin Wall. Brutal war has returned to Europe. People around the world are struggling with higher prices and elevated interest rates after a once-in-a-generation pandemic. Democracies are grappling with the clean energy transition, which is the most significant economic transformation since the industrial revolution itself. And it was Chancellor Scholz, actually, who used that term in a meeting of finance ministers that Secretary Yellen and I were at when he was still a humble finance minister.
At this profound historical inflection point for the global economy and for democracy itself, there is no person—and for sure, there is no woman—more uniquely suited for the truly essential role she occupies, than Secretary Janet Yellen. Now, why is Janet such a formidable leader for the world right now? First, because Secretary Yellen is a champion of economic policy that works for working people. As President Zelensky said, you can applause if you like. The approach she cleverly described as "modern supply-side economics," a belief that investing in people and building an economy from the middle out is the path to strong steady growth—that approach will stand the test of time as the progressive response to the tried and failed plutocrat-enriching policy of trickle-down economics.
Second, we need Janet because Secretary Yellen has led and delivered a return of US economic leadership in the world. She has been a real visionary in driving closer economic cooperation between partners, in what she has called friend-shoring our economies. Now for a lot of people, for a lot of countries, a tempting response to Russia's illegal and immoral invasion of Ukraine, and to the economic vulnerabilities it exposed, could have been autarky. Instead, thanks significantly to the work of Secretary Yellen, the United States, Canada, and democracies around the world—including many in this room—are working more closely together than ever before, building our supply chains through each other's economies, creating good careers for working people, and ensuring that democracies depend on democracies rather than on dictators.
Third, Secretary Yellen's leadership has been critical in our response to Putin's illegal war in Ukraine. Before Putin invaded, Secretary Yellen was there in meeting after meeting, rallying the world to create a sanctions package which was historic in scale, and which would snap into place if and when Putin's tanks crossed Ukraine's border. We all hoped—we hoped so much—that deterrence would work. But when it didn't, we were prepared. Since that very, very dark morning, Secretary Yellen has been leading the fight to hold Putin and his henchmen accountable and to squeeze their revenues for war. With measures like the freeze on the assets of the Russian Central Bank, an excellent idea, and the oil price cap. You can also applause if you'd like.
Now, Secretary Yellen understands that, as she sometimes puts it at meetings of our allies, there are two fronts in this war—the military front and the economic front. She knows that we need to supply Ukraine with weapons and we need to supply Ukraine with money. And that is an effort Secretary Yellen has spearheaded. And let me just add Canada has, of course, been there too, providing the highest level of per capita financial support to Ukraine of any G7 country. So at this pivotal moment for Ukraine, for democracy itself, we are all so fortunate to have Secretary Yellen leading this most consequential of efforts.
Now, let me conclude where you may have expected me to start, with the glass ceiling. In his "Life of Samuel Johnson," Boswell quotes Johnson as saying, "Sir, a woman's preaching is like a dog walking on his hind legs. It is not well done, but you are surprised to find it done at all." Now, an echo of that swaggering contempt is something I am sure every single woman in this room has heard probably quite a few times when she's been praised as the first woman to do whatever job she now holds. And that's why I didn't start by lauding Secretary Yellen as the first woman chair of the Federal Reserve and as the first woman secretary of the treasury, because the most important point about her is that she was an outstanding Federal Reserve chair and she is a formidable treasury secretary.
But it is also unfortunately still true that her gender matters and that it makes a difference. It matters to women in the United States who are pursuing careers in economics and finance, women—fields where women are still vastly outnumbered. It matters to me and to every other woman in the room. We find it easier to speak up and we find it a heck of a lot easier to be heard when we are in a meeting where the secretary of the treasury, Janet Yellen, is speaking as well. Usually, they let her talk first, by the way. And it matters to the billions of women around the world who see in Secretary Yellen their own rightful place at the head table of global leadership.
In the nearly three years we've worked together Secretary Yellen has been an incredibly important colleague, and she has also become a valued mentor and a friend. As an extra bonus, we make each other look tall in photos.
And so I am really, really honored and really happy to introduce a remarkable leader—a champion for working people, a champion for democracy, a champion for Ukraine, and, let's face it, a role model for every single woman in this room, in this country, and in the room, my friend, the secretary of the treasury of the United States, Janet Yellen.
JANET L. YELLEN: Thank you. Thank you, everyone.
Thank you, Chrystia, for your kind words and for your leadership.
And thank you to the Atlantic Council. I'm honored to receive this award and to be among such distinguished fellow recipients.
When I was born, the world was still recovering from the devastation of the Great Depression and the Second World War. From the rubble of these crises, the United States and many other countries charted a postwar course premised on a conviction that each nation's stability and growth depended on our collective security and prosperity.
This is equally, if not more, true today. I took office in the depths of the COVID-19 pandemic, which underscored just how interconnected we all are. From the beginning of the administration, we made clear that American isolation and retrenchment were over. And we set forth a new guiding principle. America is strongest when we engage with the world. As my nation's chief economic diplomat, I have since worked to faithfully apply that principle.
When Russia invaded Ukraine in February 2022, we witnessed the determination of the Ukrainian people as they fought for their lives and their freedom and for the values we all share. And we knew we had to support them with a decisive response.
As we look back on the past year and a half of the war, it's clear that many of our actions so far would have been impossible to undertake if any country were attempting them alone. Our unprecedented multilateral sanctions regime and novel price cap on Russian oil exports are effective in pressuring Russia only because we acted as a global coalition. And I believe the global economy is in a better place than many of us would have thought possible a year ago due to our collective actions.
This commitment to multilateralism should drive our continued efforts to exert more pressure on Russia to end its unjust war and to support the Ukrainian people. And it should shape our actions in crises to come.
Robust engagement with the world is not confined to moments of crisis, however. It's required, for example, to hold off the steady march of climate change, which is affecting communities across America and around the world; to invest in the global-health system that can prevent and withstand the next pandemic, avoiding the immense human toll and economic damage like that we saw from COVID-19; to create a fairer international tax system that ends a race to the bottom and benefits working people around the world.
So we have helped lead efforts to establish a pandemic fund and to align over 130 countries on a global minimum tax. We've put forward a new vision for development in the twenty-first century focused on global challenges, and we've collaborated with others to evolve the multilateral development banks to make good on it.
We're also working to stabilize relations with China by seeking a healthy economic relationship that benefits both sides and enables cooperation on global challenges while protecting our vital national-security interests.
In sum, we've engaged with the world, including through committed coalition building and with a view to building the global economy we need for the long term. In today's world, we're in it together. And we have to go at it together if we want to make our nations and the world safer, healthier, and more prosperous.
Thank you again for this honor. I look forward to the collective work ahead of us. Thank you so much.
FREDERICK KEMPE: I'll say just a couple of things before you get a very special treat to take you all home. So, first of all, we'd like to thank Edelman for in-kind event support for tonight. We'd like to recognize Foreign Policy and The Wall Street Journal Barron's Group, my friend Almar Latour as the official media sponsors of the 2023 Global Citizen Awards. We thank the Ukrainian Institute of America for curating the collection of art played at our reception this year. And now, please give it up for Luke Frazier of American Pops, Robert Pullen and Nouveau Productions, for just remarkable in-house band for us, all the time. And Nouveau Productions is really best in class. So thanks to all of you.
We always like—we always like to send you home with something special. In honor of the extraordinary accomplishments of each of our honorees this evening, we dedicate this final moment to each of you, every one of you, in every seat, at every table, all over the room. To sing a piece from Disney's "Hercules," please welcome the extraordinary Broadway star, Nic Rouleau. And if you don't know him already, and many of you already do, you're going to know him after this. So, Nick, over to you.
Further reading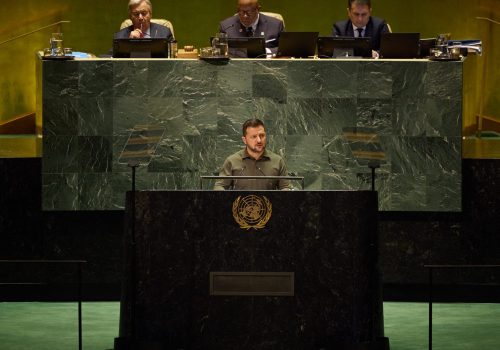 Wed, Sep 20, 2023
Zelenskyy tells United Nations: Russia is committing genocide in Ukraine
UkraineAlert
By
Taras Kuzio
Ukrainian President Volodymyr Zelenskyy told the UN this week that Russia is committing genocide in Ukraine. Efforts to legally prove genocidal intent will likely focus on the genocidal rhetoric of Putin and other Russian leaders, writes Taras Kuzio.
[ad_2]
Source link