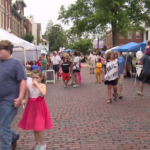 MT. STERLING, Ky (WTVQ)- An annual festival celebrating the town of Mt. Sterling returned Saturday to downtown.
The Small Town America festival brought hundreds to the area for some fun and friendship.
"What can you say. It's the charm, it's the love of the people. People are so nice and friendly here," says Tracy Pearce, the tourism director for Mt. Sterling.
Pearce says those are just some of the things that make Mt. Sterling special. And the city is celebrating its' charm through its annual festival on the court square.
More than fifty vendors were set up,  all selling locally made products.
"It's better than going to a mall. You get to experience unique shopping and dining. And of course with a festival like this, you get to see interesting things that you maybe wont get to see anywhere else because they're all hand-made," says Pearce.
The event also featured food trucks, kids activities, a health fair and live music.
The festival has been a staple for 17 years.
"We love our small town. We wanna share it with everyone," says Pearce.
The city's next festival is the huge Court Days held in October.