[ad_1]
Michigan's Wolf Eyes—John Olson and Nate Young—have been prolific noise auteurs for over a quarter century. You don't last this long in the noise game without wiliness and a willingness to keep tweaking your sound, so as not to cause fatigue in listeners. 
Better than most in the history of noise music, Wolf Eyes understand the necessity for dynamics and tension. Their 75-minute performance at Vera Project proved yet again the duo's mastery of these elements before a reverent, 70% capacity crowd, which, by the way, featured two-thirds of Seattle rock legends A Frames (who—newsflash—are coming out of retirement to play Clock-Out Lounge on November 11).
Though Wolf Eyes have had associations with big labels such as Sub Pop and Third Man, they've mostly existed as a DIY unit whose recording ethos is as simple as can be, as Olson told me in a 2004 interview: "We get wasted, we fucking jam, and we put it out [usually on their own label, American Tapes, or on former member Aaron Dilloway's Hanson Records]. Then we get a pizza."
Olson (who creates hilarious memes as "INZANE JOHNNY" on Instagram) and Young (who looks a helluva lot like the godlike singer Scott Walker) have gracefully moved into middle-aged respectability in both looks and onstage demeanor. Standing behind neat work stations stocked with samplers and sequencers (perhaps Elektron Octatracks?), Wolf Eyes methodically fucked with our minds. 
The set began with quasi-techno thumps overlaid with unsettling whistles, wheezes, sweeping bleeps, and distorted foghorn. Lesson: Always grab your audience by nads from the get-go. But as someone who felt actual ripples of pain in my testicles from Wolf Eyes' 2006 Wooden Octopus Skull Experimental Musick Pfestival show, I can say that these days they're more about barely suppressed rage and implied menace than the more bombastic attack of their rowdier youth.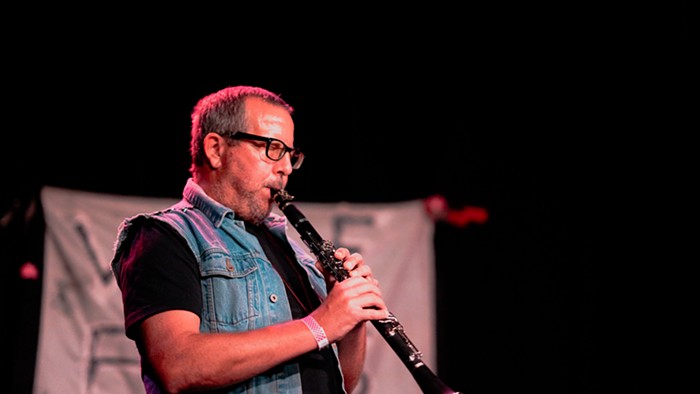 Again deviating from noise-artist norms, Olson often plays clarinet, saxophone, and flute. In one memorable passage, he produced desolate tones on his clarinet in the gaps between Young's subterranean rustles and well-paced detonations. Portentous drones, of course, figure heavily in Wolf Eyes' sound, and theirs hark back to masters such as Tod Dockstader, Moton Subotnick, and Throbbing Gristle.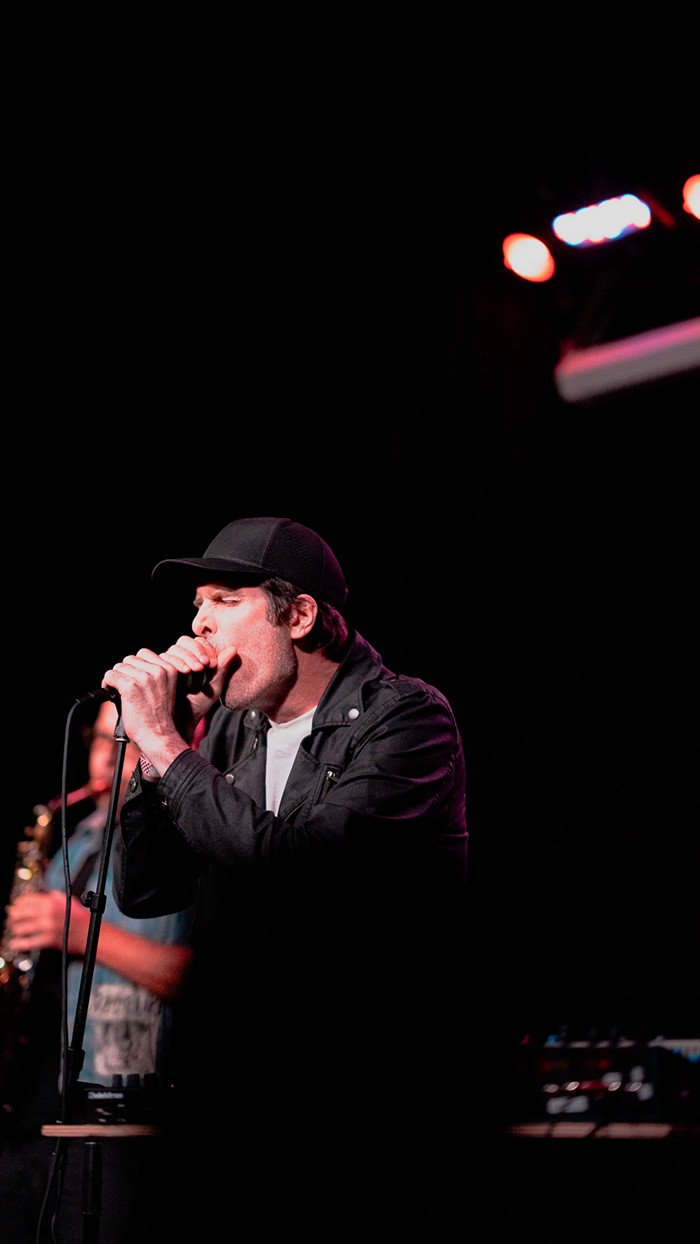 What stood out during Wolf Eyes' set was their use of rhythm. Most musicians use it as a facile way to trigger feelings of joyful movement and emotional release in audiences. By contrast Olson and Young tune and time their drum machines to sound like doomed heartbeats. When combined with the former's woebegone sax wails and the latter's disgusted growls (I couldn't discern a single word), the music's effect is acutely alienating. For listeners highly attuned to the world's atrocities and imminent catastrophes, this approach really resonates. 
At this late stage, Wolf Eyes fully understand the power of restraint. Their rigorous noise sculptures keep you on edge, with no catharsis, because that would be too easy. On their third and final piece, which somehow reminded me of Tonto's Expanding Head Band's ominous "Jetsex," Wolf Eyes conjured what could have been a soundtrack for the end of the world—just spirit-killing stuff. We loved it.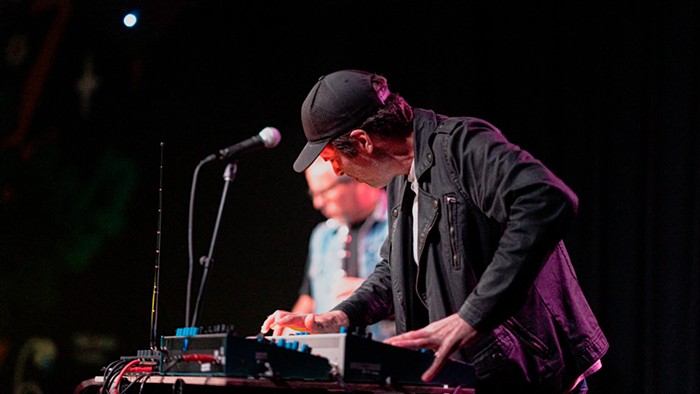 The night's second act, Seattle trio fine, proved that there's still juice left in the guitar/bass/drums rock setup. They divulge no details about themselves online, but my first impression is that they are young and nonchalantly brilliant and Hardly Art Records should sign them yesterday. They play stark, oblique rock with no frills and plenty of thrills. Just when you think they're a standard-issue indie-rock band, fine subtly shift tempos or unexpectedly change keys. Tight, precise, and with surprising dynamics, fine deserve your undivided attention.
Opening act RN White (aka Rachel LeBlanc, former curator of the great Seattle festival Debacle) let loose a torrent of industrial hellroar, a molten flow of sulfuric rumbles. Her set peaked when she finessed some circular-saw buzzing into a mantric rhythm. Gradually, RN White's noise enfolds you like a lead blanket. It was quite the cochlea-cleanser for the rest of the night.


[ad_2]
Source link