The pianist Isata Kanneh-Mason, 27, has an international career as a soloist and chamber musician, with forthcoming concerts in Lucerne, New York, Seoul and elsewhere. A regular duo partner with her cellist brother, Sheku Kanneh-Mason, she grew up in Nottingham, the eldest of seven siblings, all musicians. Her third solo album, Childhood Tales (Decca), was released in May. On 1 August she will make her BBC Proms solo debut at the Royal Albert Hall with the BBC National Orchestra of Wales.
You're about to play your first solo Prom. Exciting? Nerve-racking?
I've done two chamber music Proms before, one during Covid, without an audience, so to be in the Albert Hall in front of a large crowd is a really big thing in my career, and very exciting. I'm playing Prokofiev's Third Piano Concerto – one of my favourites: completely crazy and very rhythmic. That's something I relate to, the patterns and precision. As soloist in a concerto, however hard you prepare, you don't know how it will be until you meet the orchestra and give the first performance. Luckily, I've had a chance to perform this piece several times, though this will be my first time with BBC NOW.
There's a preconception that the life of a concert pianist is lonely, solitary, even tortured. How do you manage a work-life balance?
I'm very careful. I'm quite disciplined and good at working by myself. I set aside particular hours for practice – always the morning, and then either afternoon or evening, depending on any social arrangements. I have different ways of working, perhaps playing with my eyes closed, to get closer to the music. But I know the risks of spending too long on your own, so I make plenty of time to see friends and family.
There have been legal complaints recently about musicians who practise at home. You live with friends in a flat in north London… it can't be easy.
The answer is, I have a piano with a silencer on it. So I can practise any time of day or night with the sound down and headphones on. But I have places I can go when I need to play on a really good instrument…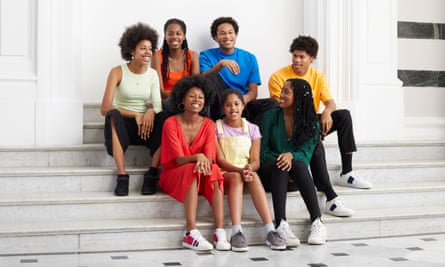 As the eldest of seven siblings, you must have had the burden of leadership thrust on you, or doesn't it work like that?
It was more the case of needing to set an example when we were all younger, because I was usually the first to be taking grade exams or doing milestone things in school. But now we're all developing our careers in different ways, so we support each other. There's a lot of scheduling and group chat on WhatsApp.
You have always found a natural flow between different kinds of music – and you've never regarded classical music as stuffy…
None of us have, I think because we heard all kinds of music from a very young age. It was part of life. Classical music reflects every human emotion. If you pay enough attention, if you listen, you can understand it.
You and your siblings attract noticeably different, more diverse audiences. How can they be tempted into other classical events?
There's no easy answer, but connecting to a soloist or a particular composer can lead you to hear new things. I like playing in a wide range of venues, not just concert halls – state schools, places like a Peckham car park [Bold Tendencies, the south London venue where she will next perform on 8 September]. You meet people from different walks of life that way. I love it when people say they've come to my concerts, in totally different venues.
Because you and your siblings all succeeded in your Nottingham state school, people expect you to have the answers to the growing problem of music education…
We were very lucky at school, and also had enormous parental support. Lack of funding is one issue. But more important is to recognise the value of music in all aspects of life, in terms of self-discipline, confidence, collaboration.
In your playing, you've been determined to bring lesser-known composers to the fore. Have you got more in mind?
That's certainly been a preoccupation, but I think that kind of exploration should be part of every musician's life. I included Dohnányi's Variations on a Nursery Tune [on her Childhood Tales album] because it's a great piece, quirky and unique, and hardly played. I'm currently discovering the incredible music of Sofia Gubaidulina.
Favourite pianists?
From early childhood I loved the playing of Martha Argerich. She was a role model. But there are many others. The recordings of Rachmaninov playing are amazing, and other greats from the past, like Artur Schnabel or Sviatoslav Richter, are an inspiration. Of players today, I'm a huge fan of Benjamin Grosvenor and Beatrice Rana.
What do you listen to off duty?
Beyoncé! I just went to see her in London… Aretha Franklin, Lauryn Hill… everything. Lots of film tracks. Musicals like Hamilton, The Lion King, Miss Saigon, Jesus Christ Superstar and, probably my all-time favourite, Fiddler on the Roof. Last week I was at Ronnie Scott's with two of my sisters and this week I'm going to Oklahoma! I can't wait.
Don't you find the pieces you're working on are forever playing round in your head?
I wish I did! But I find the minute I'm not at the piano I switch off from work. So when I'm walking or at the gym, or running or cooking or travelling – and I'm travelling a lot for concerts – I'm always listening to different stuff.
You meet a reluctant classical newcomer. What should they listen to?
The fourth movement of Shostakovich's Piano Trio No 2.
That's hardly an obvious choice!
It was used in a film, The Page Turner. We all thought it was very thrilling and cool. We tried to play it – I was aged about 10, my brothers Braimah and Sheku even younger – but it was too difficult. So that, and the first movement of Schubert's Death and the Maiden quartet. I heard them really young and they connected with my child brain at the time. So I guess that must mean they are pretty accessible.
Source link