Generous 'bungalows in the sky,' defining architecture and vibrant community make this a signature address.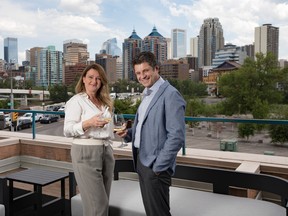 Reviews and recommendations are unbiased and products are independently selected. Postmedia may earn an affiliate commission from purchases made through links on this page.
Article content
With an infusion of significant expressions of strong architectural significance and sense of place — starting with the Bow Tower, followed by the new Central Library, the National Music Centre and several residential projects that push the traditional boundaries, Calgary, over the past several decades, has experienced a skyline transformation. Another such project is soon to etch skyward across the Bow River, at the confluence of Memorial Drive and 10th Street N.W., one of the most iconic and visually memorable intersections in the city.
Article content
Aptly named the Kenten (the name is a combination of Kensington and Tenth), the mixed-use, eight-story project will offer a collection of 50 luxury homes. Most will have 70-foot frontages that incorporate 22 feet of retractable glass curtain wall, allowing the living area to integrate with the generous outdoor terraces to offer one of the most comprehensive condominium-style indoor/ outdoor living environments in Calgary. The developer, Sable Group of Companies, calls the homes "bungalows in the sky."
Article content
"This is the most interesting corner in Calgary, so we spent some time unpacking what that really means," says Sam Boguslavsky, founder of Sable Group of Companies. "It's an important gateway, both north and south and east and west, so we really wanted to do something very unique."
In 2001, Boguslavsky and his wife, Loranne, the company's vice-president, purchased the property. It's currently known as Kensington Gate, a nine-storey mixed-use apartment-style project with 80 homes.
"When we bought it, we knew that there was something really special here, because the community itself resembled Europe and resembled the lifestyle that Loranne and I really enjoy. We create things that we could see ourselves enjoying and want to bring them to others," says Boguslavsky.
Article content
The couple lived and worked abroad in Moscow for several years in the 1990s and at the time travelled extensively throughout Europe, where they fell in love with the European lifestyle — the walkability, everyone is outside enjoying a meal with family and friends, people live close to where they work with no stressful rush hour commutes. It's a place of beauty where people make time for each other, for connections, for good food and where life and the moments are treasured.
Sable Group of Companies has brought this philosophy into many of its projects, including the beachfront resort Legacy on Mara Lake and Sable Ridge Resort in Radium Hot Springs.
But Sam says that the time is now for the redevelopment and refresh of the structure in Kensington.
"During COVID, we went into our little caves, like bears, and tried to figure things out, but it didn't work, because we are supposed to be amongst one another — family members, friends, that's what life is. We are meant to interact, enjoy, invite — this project will allow that to the greatest extent," says Sam.
Sam and Loranne have their offices in the current Kensington Gate building and 18 months ago, the couple sold their big home in Springbank, after the kids flew the nest (one of their sons — Markus — is now working with the company). The couple moved into a top-floor condominium in the building to get a hands-on feel for living in Kensington and for what they wanted to create in the Kenten.
Article content
They brought on the team at Davignon Martin Architecture + Interior Design to help them with the design of the project.
"They really gave us free rein for this project and asked us to approach it as though they were high-end single-family homes. So, we started seeing them as bungalows, rather than a piece of a condo building. In these homes, everything is just so spacious. This project just doesn't have any limitations," says Doris Martin, principal at Davignon Martin Architecture + Interior Design.
The 50 homes will be spread over seven floors with two- and three-bedroom plans ranging from 1,100 square feet to upwards of 4,700 square feet. All will have magnificent views, floor-to-ceiling glass walls and nine, 10 or 11-foot ceiling heights; most will face south with views of the Bow River and the city's skyline, while others will frame scenic vistas of Riley Park, Kensington Village and the foothills.
Finishes are ultra-luxury and the home designs offer all of the conveniences of a single-family home from large 14-foot-long kitchen islands encased in solid quartz with a three-inch lip and cascading waterfall edges to a full butler's pantry with a second fridge, sink, dishwasher and even room for a second range.
Article content
"When it came to the design, we really didn't want to disrupt the view or divide up the space too much. We placed a lot of emphasis on coming in the front door and the floor-to-ceiling glass and the view out," says Martin, noting that to achieve this, the design incorporates all of the solid and enclosed private storage and bathrooms along the core wall, leaving the window wall for all of the living space.
"It's kind of obvious, but creating that in all of the layouts was a bit of a challenge, but we did it and we used the millwork and the woodwork to extend and expand the architecture of the space."
As for amenities, the Kenten will be chock-full, with a 10,000-square-foot amenity space on the sub-penthouse level with a gym, spa, golf simulator and a 4,000-square-foot SkyLounge with a commercial kitchen and outdoor terrace. A concierge service is also planned.
One of the unique features of the building's design, which weaves together glass, wood, matte black and polished metal — a look of sophisticated modern elegance (Martin calls it "sexy"), is that it incorporates the existing podium level brick structure built in the early 1990s and will leave all of the current business and the parkade intact, so that all of the businesses on the north side of the project will be able to continue to operate during construction of the residential tower.
Article content
"I think this building is going to showcase a lot of what makes Kensington great — the views of the river, the views of downtown, small, fun, quirky shops, everything you need is nearby. We have a tremendous mix of businesses and we have a real sense of community, so to have a developer like this, who is so respectful of the community and is a community partner — they often sponsor community events — it's so wonderful," says Annie MacInnis, executive director of the Kensington BIA (Business Improvement Area).
The developers expect to break ground in the spring of 2024, with occupancy expected in 2026.
Homes start at $1 million. Visit thekenten.ca for more information and to book a private viewing of the 2,000-square-foot show suite, located at 100 10A St. N.W.
Source link