[ad_1]
A classical music concert, Sur Varsha, was held at Kala Mandir on the evening of July 9 to commemorate India's selection as president of the G20 group of countries. Organised by Akashvani, it also served as a platform to promote India's rich cultural heritage.
The programme commenced with a welcome address by Akashvani's assistant director general of the eastern region, Rajiv Bhattacharya. In his address, he highlighted Akashvani's ongoing support for developing talent and promoting music.
Jadavpur University's head of the department of international relations Dr. Imankalyan Lahiri delivered a lecture on the significance of India's G20 presidency and the role of the group in global affairs. He said, "The rainy season is here, and just as good things commence with rain, Sur Varsha is the perfect manifestation of that."
The stage was then set ablaze with a mesmerising jugalbandi performance, featuring the renowned Pandit Tarun Bhattacharya on the santoor and Pandit Ronu Majumder on the flute. Their soul-stirring melodies enthralled the audience, setting the mood for the rest of the evening. The melodic journey continued with a captivating thumri recital by Kasturi Bandopadhyay, accompanied by Prangopal Bandopadhyay on the tabla and Hiranmoy Mitra on the harmonium. The grand finale of the evening was presented by sitar maestro Pandit Tejendra Narayan Majumder, who enchanted the packed hall with his evocative performance. Pandit Kumar Bose accompanied him on the tabla, creating a mesmerising rhythmic tapestry that echoed throughout the auditorium. Their breathtaking performance showcased the various moods and intricate nuances of Raga Malhar, leaving the audience spellbound.
Sur Varsha not only honoured India's G20 chairmanship but also emphasised the power of music to bring people together. The occasion highlighted India's dedication to international cooperation and unity while showcasing the nation's prodigious talent and cultural variety.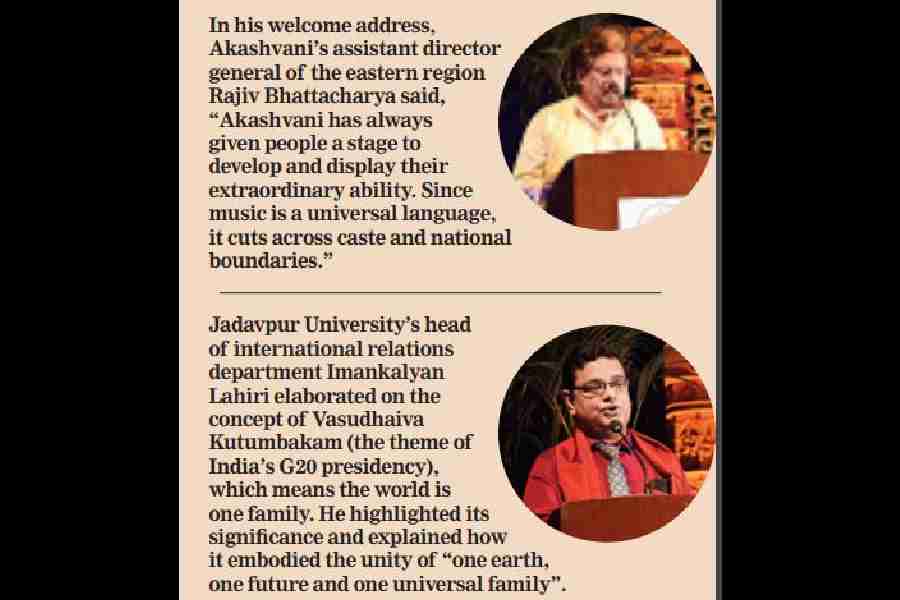 [ad_2]
Source link