[ad_1]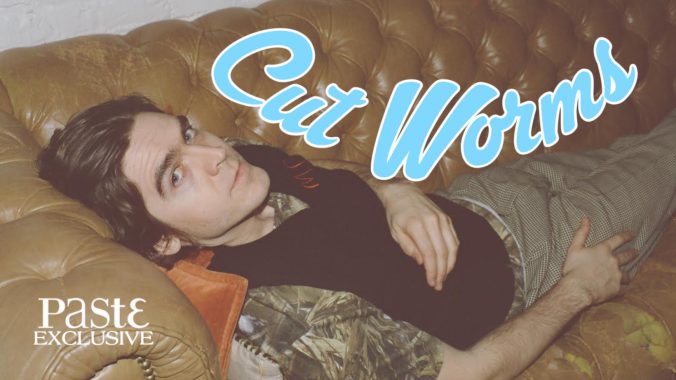 "I feel the world is opening up / For nobody but me," Max Clarke sings near the beginning of Cut Worms, the new, self-titled chapter of his beloved project. It's an apt-yet-diligent reminder that folks from all over are still recalibrating after COVID-19, and we touch base again with Clarke three years after his last major Cut Worms project—the 2020, sophomoric double-album Nobody Lives Here Anymore, which cemented his status as one of the 21st century's best purveyors of pop standard-injected rock 'n' roll. If you aren't hip to his work as Cut Worms, perhaps you know Clarke and his artwork—as he designed the cover of Greil Marcus' most-recent book Folk Music: A Bob Dylan Biography in Seven Songs.
But here in the musical stratosphere, Clarke pairs the mythical, treasured DNA of his sonic heroes with a language of modern narrative devotions and fashioned Nobody Lives Here Anymore into a contemporary gesture of intimate retro adoration. And, in a world full of generational imitators, Clarke's then-opus arrived urgently—becoming a project so indescribable in its fusion of new and old that it defied the very notion that any familiarity it conjured could be considered a relic of a different millennium.
Clarke grew up in Strongsville, Ohio, no more than two hours east of where I call him from early one chilly April afternoon. After graduating a Mustang bathed in green and white, he ditched the Cuyahoga for a spot in Chicago, where he attended art school for four years and met his partner, whom he currently lives with in Brooklyn. Clarke played in Windy City bands before departing for the Big Apple, most-notably a garage rock band called The Sueves—who are still at it, having released their Tears of Joy LP in 2021. "I've always been writing my own stuff since I was a lot younger and, at some point, I stopped playing in the Sueves and started focusing on my own stuff," he says. "I did some home demos that I put on Bandcamp, and people seemed to respond pretty well to those."
Though Clarke wasn't getting immense attention from industry gurus in Chicago before moving to New York, heading to the East Coast without a label behind him wasn't a detriment at all—as he got caught up, quickly, in the whirlwind of the city's glowing, dynamic pace. "I played a couple of shows and then, immediately, met a bunch of people who were really enthusiastic and helped me out a lot, as far as introducing me to people," he adds. "I was able to get a record deal and I haven't stopped from there." Since arriving in New York, Clarke has bounced around different parts of the Brooklyn burough over the last decade, migrating everywhere from Bushwick to East Williamsburg to South Brooklyn, where he and his partner reside now.
Graduating from the DIY basement and warehouse shows of Chicago where everyone who played music knew each other, Clarke was vaulted into New York's musical ecosystem, which was rife with creatives from all genres in every quadrant of the biggest city in the country. But he soon found community with folks he still keeps close to this day. "The second show I played was at a place called Paliasades [in Bushwick], which no longer exists, and I met people who are still good friends of mine," Clarke says. "One of them is in my band, John Andrews. Another one [was] John "Catfish" DeLorme, the pedal steel player who has been in and out of my band all the time for years now. I got real lucky that it all just fell into place." Andrews' influence was particular, as he was in a band called Quilt and knew a lot of people around the city and got Clarke's work in front of many others.
Though his first release as Cut Worms was Hollow Ground in 2018, it was on Nobody Lives Here Anymore two years later where Clarke came into his own. Though it arrived as a 17-song, hour-long double-album, that wasn't Clarke's intention. "I had all of these songs that I was writing and I knew I was going to be working with the producer, Matt Ross-Spang, down in Memphis," he says. "I just wanted to go down there and record as many as I possibly could, with the thought that maybe I would release some of them or maybe even get two records' worth if I could. But then, after it was all done and I had done overdubs, we ended up getting 17 songs in two weeks down there. I think, at that point, the songs, to me, felt like they all went together. And, even though it was a lot, it didn't make any sense to hold anything back."
Nobody Lives Here Anymore, catalyzed by some truly grand tracks like "Sold My Soul," "Veteran's Day" and "Always On My Mind," was a handsome album made by a guy who never burrowed himself too deep in the riches of yesteryear. Sure, you can point to those JFK-era bubblegum rock sparkles—or the pastiches of George Harrison and Badfinger—and call them evocative of a bygone time, but Clarke brings something to the table that most songwriters fail to capture: There's a haunted echo first whispered by rock 'n' roll's forefathers that Clarke keeps no denser than an outline. Rather than letting it inform the direction of his songs, he restrains it to merely being the compass he glances at here and then to keep himself grounded.
Whether he's singing about finding his soul for sale on Antiques Roadshow or balancing a soldier's story with lines like "Oh, you don't know / What a love can do to a fool like me," Clarke ensconces his sun-soaked doo-wah-ditties with a meticulous songwriting genius. He understands the power of a black-and-white story varnished with an earworm melody. And that's where he welcomes us on Cut Worms. After spending a lot of time writing long songs for Nobody Lives Here Anymore, Clarke found himself stretched thin by their length when he was finally able to tour them for the first time at the end of 2022. "Most of the music that I like are two-and-a-half to four-minute pop songs," he says. "So, it was a challenge for me to get back to that and trim away the unnecessary things, because it's pretty easy to get precious about things when you're writing. You think you've come up with something good and you don't want to cut it out." Clarke was able to translate that on Cut Worms, which, in its final shape, burgeons into an arrival of lean, pithy and charismatic psalms.
A precursor to Cut Worms was the 2022 standalone single "Dream Most Wild," which featured some of Clarke's most-alluring and hypnotic vocalizations yet. It was a striking hybrid piece of rockabilly and doo-wop cast beneath a curtain of present-day, bedroom-inspired jangle-pop and slacker indie. "Something better's gonna happen, I feel it now / I just gotta find a way to believe somehow," Clarke hummed as an outcry of optimism, as the world began leaving their homes again. Though it might seem like the methodical prologue to Cut Worms, "Dreams Most Wild," after going through many iterations, was never meant to become one of Clarke's most-popular tracks. "I was using it as a sharpening block to try to get better at my home-recording and 'producing skills.' I did n't know, really, what I was going to do with it. I was hoping that, if it turned out well, then I would just be able to do a whole record that way," he says.
After listening to a lot of "Surfin' U.S.A."-era Beach Boys, Clarke wanted to try and write a song like Brian Wilson, with an emphasis on four- and five-part harmonies. He kept layering more pieces onto the final product, and invited his friend Noah Bond—who plays drums in the Cut Worms live band and did percussion on Nobody Lives Here Anymore—to record his drum parts remotely, which has become a regular gig for him now (which Clarke has asked me to advertise below and, per his wishes, I will oblige).
NOAH BOND, REMOTE RECORDING
"He can always use the work." – Max Clarke
"Dreams Most Wild" is, as Clarke calls it, "a halfway point between a demo and a finished recording," though it arrives like this inescapable, entrancing combination of Roy Orbison and Dirty Beaches. It leap-frogged Clarke into another dimension with his artistry and, though it doesn't appear on Cut Worms, is—and will be—integral to his catalog forever and has propelled him into doing all of the mixing on the new record. "Doing that song gave me the confidence that I could mix [Cut Worms] myself. Whether or not that was false confidence remains to be seen," he says, chuckling. "It's really the ideal way to do it, in my mind, because I have the most control over the final product. Even on the last record, Matt Ross-Spang did a great job mixing. I felt like I was able to communicate really well to him what I wanted and he felt like he was able to know what I was after. But, even if you have the best person [on the job], nothing's going to be better than your finger on the knob stopping it where you want to be."
It makes sense that Clarke titled this new LP after the band itself. When the leftover lulls of Nobody Lives Here Anymore's cycle getting upended by COVID finally subsided, he had the beginnings to a few unfinished tracks—which he calls "cold storage"—that he came back to and completed for Cut Worms. But most of the record was written in the last year, or so. Clarke has a very deliberate imprint on his own songwriting process, in which the checkpoints a track goes through from beginning to end are not spread too far apart. "The quicker that I can record an actual version of something after I've written it, the better, usually, so it doesn't sit around for too long," he adds. "Or, if it does sit around for a long time, when I do come back to it I have to change it somehow to make it new again, which was also part of the process [for Cut Worms]."
Cut Worms isn't just Clarke's brightest entry yet, it's also one of the best rock 'n' roll records of 2023. I'm thankful everyday that it's set to arrive in July, because it's an immaculate summer project that shimmers and quakes like the night-drenched roar of a packed drive-in theater. You could throw any of its nine songs into the runtime of American Graffiti and none of them would feel out of place. But, what's even richer about Cut Worms is how essential it will be to the zeitgeist of right now. In the wake of TikTok making the virtually unknown 1965 Daughters of Eve tune "Hey Lover" a massive hit, the sonic amalgam of Clarke's new LP feels more urgent than ever.
Lead single "Ballad of the Texas King" is the perfect representation of "What if the Byrds made a chamber-pop song in post-9/11 America?" Recorded with Florist's Rick Spataro at Onlyness Analog in the Catskills of Southeastern New York, the murder ballad-esque guise pairs a heavenly lap steel with Bond's snare-forward percussion and a teardrop piano. Clarke sings of a chance encounter with an ominous figure that feels akin to selling your soul at the crossroads: "I found a new song / Pulls me along / To that other plane / I'll see you some time / Off down the line / Where it never rains." With a lucky number's worth of tracks to parse through, "Ballad of the Texas King" is a perfect, shadowless return for Clarke, who coalesces Pete Drake with "Flying On the Ground Is Wrong"-era Buffalo Springfield and Donovan.
Many of the chapters on Cut Worms showcase various novelizations of romance, innocence and sorrow. Clarke never gives us a bounty of exposition, nor do we need it. The gift that keeps on giving from the Cut Worms universe is his ability to piece together a perfect rock track almost every time he picks up his guitar to write. Thus, Cut Worms is a melty, visceral benchmark of pop traditionalism. The guitar tone on "Is it Magic?" sounds like it oozed out of the thickest Gibson ES-345 drenched in velvet this side of the Enchantment Under the Sea dance, while "I'll Never Make It" is one of the sweetest, Crickets-style cut with an opening riff that conjures as much yearning as Clarke's own lyricism does.
And his vocals always arrive like a cosmic, coarser Davy Jones, as he tumbles gently through cozy arrangements fit for a tenor drunk on heart and soul. On Cut Worms, Clarke is a long way away from the Beatlemania-summoning notes of Hollow Ground. This new work is lived-in and homegrown, lamenting the paradox of a post-quarantine world. How do we continue to love so deeply when we stopped living for 700-plus days? Cut Worms doesn't set out to turn an answer into some intimate coda. "Hearts pounding cold and slow / I have wandered out of touch / And my compass' face is blank / And the map I have shows too much," Clarke sings on closing track "Too Bad." He's on the same playing field as the rest of us, trying to make some—if any—sense of how we all might begin rebuilding.
The world of Cut Worms intersects with that of Foyxgen, Drugdealer and Temples. For "Don't Fade Out" and "Living Inside," Clarke called upon his fellow song-cycle thespians Brian and Michael D'Addario of The Lemon Twigs to play bass and piano and help shoulder the tracks across the finish line at their rehearsal space in East Williamsburg—near where Clarke used to live. Through a mutual connection with Jonathan Rado (the Foxygen frontman who worked on Hollow Ground), Clarke and the D'Addario brothers formed a sonic bond and have worked together on and off ever since, continuing to expand the habitat of stewards to a timeless sound.
Brian and Michael recently released their own opus, Everything Harmony, and brought their outrageous talents into the studio to match Clarke's—though he does find himself in awe of their playing habits and gifts more often than not. "I always feel like an old man when I'm around them because they can just play circles around me, so it's somewhat intimidating," he says. "But, on top of being really good musicians, they've gotten very good at using the equipment that they have. It all came together pretty quickly and it was cool, playing live in a room with guitar, bass, piano and drums. Getting that feeling of four people playing through a whole take, it lends an exciting live quality to the songs that you wouldn't be able to get otherwise."
Clarke is a rock 'n' roll historian at heart. We talk for 15 minutes about the genesis of contemporary pop music alone, surfing through the origins of 1920s-era showtunes all the way to the Buddy Holly school of rockabilly in the 1950s, when the chorus-verse-chorus formula fully took off. He's a pop essentialist to the bone, a purveyor of pure harmonies and melodic sensibilities. But, his lyrics account for the day-to-day happenings of a planet freefalling further into catastrophe every second rather than the idyllic, American Dream of bobby socks and hot rod races that men in their 30s were peddling more than a half-century ago.
"Trying to tap into the melodies of that time but also bringing in the contemporary feeling of all the normal, fun things that we live with today, like the existential dread of having too much information at your disposal," Clarke says. "It used to be the religious nuts [professing] about Doomsday, but now it's on the scientific side and it's scarier, because it's more real and because it's multi-national, global corporations that are, like, 98% responsible for all of those things."
When I ask Clarke about his use of the term "pop traditionalism," he points to how he wanted to make his own Cut Worms version of when Devo hijacked the name of a Japanese right-wing political group in the title of their 1981 album New Traditionalists. Originally, Mark Mothersbaugh and company bought the faction's slogan pins as a joke, but, when they set out to record their first post-Freedom of Choice project, they recalled the pins and deemed the name emblazoned across them to be a perfect representation of what the band had encompassed on the 33-minute album. "We became the New Traditionalists but turned it on its ear. We appropriated the idea of that, meaning we were going to provide you with new traditions to forget about the old ones," Devo bassist Gerald Casale once noted.
Clarke, ever the iconoclast, is employing the same philosophy by lifting the rib that virtually all of modern music is born from and turning it into a reliquary of present-day classics. If Del Shannon tried to write a song about reconstructing yourself into a semblance of a person again after a two-year (still ongoing, if we're being honest about it) epidemic, he would surely combust. But it's such an Americanized thing to reach backwards to the sounds of old. There's a reason Motown endures; an understanding that Elvis' arsenal of a couple-dozen number-one-hits often stands the test of time. It all comes down to the architecture, how the songwriters of mid-century, post-World War II North America had a lightbulb moment that would reap the rewards of the social and entertainment climate for decades. Clarke has harnessed a similar prowess, one that has turned his beloved Cut Worms namesake into a fortress of high pop music watermarks that speak to themes unbound to the confines of eras: love lost and gained amid the throes of navigating early adulthood.
I'm always intrigued by the inspirations behind a band putting out a self-titled album that isn't their debut. But, for Clarke, the origins of the Cut Worms title stem from him—after a long period of brainstorming—not being able to think of any other concrete language to describe the variety-style tracklist that made the final cut. "The songs all seemed different in a way that was very much not a concept album. I feel like, nowadays, with the way that the whole social media rollout and the whole narrative you have to make around an album that has to be this cohesive story, rarely is that my experience," he says. "With [Nobody Lives Here Anymore], I definitely didn't go into it with a concept in mind. I just stood back and looked at it afterwards and was like, 'This is a concept that you could easily apply to it.' And it worked easily."
It's unlikely that Clarke will mimic Weezer's style of making almost every record a self-titled project, but, for now, these songs remain the greatest signifier of what the singer/songwriter has aimed to do for nearly a decade. The nine chapters aren't as cut-and-dry or as thematically tethered as the 17 across Nobody Lives Here Anymore. Instead, they are affectionately spun into a movement that I am comfortable categorizing as his true opus.
"The only unifying factor in my mind was that I made all of them, so it seemed like as good a title as any to just call it Cut Worms," Clarke says. "It seems like the closest I've gotten so far to being the epitome of what I'm trying to do with this project." With the temperatures slowly rising outside, Cut Worms is an earned reprieve from the bustling landscape of artists now reckoning with the heaviness of their own post-quarantine affairs. I'm much more interested, at this checkpoint in the hazy tomorrow of a global catastrophe, in listening to Clarke re-learn how to love through a now-opened door. It's lighter on this horizon line, and I'm riding off into the crumbling sunset with Cut Worms. And I hope, once July hits, you'll allow yourself the kindness and space to do the same.
Cut Worms arrives July 21 via Jagujaguwar. Pre-order the album here.
---
Matt Mitchell is Paste's assistant music editor. He lives in Columbus, Ohio, but can be found online @yogurttowne.


[ad_2]
Source link