Summer in Tucson can be, well, let's face it, quiet.
The winter visitors are all back in their cooler Midwest and East Coast climates, and University of Arizona college kids are scattered in the wind.
No traffic jams. No long waits at our favorite restaurants. Finally, a chance to discover what all the fuss is about at Main Gate Square without battling twentysomethings for a seat at the bar!
Yep, Tucson's quiet, but that doesn't mean it's dead.
We put together a list of things to do for the 100 days of summer starting Friday and going through Aug. 26, from concerts and community events to opportunities to discover (or rediscover) a part of Tucson and the region that wasn't on your radar. Note, though, that schedules and events are subject to change, so check in advance before heading out.  
MAY
May 19
Grupo Firme, based in Tijuana, Baja California, is bringing its "Hay Que Conectarla" Tour to the Tucson Arena with special guest La Entaja. Founded in 2014, the Latin Grammy Award-winning ensemble has won a trio of awards from Univision. They take the arena stage, 260 S. Church Ave., at 8 p.m. Info: tucne.ws/1n83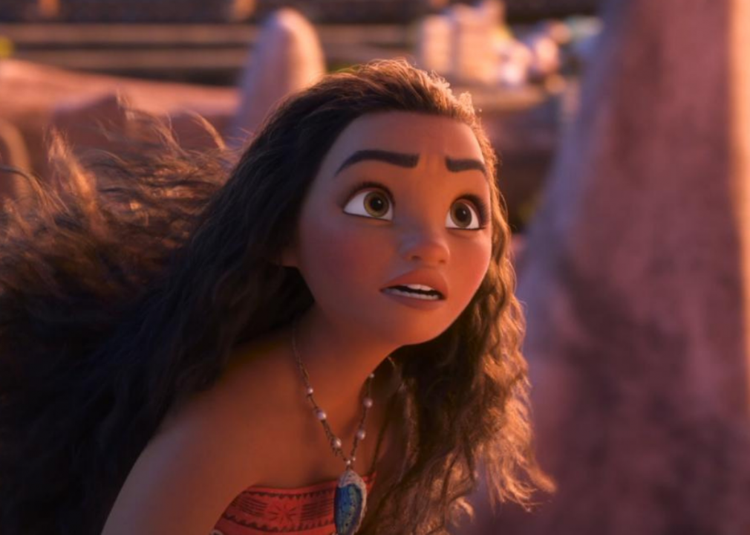 For the littles in your life, check out Disney's "Moana," screening in the garden pavilion at Tohono Chul, 7366 N. Paseo Del Norte, at 7 p.m. Info: tohonochul.org/sonoran-cinema
Country singer Dylan Scott ("My Girl," "Nobody") brings his unmistakable Southern drawl and family man demeanor to Desert Diamond Casino's Diamond Entertainment Center, 1100 W. Pima Mine Road, at 8 p.m. Info: ddcaz.com
May 20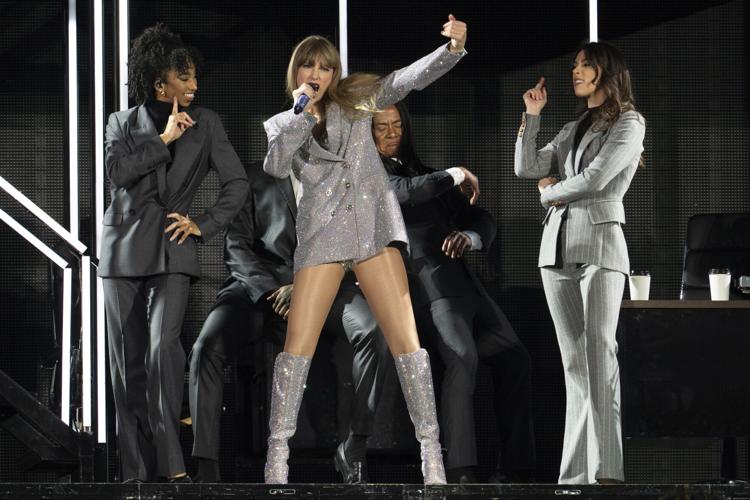 This one's for you, Swifties. Flandrau Science Center and Planetarium is hosting a laser show packed with Taylor Swift's biggest hits. It starts at 8:30 p.m. at 1601 E. University Blvd. on the UA campus. An earlier 7 p.m. show is already sold out. Info: tucne.ws/1nas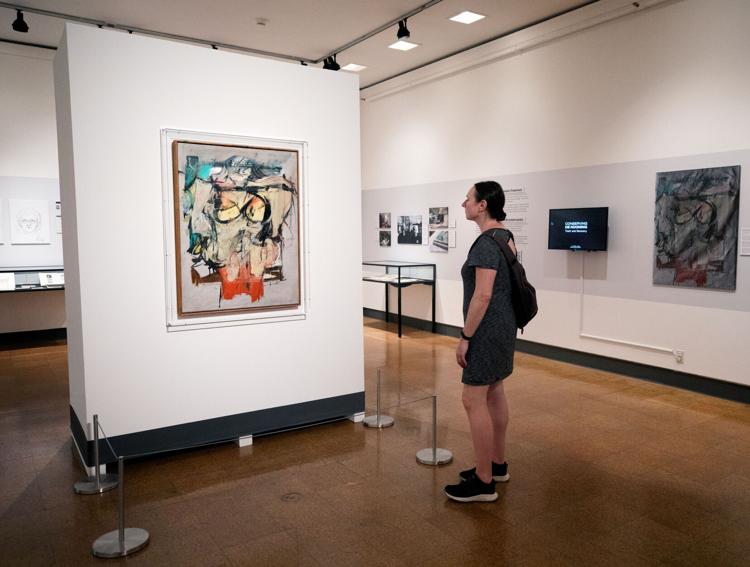 Today's your last chance to see "Restored: The Return of Woman-Ochre," chronicling the infamous 1985 theft and mysterious 2017 recovery of Willem de Kooning's $160 million painting, which was donated to the UA Museum of Art in 1958. Later this summer, the painting will be moved to its permanent secure spot in the museum, 1031 N. Olive Road. Info: artmuseum.arizona.edu
May 21
Crystal Stark joins Tucson Pops Orchestra for its Music Under the Stars parks concert. Expect to hear Stark sing the classics "Don't Cry for Me Argentina," "At Last," "I'll Never Fall in Love Again," "Natural Woman," and "I Will Always Love You." The concert starts at 7 p.m. at the DeMeester Outdoor Performance Center at Reid Park, 800 S. Concert Place, and admission is free. Info: tucne.ws/1kh2
Country singer Aaron Lewis brings his acoustic tour to Linda Ronstadt Music Hall, 260 S. Church Ave., at 7 p.m. Lewis has recorded with George Jones, Willie Nelson, Charlie Daniels, Alison Krauss and Vince Gill. His latest album is "Frayed At Both Ends." Info: tucne.ws/1n85
Tucson Symphony Orchestra Music Director José Luis Gomez will lead the orchestra in a concert of works written by members of its nationally recognized Young Composers Project. The free concert starts at 2 p.m. at the Tucson Symphony Center, 2175 N. Sixth Ave. Details: tucsonsymphony.org
May 22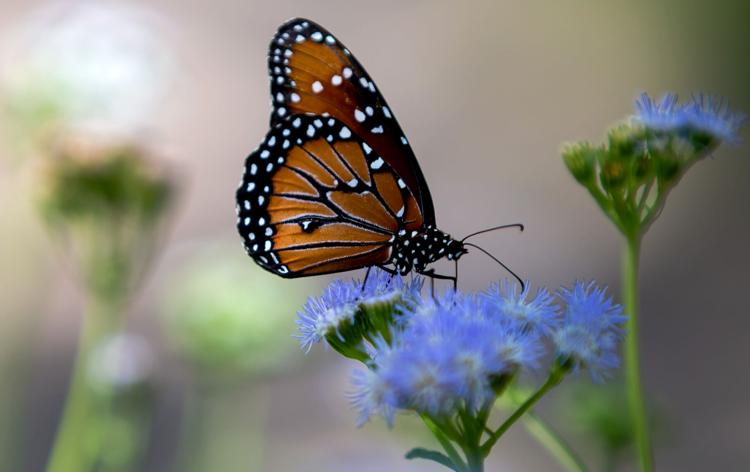 Escape to a tropical oasis with Butterfly Magic at Tucson Botanical Gardens now through May 31. Then it goes on hiatus until Oct. 1. Hundreds of butterflies flutter around as you walk amid tropical plants not easily seen in the Southwest. The exhibit is open 9:30 a.m. to 3 p.m. at 2150 N. Alvernon Way. Info: tucne.ws/1nc8
May 23
Crooked Tooth Brewing Co. is hosting a "Stranger Things" trivia night. Teams sign up on a first-come, first-served basis. Get there by 6 p.m. to secure a spot for the event, which is from 7 to 9. On May 30, the trivia theme will be "The Office." It's at 228 E. Sixth St. Info: tucne.ws/1nat
May 24
Cinema Tucson, which features monthly screenings of Mexican films at the historic Fox Tucson Theatre, is back with "Home Is Somewhere Else." The animated feature documentary shares three personal stories about immigrant youth, highlighting the complexities and challenges they face. The screening, which includes a Q&A with the director, is at 7 p.m. at 17 W. Congress St. Info: tucne.ws/1n8g
May 25
The Tucson Chinese Cultural Center will host Dr. Laura Ng, a leading historical archaeologist whose research is focused on transpacific migration and Asian diasporic communities, in a presentation,  "Excavating Tucson's Chinese American Past: From South China Villages to a Southwest Pueblo." Admission to the 10:45 a.m. talk is free, and lunch follows at the center, 1288 W. River Road. Details: tucsonchinese.org
May 26
The Cirque Roots Fire Troupe puts on a free 20-minute fire show every fourth Friday, outside of Sky Bar, 536 N. Fourth Ave., from 8:15 to 8:45 p.m. Info: tucne.ws/1nar
Costa Rican jazz composer and multi-instrumentalist Luis Muñoz is making his Tucson debut nearly a year after moving to Tucson. He brings his namesake quartet featuring vocalist Lois Mahalia to Hotel Congress's Century Room, 311 E. Congress St., for a 7 p.m. show. Details: hotelcongress.com
May 27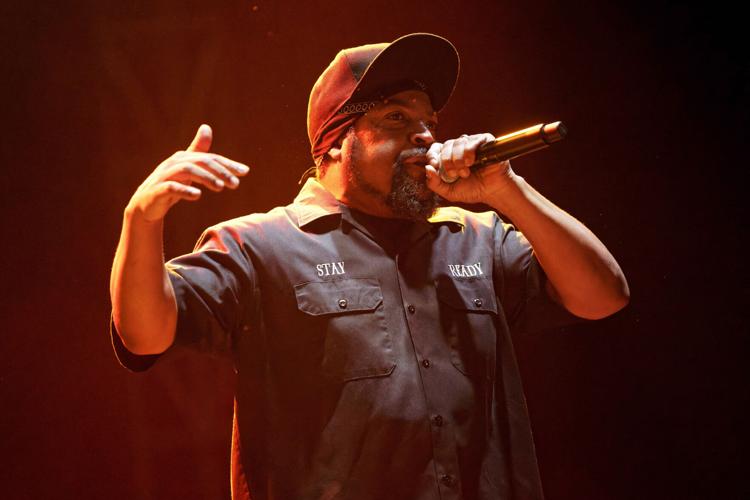 Rap veterans Ice Cube and Too Short are hitting up the AVA at Casino Del Sol, 5655 W. Valencia Road, at 8 p.m. After penning the most memorable lyrics on N.W.A's groundbreaking songs "Straight Outta Compton" and "F Tha Police," Ice Cube left the group at the peak of its popularity for a solo career. He was inducted into the Rock & Roll Hall of Fame in 2016, having sold over 10 million albums. Info: tucne.ws/1n8b
Arizona Symphonic Winds will pay tribute to the late Tucson pianist Paula Fan when her brother, violinist Michael Fan, joins the ensemble for "Music in the Park" at the László Veres Amphitheatre, 7200 E. Tanque Verde Road. Paula Fan died on Feb. 23 while on tour in Australia. Michael Fan, a longtime member of the Tucson Symphony Orchestra, will join conductor and clarinet player László Veres for John Denman's "Aprés un Réve" from Crossover Concerto for Clarinet. Denman, a renowned clarinetist and composer, was married to Paula Fan. The concert starts at 7 p.m. Details: facebook.com/arizonasymphonicwinds
May 28
Tucson Regional Ballet presents "Fantasy, a ballet of short stories and a tap and jazz tribute to the 2000s. It's at the Linda Ronstadt Music Hall, 260 S. Church Ave., at 2 p.m. Info: tucne.ws/1n84
Tucson Pops Orchestra celebrates Memorial Day with a patriotic program including "Star Spangled Banner" and "Stars and Stripes Forever." Longtime Tucson Pops percussionist Homero Ceron and his Latin Jazz Nonet will perform "Affluencia with excerpts from the Lincoln Portrait," "Precious One," "Rio," "Song for My Father," and "Chucho." It starts at 7 p.m. at Reid Park's DeMeester Outdoor Performance Center, 800 S. Concert Place. Details: facebook.com/tucsonpops
May 29
It's Memorial Day, a federal holiday, and many places are closed. That makes today the perfect day to chill at the pool with the fam or friends.
May 30
Crooked Tooth Brewing Co. is looking at the cult-favorite sitcom "The Office" for trivia night from 7-9 p.m. at the brewery, 228 E. Sixth St. Info: tucne.ws/1nat
May 31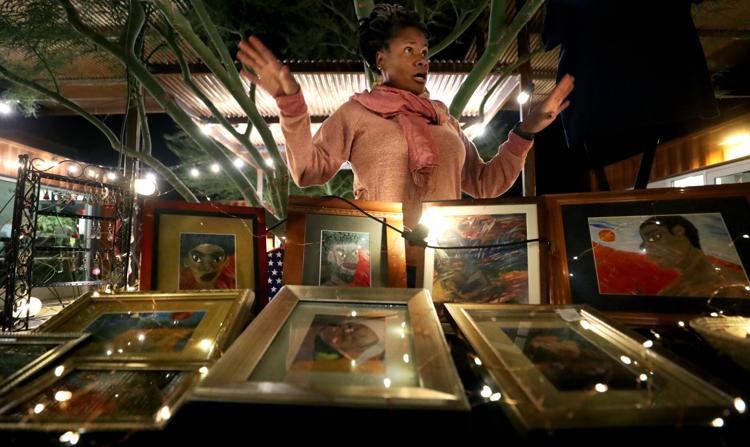 In partnership with the MSA Annex, Blax Friday continues to showcase local Black merchants and food trucks at Soul Food Wednesdays. It's at 7 p.m. at 267 S. Avenida del Convento. Info: facebook.com/BLAXFRIDAY
JUNE
June 1
For the train lover in your life, visit the Southern Arizona Transportation Museum at 414 N. Toole Ave. Get a peek into Tucson's train history with interactive exhibits. Check out a real locomotive and have your train questions answered by volunteers at "Locomotive Saturdays," held year-round at the museum, open Tuesday through Sunday. Info: tucsonhistoricdepot.org
June 2
You have only a couple more days to catch Gaslight Theatre's latest quirky take on a classic tale, "Robin Hood." There are two shows today at 6 and 8 p.m. at Gaslight, 7010 E. Broadway. Info: thegaslighttheatre.com
June 3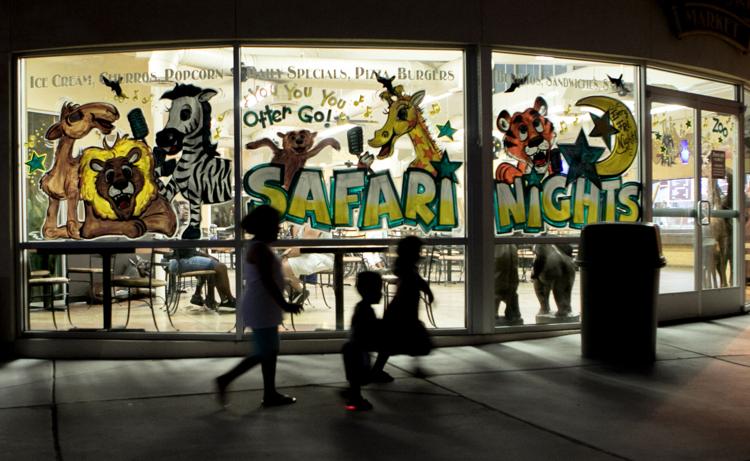 Enjoy Reid Park Zoo during the cooler evening hours every Saturday from 6 to 8 p.m. for Summer Safari Nights. Events, which run through Aug. 12, feature keeper chats about different animals, plus animal encounters, artifact stations, giraffe feedings, carousel rides, crafts, live music and more. Info: tucne.ws/1nad
1970s folk/pop-rockers Ambrosia and Firefall share the spotlight at Desert Diamond Casino's Diamond Center, 1100 W. Pima Mine Road, at 8 p.m. Info: ddcaz.com
June 4
Spanish comedian Franco Escamilla is known as the master of sarcasm, performing in Mexico, the U.S., Latin America, Europe and Asia. Find out why when he hits the stage at the AVA at Casino Del Sol, 5655 W. Valencia Road, at 7:30 p.m. Info: tucne.ws/1n8c
June 5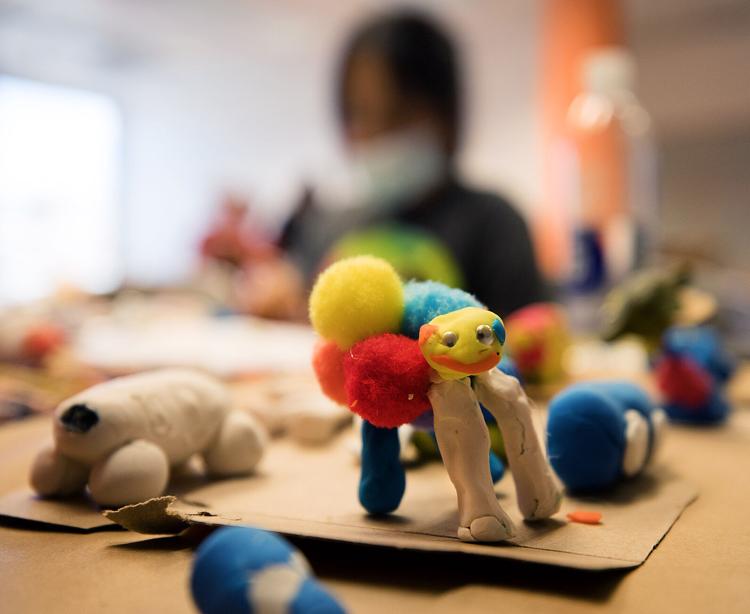 Trying to find something to keep the kiddos minds occupied this summer? Check out the Museum of Contemporary Art's summer camp series, three week-long sessions that engage youngsters in all things artistic. Sessions run June 5-9, June 12-16 and June 19-23. To register and learn more, visit mocatucson.com
June 6
The pop trio Meet Me @ The Altar headlines an all-ages show at 191 Toole, 191 E. Toole Ave., with Kid Sistr and Chloe Lilac at 7:30 p.m. Details and tickets: 191toole.com
June 7
Check out WomanKraft Art Center's "Sunrise, Sunset" exhibit, which is exactly what the name implies, from realism to abstraction. The exhibit runs through July 29. The gallery, 388 S. Stone Ave., is open 1 to 5 p.m. Thursday through Saturday. The nonprofit also hosts a number of classes ranging from self-care facials and mani-pedi techniques to drawing, crafts, poetry and more. Info: womankraft.org
June 8
In case you just can't get enough of Marvel's crime-fighting superheroes, the Gaslight Theatre opens its version of superhero antics with "The Revengers," a musical melodrama set on the distant Planet of Xerox. It opens its summer-long run at the Gaslight, 7010 E. Broadway, with a 7 p.m. performance. Info: thegaslighttheatre.com 
June 9
Arizona Theatre Company opens the laugh-out-loud comedy "The Legend of Georgia McBride" at the Temple of Music and Art, 330 S. Scott Ave. The show runs through June 24. Info: tucne.ws/1nc9
Get your laugh on when comedian/actor/producer Joe Gatto stops at the Linda Ronstadt Music Hall, 260 S. Church Ave., at 7 p.m. Gatto is is best known for the hit TV shows "Impractical Jokers" and "The Misery Index." Info: tucne.ws/1n86
June 10
Five-time Grammy winner Mary Chapin Carpenter is performing at Fox Tucson Theatre at 7:30 pm. Over the course of her acclaimed career, the country singer has sold over 16 million records. Info: tucne.ws/1n8h
Get ready for Juneteenth with a concert featuring Evelyn "Champagne" King, whose 1980s hits include "Love come down" and "Shame" in the late '70s. The kick-off celebration is at the Dunbar Auditorium, 325 W. Second Street, at 8 p.m. An after-party is planned with DJ Mista T. Info: tucne.ws/1nae
Shop, eat and listen to live music at Second Saturdays in downtown Tucson. Musical performances kick off at 6 p.m. in the heart of downtown. If you can't make it this month, catch it on July 8 or Aug. 12. Info: 2ndsaturdaysdowntown.com
June 11
The Arizona-Sonora Desert Museum is home to the best of the Sonoran Desert's flora and fauna, but you can also experience raptor flights, native Arizona wildlife and a stingray pool. It's open daily at 2021 N. Kinney Road. Summer hours are 7:30 a.m. to 2 p.m. It also hosts its Cool Summer Nights events on Saturdays until 9 p.m. for those looking to beat the heat now through Aug. 26. Info: desertmuseum.org
St. Andrew's Bach Society opens its summer concert series with "The String Quartet Playlist Re-Mixed." It's a program of the most popular works composed for string quartet and a few surprise pairings featuring violinists Lauren Roth and Ben Nisbet, violist Sarah Bromberg, cellist Marybeth Brown Plambeck, Max Adler on oboe and pianist John Milbauer. It's at 2 p.m. at Grace St. Paul's Episcopal Church, 2331 E. Adams St. Tickets and details at standrewsbach.org
June 12
Time to take Fido to the Tucson Botanical Gardens for the park's annual "Dog Days of Summer." Now through Sept. 30, you can bring your leashed dogs with you on your stroll through the picturesque Gardens. Edna's Eatery will offer "pup-a-licious" snacks, and if your furry friend likes what they see, you can get a dog membership with unlimited daily admission. Details: tucsonbotanical.org
June 13
If you're longing for the annual Gem, Mineral & Fossil Showcase, stop by the Alfie Norville Gem & Mineral Museum. It's open Tuesday through Saturday, 10 a.m. to 4 p.m. and focuses on gem and mineral evolution, minerals native to Arizona and Mexico, and, of course, stunning gems. The museum is at 115 N. Church Ave. Info: gemandmineralmuseum.arizona.edu
June 14
The Arizona-born Junior Brown invented the "Guit-Steel," a double-necked instrument combining standard guitar with steel guitar. The longtime country singer's songwriting style employs subtle dry wit to some songs, while others can be more overtly humorous or just plain dead serious. He'll be at Fox Tucson Theatre, 17 W. Congress St., at 7:30 p.m. Info: tucne.ws/1nca
From 10 a.m. to 4 p.m., DeGrazia Gallery in the Sun Museum will celebrate the 114th anniversary of artist Ted DeGrazia's birthday with free admission and free cake and ice cream at 6300 N. Swan Road. Info: degrazia.org
June 15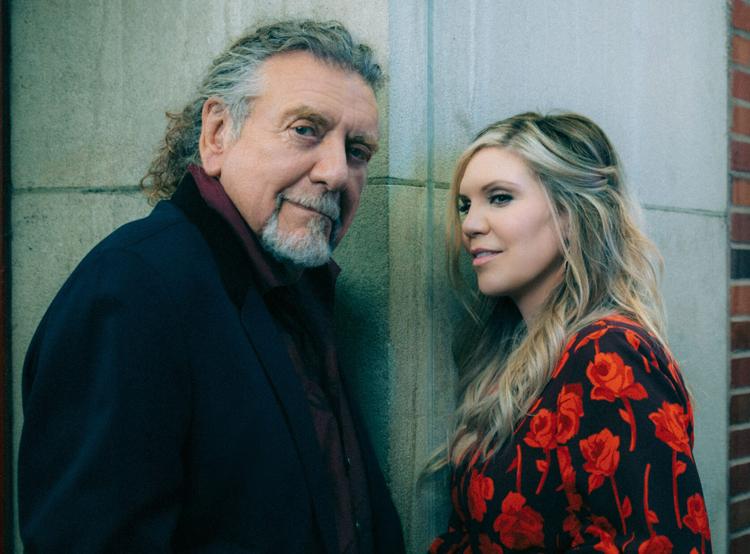 Arizona Arts Live is bringing two legends — Robert Plant and Alison Krauss — to the Centennial Hall stage, 1020 E. University Blvd. on the University of Arizona campus. It's the first time the pair have collaborated in 14 years. Details: arizonaartslive.com
June 16
Peruse works by more than 60 artists from across the country at Philabaum Glass Gallery, 711 S. Sixth Ave. Philabaum is home to over 2,000 square feet of glass vases, paperweights, platters, stemware, contemporary sculpture, unique gifts, artful jewelry and more. It's open Wednesday through Saturday, 10 a.m. to 4 p.m. Info: philabaumglass.com
June 17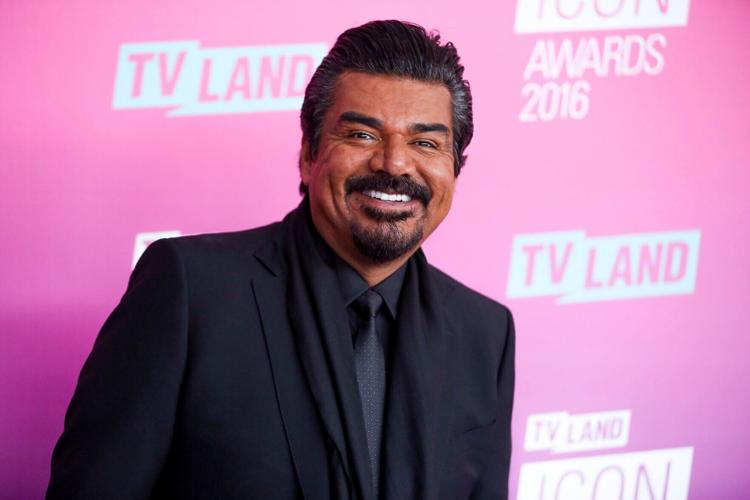 We've got not one but two comedy options for you:
George Lopez is back in Tucson at the AVA at Casino Del Sol, 5655 W. Valencia Road, at 8 p.m. His most recent Netflix comedy special, "We'll do it for half," premiered last summer. Info: tucne.ws/1ncb
Standup comic Chris D'Elia is putting on an 18-and-up show as part of his "Don't Push Me Tour." It's at 7 p.m. at the Linda Ronstadt Music Hall, 260 S. Church Ave. His Netflix comedy special "No pain" debuted in 2020. Info: tucne.ws/1n87
For a musical blast from the past, check out Alan (aka "Al") Jardine, guitarist, vocalist and songwriter, best known for being one of the founding members of The Beach Boys. In 2018, he began playing solo shows featuring songs and stories from his early days to more recent material. His Endless Summer Band includes his son Matt Jardine, plus Debbie Shair (from the band Heart) and longtime Beach Boys backing band members Ed Carter and Bobby Figueroa. They'll be at Fox Tucson Theatre, 17 W. Congress, at 7:30 p.m. Info: tucne.ws/1nag
Tucson is celebrating Juneteenth a couple of days early with entertainment, retailers, job vendors, food trucks, a car show and a kid zone with free toys. The day-long event is from 1 to 9 p.m. at Kino Sports Complex, 2500 E. Ajo Way. Info: tucne.ws/1naf
The hugely popular World Margarita Championship, presented by the Southern Arizona Arts & Cultural Alliance and Tucson Original Restaurants, will determine who in Tucson can create the more superior margarita. Let's face it: The margarita is the unofficial official Tucson cocktail, so we take the WMC pretty seriously. So much so that the event is a guaranteed sellout. Message: Don't dawdle. It takes place from 5:30-8:30 p.m. at Loews Ventana Canyon Resort, 7000 N. Resort Drive in the foothills. Info at sacca.org
June 18
It's Father's Day. Treat dad to a pint at a Tucson brewery. Find a few suggestions at tucne.ws/1ncc.
June 19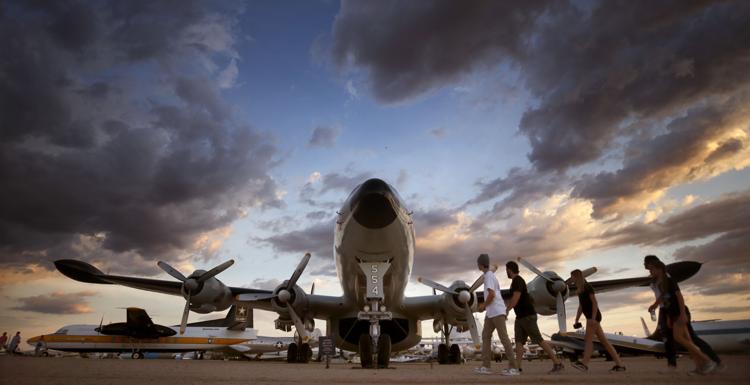 Today is the perfect day to call off work and take the kids to the Pima Air & Space Museum, 6000 E. Valencia Road. The old-timers and veterans like to refer to it as the Boneyard, home to 80 acres of outdoor displays, including aircraft dating back to the World Wars. Inside the 250,000 square feet of hangar space, you'll find everything from sea craft to fighter planes that have been used in combat for generations. The museum is open from 9 a.m. to 3 p.m. daily; pimaair.org 
June 20
Legendary artist Graham Nash, a founding member of both the Hollies and Crosby, Stills and Nash, will rock out at Fox Tucson Theatre, 17 W. Congress, at 7:30 p.m. Nash is a two-time Rock and Roll Hall of Fame inductee. Info: tucne.ws/1n8j
June 21
Explore the influences and growth of Tucson breweries, wineries and distilleries over time through the "Drinking Local: A Toast to the Southwest" exhibit at the Arizona History Museum, 949 E. Second Street. The museum is open Tuesday through Saturday, 10 a.m. to 2 p.m. The exhibit runs through April 30. Info: tucne.ws/azhmt
June 22
Explore the depths of the ocean without leaving the desert at the Flandrau Science Center's newest exhibit, "Undersea Discovery." Explore creatures of the deep and marine life in the touch tank, where you can see and feel what intertidal life is like. The tank includes coral reef and kelp forest, giant squid (just a sculpture, not the real deal) and several interactive stations that bring the whales, seals, orcas and other sea-bound wildlife up close. The Flandrau is on the University of Arizona campus, 1601 E. University Blvd. For exhibit times and details, visit flandrau.org.
June 23
Renowned Eagles tribute band One of These Nights takes the audience on a journey through all the Eagles' sounds, from country rock to hard rocking tunes that highlight the Eagles' catalog. Catch them at the Fox Tucson Theatre, 17 W. Congress, at 7:30 p.m. Info: tucne.ws/1nav
June 24
Today's your last chance to catch Arizona Theatre Company's production of the comedy "The Legend of Georgia McBride." It goes on stage at the Temple of Music and Art, 330 S. Scott Ave., at 7:30 p.m. Info: tucne.ws/1nc9
June 25
Class is in session when Sister brings "Late Nite Catechism" to Fox Tucson Theatre, 17 W. Congress. This is where the audience gets to be the "students" of the irrepressible and extraordinarily hilarious nun, who is not afraid to reward you for being good and punish you for being bad. Show starts at 2 p.m. Info: foxtucson.com
June 26
Take a dive in a city pool. For locations and details, visit tinyurl.com/2p8n9hbbs.
June 27
Stop by your neighborhood library and pick up a new summertime read. Most city libraries are open from 10 a.m. to 6 p.m. weekdays (some close at 5 on Fridays). Details: library.pima.gov
June 28
Tucson musician Freddy Jay is joining the folks at Harambe Cafe & Social Cafe, 6464 E. Tanque Verde Road, for an evening of good vibes and live music. The 21-and-older event (18 if you have a medical marijuana card) will feature a free dab bar, medicated mocktail samples and food for purchase. It runs from 6-8 p.m. Details: harambecafe.com
June 29
Country band Alabama is bringing its Roll On II North American tour to Tucson at 8 p.m. at the AVA at Casino Del Sol, 5655 W. Valencia Road. The band hit the scene over 50 years ago when the trio of cousins left Alabama to play in Myrtle Beach, South Carolina. It would take six years before they landed a label deal, creating nearly two dozen No. 1 singles and finding themselves inducted into the Country Music Hall of Fame. Info: tucne.ws/1n8d
June 30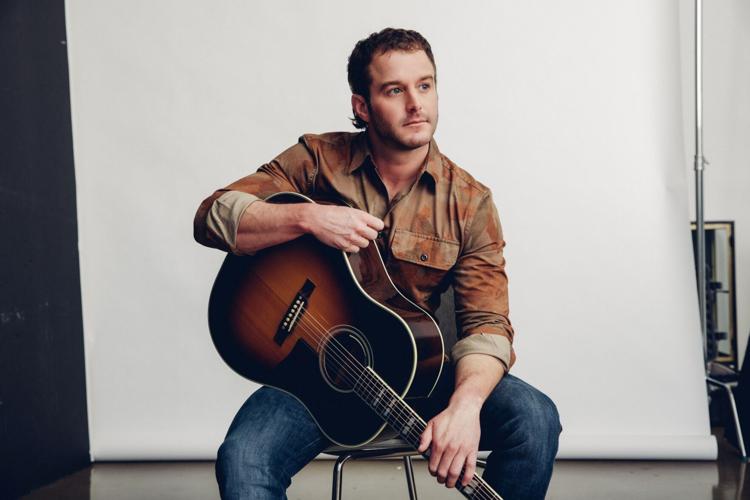 Country singer Easton Corbin ("Marry That Girl," "A Little More Country Than That") returns to Desert Diamond Casino, 1100 W. Pima Mine Road, for an 8 p.m. concert. Info: ddcaz.com/events
JULY
July 1
Tucson band Southbound Pilot will land at Hotel Congress, 311 E. Congress St., for a 7 p.m. show on the Plaza Stage. The band comes to Congress with some new material that they've been sharing at a handful of smaller gigs. Details: hotelcongress.com
July 2
The Loft Kids Fest is underway with free movies through July 16 at 3233 E. Speedway. In addition to family-friendly films, there are games, activities, giveaways, prize raffles, popcorn and more. The classic flick "The Sandlot" is screening today, with activities starting at 9:15 a.m. and the movie at 10 a.m. Info and movie schedule: loftcinema.org/series/loft-kids-fest
July 3
Catch the hometown FC Tucson take on Arizona Arsenal SC at Kino Stadium North, 2817 E. Ajo Way, at 7 p.m. Details: fctucson.com
July 4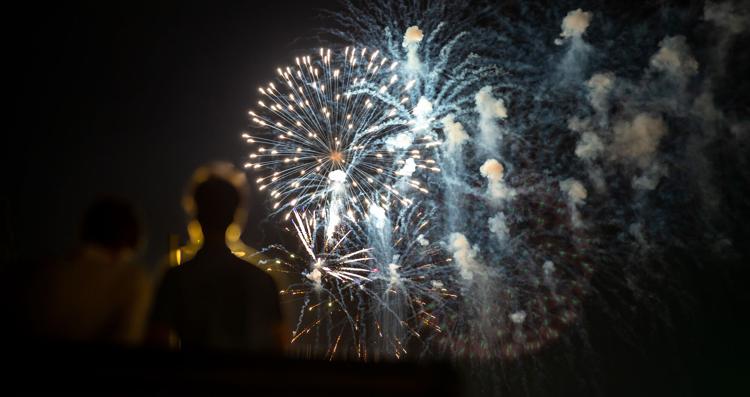 Happy Independence Day. We can't say for sure that there will be fireworks; Mother Nature will drive that decision right up to the last moment. But if there are, you can catch them from several locations, including Marana and near downtown Tucson.
July 5
Wild Katz, home to indoor play areas, climbers, obstacle courses and more, offers play sessions for ages 6 months to 13 years, seven days a week. Find it at 4629 E. Speedway. Info: wldktz.com
July 6
Feast your eyes on innovative and diverse new works being created in the state as part of the Arizona Biennial 2023 exhibition at the Tucson Museum of Art, 140 N. Main Ave. The exhibit runs through Oct. 1. The museum aspires to connect "art to life" within the community. TMA is open Thursday through Sunday, 10 a.m. to 5 p.m. Info: tucne.ws/1nc1
July 7
Hotel McCoy hosts Swimnema Fridays, open to guests and the public. Onsite food truck, Trans Fats, will be at the dive-in movie. This week's feature is Wall-E. Info: tucne.ws/1nby
July 8
Second Saturdays in downtown Tucson is back with entertainment, eats and retailers. Musical performances kick off at 6 p.m. Info: 2ndsaturdaysdowntown.com
July 9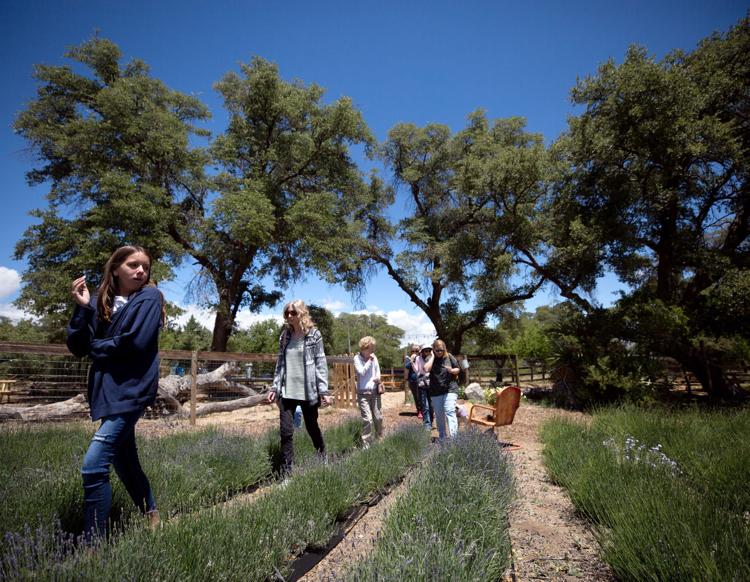 Tap into your whimsical side with a trip to Life Under The Oaks Lavender Farm in Oracle, ​1221 N. Rancho Robles Road. The farm is 9-plus acres with a kid's play area, farm animals, photo spots, lavender products and more. It's open Wednesday-Sunday, 10 a.m. to 3 p.m. Info: lifeundertheoakslavenderfarm.com
July 10
The Tucson Sugar Skulls take on the Duke City Gladiators in an Indoor Football League game at Tucson Arena, 260 S. Church Ave. Details: tucsonsugarskulls.com
July 11
See and sing like the stars at Skyraoke at Sky Bar, 536 N. Fourth Ave. at 8:30 p.m. You've got 24,000 songs to choose from, projected on three big screens. Info: skybartucson.com/events
July 12
Head to the Children's Museum Tucson downtown for Water Wednesdays. Splash, soak and play in the courtyard from 11 a.m. to noon. Then dry off for fun inside the museum, 200 S. Sixth Ave. Info: childrensmuseumtucson.org
July 13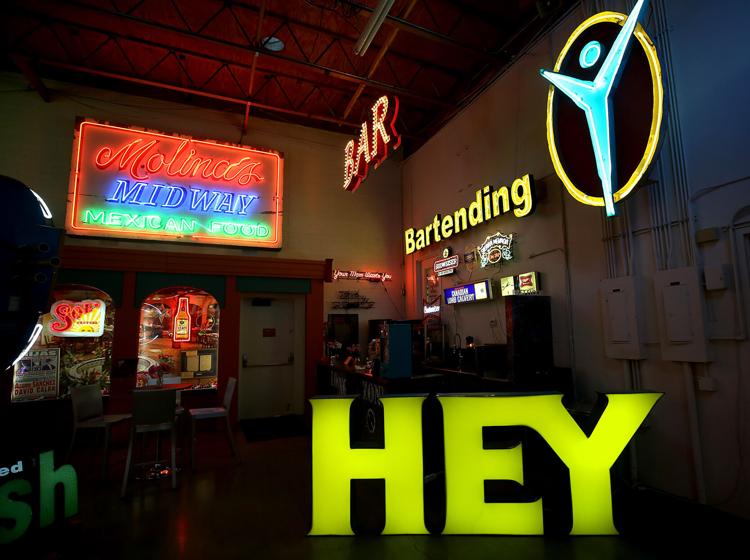 Illuminate your day with a visit to the Ignite Sign Art Museum, 331 S. Olsen Ave. This museum in midtown houses a large collection of historic neon signs. Some of the signs you can find here include Molina's Midway Restaurant, the De Anza Drive-In Theater and an old Arby's sign, just to name a few. Info: ignitemuseum.com
July 14
Los Tucanes de Tijuana and Ramon Ayala are ready to jam out at the AVA at Casino Del Sol, 5655 W. Valencia Road, at 8 p.m. Info: tucne.ws/1n8e
At Hotel Congress, you can find The Outlaw Mariachi, L.A.'s premiere rock mariachi band. It blends traditional mariachi sounds with the high-powered energy of American and Latin rock music. The show is at 8:30 p.m. at Club Congress, 311 E. Congress. Info: tucne.ws/1nbv
July 15
Catch a free screening of "Surf's Up" at Ora Mae Harn Park pool, 13250 N. Lon Adams Road, for a Marana dive-in movie. Festivities are from 6:30 to 9:30 p.m. The movie starts at sundown (7:30 p.m.). Bring a towel and chair or blanket. Info: maranaaz.gov/movies
July 16
Tucson flutist Zach Warren teams up with pianist Michael Dauphinais for a St. Andrew's Bach Society concert featuring works by largely under-the-radar female composers, including Valerie Coleman and Lili Boulanger. It's at 2 p.m. at Grace St. Paul's, 2331 E. Adams St. Details: standrewsbach.org
July 17
Step back in time with a trip to Skate Country, which celebrated its 50th birthday last year. It's open seven days a week at 7980 E. 22nd Street. Info: skatecountry.com
July 18
Cool down at one of several splash pads in the Tucson area. The city of Tucson (tucne.ws/1nam) operates six sites that are open daily from 8 a.m. to sunset now through Oct. 31. Pima County (tucne.ws/1nan) has three splash pads, two of which are open now from 8 a.m. to 7 p.m.
July 19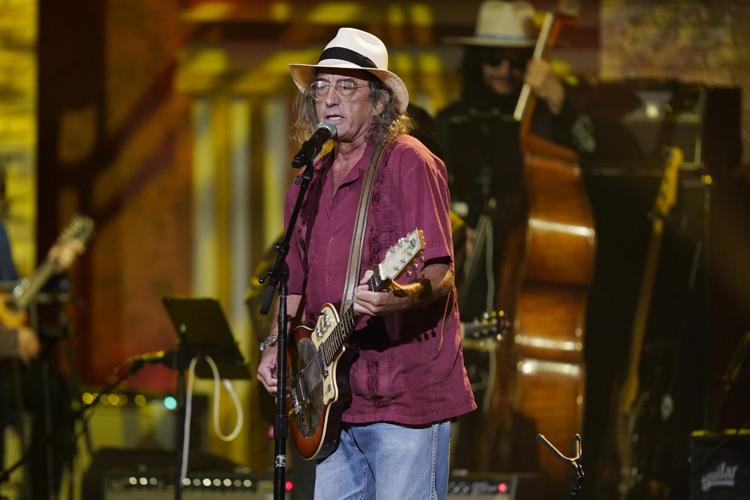 Texas singer-songwriter James McMurtry will be at the Hotel Congress Plaza, 311 E. Congress, at 8 p.m. The award-winning Americana artist attended the University of Arizona in the 1980s and spent time here over the years visiting his father, the late Pulitzer Prize-winning novelist and screenwriter Larry McMurtry. Info: tucne.ws/1nbw
July 20
If you're looking for a smaller take on museum exhibits, check out The Mini Time Machine Museum of Miniatures, 4455 E. Camp Lowell Dr. The museum showcases more than 500 dollhouses and little room boxes filled with miniature objects. Among the exhibits on display now: an Addams Family 16-room mini-mansion that was 10 years in the making. Open Tuesday through Sunday, 9 a.m. to 4 p.m. Info: theminitimemachine.org
July 21
"Barbie" with Margot Robbie as the iconic doll and Ryan Gosling as Ken hits the big screen at a movie theater near you.
July 22
Grand Funk Railroad recorded some of the most iconic rock songs ("We're An American Band," "The Loco-Motion," "Some Kind of Wonderul") of the 1970s and '80s. The band, including founders Don Brewer and Mel Schacher, take the Desert Diamond Casino stage, 1100 W. Pima Mine Road, at 8 p.m. Info: ddcaz.com.
July 23
Head to Monterey Court, 505 W. Miracle Mile, for Sunday brunch and a music showcase. Brunch is from 10 a.m. to 2 p.m.; music kicks off at 11 a.m. Info: montereycourtaz.com/calendar
July 24
Tire your kiddo out at Get Air, which features wall-to-wall trampolines, foam pits, dodgeball, slamball, ninja obstacles and more. Find it at 330 S. Toole Ave. Open seven days a week. Info: getairsports.com/tucson
July 25
The Robert Cray Band takes the Fox Theatre stage at 7:30 p.m. The band has sold millions of albums worldwide, drawing from their love of soul, R&B, gospel, blues and rock 'n' roll. With support from Tucson artist Tom Walbank. The Fox is at 17 W. Congress. Info: tucne.ws/1naw
July 26
Within the last few years, Tucson has welcomed three entertainment centers: Dave & Busters, Main Event and Round 1. All feature arcade games and food; some have bowling, karaoke or laser tag. Info: daveandbusters.com, round1usa.com and mainevent.com
July 27
Test your comedic chops at open mic night at Laffs Comedy Caffe, 2900 E. Broadway. It happens every Thursday at 8 p.m., and there's no cover. If you'd rather just get your laugh on, first-timers and seasoned vets alike can be seen any given week. Info: laffstucson.com
July 28
The Grammy-winning sibling pop duo from Mexico City, Jesse & Joy, has embarked on a U.S. Tour, with a stop at the Linda Ronstadt Music Hall, 260 S. Church Ave., at 8 p.m. They've taken home one Grammy Award and six Latin Grammy Awards. Info: tucne.ws/1n88
Break out the Aqua Net hairspray for the Summer Hair Metal Madness Party with The Dirt. The band will perform '80s hits from artists like Def Leppard, Bon Jovi, Quiet Riot, Motley Crue, Guns N' Roses, Poison, Ratt, Skid Row and more. Get in on the fun at Club Congress, 311 E. Congress, at 8 p.m. Info: tucne.ws/1ncd
July 29
Learn about the pioneer women of Main Avenue on the Presidio San Agustin del Tucson Museum walking tour. It's one-fourth of a mile and takes two hours. Women featured include Sarah Sorin, the first female attorney to appear before the U.S. Supreme Court unassisted; Gladys Franklin, who was active with historic and artistic endeavors in Tucson; Edith Kitt, who ran the Arizona Historical Society for years; and Atanacia Hughes, who was married to Sam Hughes at age 13 or so and gave birth to 15 children. It's from 8 to 10 a.m. Info: tucne.ws/1nbx
July 30
Enjoy a day of miniature golf, bumper boats, go-karts, laser tag and arcade games at Golf N' Stuff. Open daily. Info: tucne.ws/1nc2
July 31
Try your hand at axe throwing at St. Hubert's Hatchet House, 908 W. Prince Road. Reserve a spot ahead of time at sthubertshatchethouse.com.
AUGUST
Aug. 1
The UA Hall of Champions pays homage to over 100 years of Arizona athletics. The museum offers rotating exhibits featuring some of the best college athletes to ever play the game. The hall, 1766 E. University Blvd., is open to the public, and it's free on weekdays. Info: tucne.ws/1nc3
Aug. 2
Enjoy street eats at Comida Park, a gathering place at the Tanque Verde Swap Meet, 4100 S. Palo Verde Road, featuring food trucks and live music. While there, shop for deals on everything from clothing and shoes to tools and retro video games. Info: tucne.ws/comidapark
Aug. 3
It's National IPA Day, and the country bar Whiskey Roads, 2290 W. Ina Road in Marana, is celebrating all day. Details: whiskeyroadstucson.com
Aug. 4
The clock is ticking on a super cool exhibit at Tucson Museum of Art of photographs by the husband-wife duo of Frances Murray and Harold Jones, who were among the new wave of photographers in Tucson in the 1970s.  Murray captured "surreal still lifes and sensual figures bathed in natural light," while Jones, who established the UA photography program and was the founding director of the Center for Creative Photography, turned his lens toward the in-depth studies of the seemingly mundane from unusual vantage points and unexpected cropping, creating what he called "photodrawings." The year-long exhibit closes on Aug. 6. The museum, 140 N. Main Ave., is open 10 a.m.-5 p.m. Thursdays-Sundays. Info: tucsonmuseumofart.org
Aug. 5
St. Andrew's Bach Society is hosting a concert with internationally celebrated cellist Tommy Mesa and organist Greg Zelek. The pairing is unique; it's not often you see a cello-organ duo. The program includes works by Bach, Nadia Boulanger and Daniel Ficarri. It starts at 2 p.m. at Grace St. Paul's, 2331 E. Adams St. Details: standrewsbach.org
Gipsy Kings featuring Nicolas Reyes bring their French take on Catalan rumba, flamenco, salsa and pop to Desert Diamond Casino, 1100 W. Pima Mine Road. They take the stage at 8 p.m. Info: ddcaz.com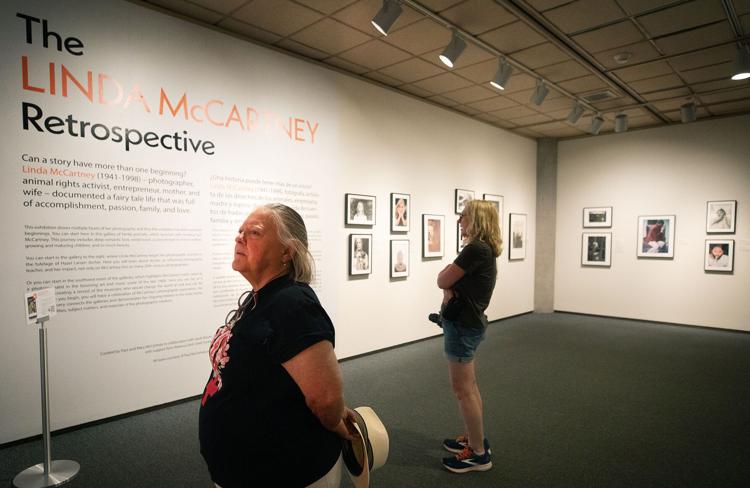 Today is your last chance to check out "The Linda McCartney Retrospective" at the Center for Creative Photography, 1030 N. Olive Road, on the University of Arizona campus. Admission is free, and the center is open from 10 a.m. to 4:30 p.m. Details: ccp.arizona.edu
Aug. 6
Stop by Cactus Springs at Funtasticks, a water play attraction featuring colorful water slides and multiple gigantic tipping buckets that dump 1,000 gallons of water every 10 minutes. Info: tucne.ws/1ki6
Aug. 7
Escape to cooler temps and take flight on the Mount Lemmon Sky Ride. The 30-minute ride takes you up the ski slopes. When you hop off at the top, take a hike. At the bottom, pick up some fudge at the Motherlode Gift Shop. Open Thursday through Monday. Info: skithelemmon.com/summer
Aug. 8
Take a day trip to Colossal Cave Mountain Park, 16721 E. Old Spanish Trail in Vail, and discover a cool escape from Tucson's punishing heat. It's 22 miles southeast of Tucson, and you descend some six stories (roughly 360 stair steps) into the Earth. That's where the temperature is a pleasant 71 degrees. And while you cool off, take in the amazing cave formations of stalactites, stalagmites and much more. The daily walking tour takes 40 minutes, and you need to reserve a spot in advance at colossalcave.com. It's open daily 8 a.m.-4 p.m.
Aug. 9
For all you birders out there, the Tucson Audubon Society is hosting the "Southeast Arizona Birding Festival," five days of field trips and presentations centered on the region's spectacular birding environment. Most of the events will take place at DoubleTree by Hilton Hotel Tucson-Reid Park, 445 S. Alvernon Way. Register at tucsonaudobon.org. 
Aug. 10
Classes are back in session at the University of Arizona. That means there's sure to be all sorts of fun happening at Main Gate Square along East University Boulevard, between Park and Euclid. There were no events listed yet, but check out maingatesquare.com
Aug. 11
The comedy duo of Kristin Hensley and Jen Smedley are bringing #IMOMSOHARD to Fox Tucson Theatre, 17 W. Congress. What started out as a popular web series by real-life best friends, comedians and moms gained millions of followers, resulting in sold-out national tours, a New York Times Best Selling book, a comedy podcast and standup special. The 7:30 p.m. show is ages 18 and up. Info: tucne.ws/1nax
Aug. 12
Little River Band ("Reminiscing," "Take it Easy on Me," "Lonesome Loser") has racked up more than 30 million records sold since they emerged in 1975. They take the Desert Diamond Casino stage, 1100 W. Pima Mine Road, at 8 p.m.; Info: ddcaz.com
Aug. 13
Ladies, this one's for you: Tucson's pre-eminent country bar The Maverick, 6622 E. Tanque Verde Road, is hosting the perfect girls night out with "Hunks," an all-male dance revue. This is obviously a 21-and-older event. Doors open at 6 p.m., and the show starts at 8. Details: tucsonmaverick.com
Aug. 14
Today is a great day to do something wonderful: Volunteer to walk a dog with the Pima Animal Control Center. PACC needs all kinds of volunteers to help care for the animals in their shelter, from assisting in the dog playgrounds to working the front desk, but one of their most urgent needs is dog walkers. Visit tucne.ws/1nce for details.
Aug. 15
The 55-year-old American rock band Chicago will take the stage at the Linda Ronstadt Music Hall, 260 S. Church Ave., at 7 p.m. Chicago is the highest-charting American band in Billboard Magazine's Top 125 Artists Of All Time and is also the first American rock band to chart Top 40 albums in six consecutive decades. Info: tucne.ws/1n89
Aug. 16
Looking for outdoor activity without the heat stroke? Try indoor rock climbing at Rocks & Ropes, 330 S. Toole Ave., and put your balance, strength, flexibility and problem-solving to the test. Beginners are welcome, but first-time users are encouraged to schedule a day pass in advance. Open admission is Monday through Friday, noon to 10 p.m., and Saturday and Sunday 9:30 a.m. to 7 p.m. Info: rocksandropes.com
Aug. 17
Yes, we live in a desert, but that doesn't mean you can't go fishing. Head over to Christopher Columbus Park, 4600 N. Silverbell Road, and drop your line in the Silverbell Lake, a 13-acre man-made lake that's stocked with catfish, trout and bass. You'll need a fishing license, and you can't use live bait. Details: tucsonaz.gov/parks
Aug. 18
Learn about the animals of the Sonoran Desert, including ones that live at Mission Garden, 946 W. Mission Lane, at Critter Night, 5:30 to 8:30 p.m. It's free with a suggested donation at the gate. Info: tucne.ws/1nbz
Aug. 19
Enjoy food, drinks, and cultural performances to recognize the City of Tucson's official founding at Presidio San Agustin del Tucson's Celebration of All Things S-cuk Son/Tucson. This free event is from 6 to 9 p.m. at 196 N. Court Ave. Info: tucne.ws/1ncf
Connie Brannock's Little House of Funk puts on a show at Monterey Court, 505 W. Miracle Mile, once a month. The fun starts at 7 p.m. Info: montereycourtaz.com/calendar
Aug. 20
Head over to the St. Philip's Plaza Weekend Market, 4280 N. Campbell Ave., to check out the array of unique, totally Tucson makers, creators, artists and food businesses. Tucson's iconic open-air market operates Saturdays and Sundays from 8 a.m. to noon. Details: stphilipsplaza.com/market
Aug. 21
It's sure to be hot this time of year, and the idea of walking up Tumamoc Hill might not be appealing. Unless you get an early start to your day and go before the sun hits its peak. We have been known to hit the trail as the sun is breaking right around 5 a.m. For the novice, Tumamoc has a 70% grade and is just about 1½ miles up and the same distance down (duh!). It's not a walk in the park, but the view from the top is worth it. Details: tucne.ws/1ncg
Aug. 22
Head over to the University of Arizona Library's Special Collections, 1510 E. University Blvd., and check out an interesting exhibit, "Inspired by Plants: The Art and Science of the Campus Arboretum Florilegium," a collaboration of Special Collections and the UA Campus Arboretum. The exhibit features scientific illustrations documenting the plants of the Joseph Wood Krutch Garden, the UA's oldest garden that serves as a model of a sustainable urban landscape. Details: speccoll.library.arizona.edu. The yearlong exhibit runs through Aug. 31. 
Aug. 23
Rock out with Incubus at the TCC arena, 260 S. Church Ave., with special guests Badflower and Paris Jackson. The iconic Los Angeles rock band formed in 1991 and today is made up of Brandon Boyd (vocals), Mike Einziger (guitar, piano, backing vocals), José Pasillas II (drums), Chris Kilmore (turntables, keyboards) and Ben Kenney (bass). They'll take the stage at 7:15 p.m. Info: tucne.ws/1n8a
The critically-acclaimed Australian Pink Floyd tribute show strives to reproduce the Pink Floyd experience for new audiences, complete with a light and laser show and other special effects. The band has played to sell out audiences throughout Europe, the UK, America, Canada, South America and Russia. The Darkside 50 Tour stops at Fox Tucson Theatre, 17 W. Congress, at 7:30 p.m. Info: tucne.ws/1nay
Aug. 24
This might be a good time to sneak out of town and head over to Sonoita wine country. Take AZ-83 off Interstate 10, and when you get to Elgin Road, hang a left. Drive along Elgin Road, and you'll find a handful of wineries, including the region's oldest Sonoita Vineyards, 290 Elgin-Canelo Road, sonoitavineyards.com; the cheeky Arizona Hops & Vines, 3450 Highway 82, azhopsandvines.com; and Flying Leap Vineyards, 342 Elgin Road, where you can sample wine and spirits from their distillery (flyingleapvineyards.com). 
Aug. 25
Check out Tohono Chul, 7366 Paseo del Norte, for free as part of Chillin at the Chul, happening every Friday and Saturday through Sept. 2. Live music, food and drinks are available from 5 to 9 p.m.  Info: tucne.ws/1nc0
Get your shop on at the MSA Annex, 267 S. Avenida del Convento, during the Summer Night Market. Dozens of local makers will be on hand. It happens the last Friday of the month through September from 6 to 10 p.m. Info: tucne.ws/1nau
Aug. 26
Find funnyman Gabriel "Fluffy" Iglesias at the AVA at Casino Del Sol, 5655 W. Valencia Road, at 8 p.m. Info: tucne.ws/1n8f
Contact reporter Cathalena E. Burch at cburch@tucson.com. On Twitter @Starburch. This Is Tucson reporter Elvia Verdugo contributed to this story.
Source link