The Menu is the latest film to get a vinyl score release from Waxwork Records and you can order it for yourself right now.
---
The Menu was one of the breakout films of last fall and with good reason. Featuring amazing performances from Anya Taylor-Joy and Ralph Fiennes, the film was nominated for numerous awards and included on just as many top ten of the year lists, including my own. Now, we can own the score from the film from composer Colin Stetson, thanks to Waxwork Records, who continue their absolutely stellar year of releases so far in 2023. The complete score is presented on a 180-gram green splatter disc and features jacket artwork from Matt Needle. Chef would approve for sure. You can see more about the release below and order a copy right here.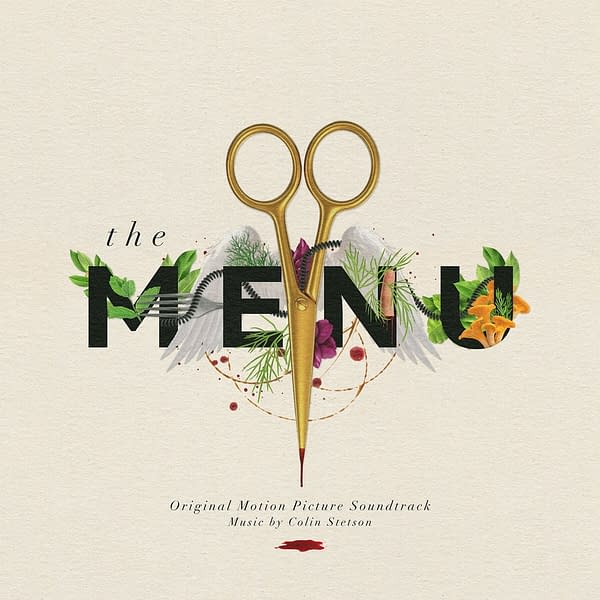 The Menu Waxwork Release Details
In partnership with Milan Records and Searchlight Pictures, Waxwork Records is excited to release THE MENU (ORIGINAL MOTION PICTURE SOUNDTRACK) by GRAMMY Award®-winning saxophonist, multi-instrumentalist, songwriter, and composer COLIN STETSON (Hereditary, Color Out Of Space). The album features music written by Stetson for the satirical thriller directed by Mark Mylod. Starring Ralph Fiennes, Anya Taylor-Joy, Nicholas Hoult, Hong Chau, Janet McTeer, Reed Birney, Judith Light, and John Leguizamo.
Of the score, COLIN STETSON says, "From my first reading of the script to our last moments on the mix stage, my experience creating the music on this film has been an absolute joy, as the themes, refrains, and aesthetic have seemed to jump right off of the page and screen for me with every brilliant turn of phrase, perfect edit, and wickedly delivered performance. It is pure pleasure  working with such an incredible team, and I am truly grateful for the whole of it."
THE MENU (ORIGINAL MOTION PICTURE SOUNDTRACK) Features:
The Complete Soundtrack by Colin Stetson
180 Gram Splatter Colored Vinyl
Artwork and Design by Matt Needle
Deluxe Packaging
Heavyweight Gatefold Jackets with Matte Satin Coating
12 "x12" Art Print
Source link