Illumina increases equitable access to STEM
education, reaching over 1 million learners
San Diego-based Illumina Inc., a global leader in DNA sequencing and array-based technologies, announced outcomes from its annual The Future Is Bright campaign, a monthlong global genomic literacy initiative in which Illumina employees connect with students by hosting career panels, implementing genomics curricula, and leading hands-on experiments.
The Future Is Bright activities reached 100,000 learners in April and have reached 200,000 since the initiative launched in 2021. Through The Future Is Bright and other Illumina-supported programming aimed at driving equitable access to STEM education, Illumina has reached more than 1.2 million learners in 11 countries worldwide.
This year, as part of The Future Is Bright, the company offered educators free, hands-on science kits for their students to conduct strawberry DNA extraction experiments. In April, 2300 kits were distributed globally, reaching 64,000 students. In the United States, 71 percent of classrooms receiving hands-on science kits were at Title 1 schools or schools in which children from low-income families make up at least 40 percent of enrollment.
Read more
Top photo: First and second grade students conduct strawberry DNA extraction experiments at Nipaquay Elementary School in San Diego on April 25. (Courtesy of Illumina)
First Republic Bank is now Chase. What does
that mean for its San Diego customers?
At the downtown La Jolla branch of First Republic Bank, it was "business as usual" on Monday, roughly 12 hours after federal regulators seized the bank and sold its assets to JPMorgan Chase — in the largest bank collapse since the global financial crisis of 2008. A bank employee at one of the bank's six San Diego County branches answered the phone shortly before noon and provided this message: "No changes. Basically, now we are owned by Chase, but business as usual, accounts are still the way they are, you can still write checks and make deposits. Basically, it's just the status quo."
Read more
College District chancellor resigns
to care for his parents
San Diego Community College District Chancellor Carlos Cortez, who has led the district since July 2021, has resigned in order to care for his parents, who are experiencing health issues. Cortez had announced on March 30 that he was taking extended emergency family leave to spend more time with his parents, who live in Florida.
"I am incredibly proud of the progress we have made together over the past two years on behalf of our students and community we serve," said Cortez. "My time at the district, both as President of the College of Continuing Education and as District Chancellor, have been the highlight of my career thus far."
The district's Vice Chancellor of People, Culture, and Technology Services, Greg Smith will serve as acting chancellor while the district conducts a national search for a permanent chancellor. 
Cortez assumed leadership of the district, which includes San Diego City, Mesa, Miramar, and Continuing Education colleges in July 2021 as the district was beginning to emerge from the COVID-19 pandemic. He had previously served six years as president of the district's College of Continuing Education.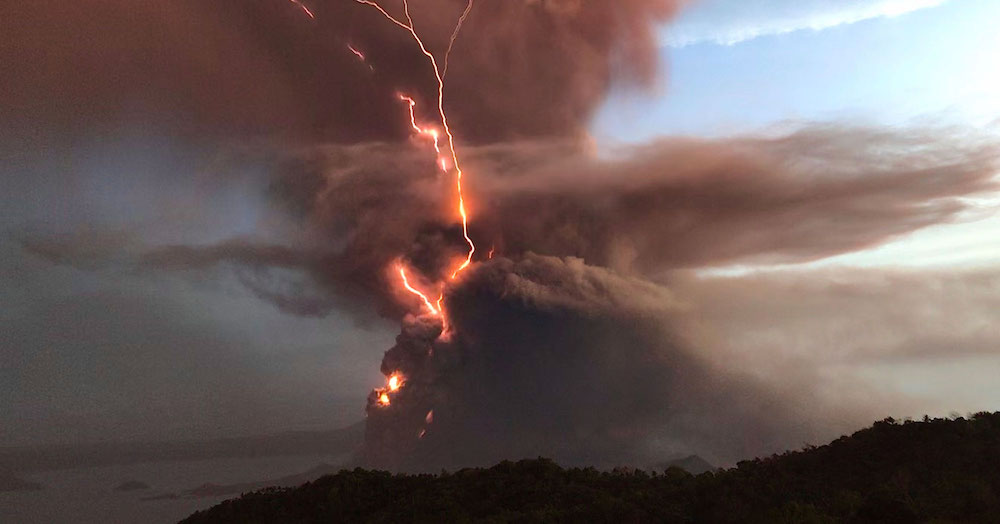 Did volcanoes provide the spark of life?
Scripps Oceanography marine chemist presents
scenario on what animated primordial soup
By Robert Monroe | UC San Diego
The theory goes that life formed on Earth when lightning strikes created random bits of organic matter that eventually coalesced into the first living organisms. 
It's the ultimate origin story but difficult to prove since all this happened some four billion years ago. And there are other complications. A big one is that the planet was mostly covered with ice and only a very small amount of land protruded above it. That presents a problem for the established narrative because it means that the physical conditions that usually electrify clouds and produce lightning were infrequent at best.
Jeffrey Bada, an emeritus professor of marine chemistry at Scripps Institution of Oceanography at UC San Diego, proposes that volcanism could have produced the lightning bolts that charged life into existence. As magma from the planet's interior occasionally broke through to the surface, its violent arrival would have been attended by abundant electrical energy. 
"It presents a new idea and a context that hasn't been explored so much," Bada said.
Read more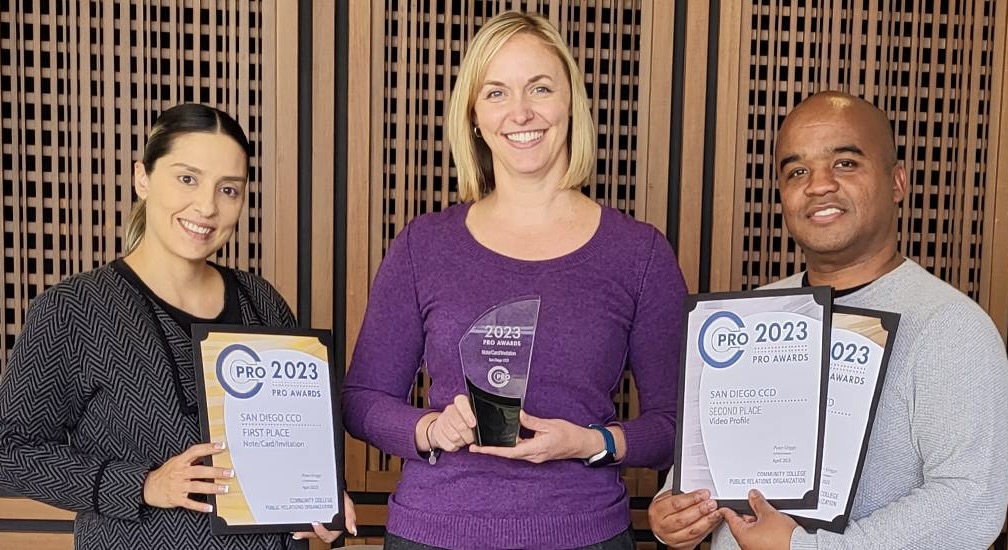 District communications earns four
awards for PR and marketing work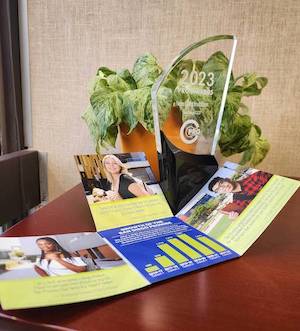 San Diego Community College District Communications and Public Relations earned four Pro Awards from the Community College Public Relations Organization of California.
The SDCCD team won a gold award in the notecard/invitation category for a special thank you mailer for San Diego Promise donors.
Additionally, the team earned a silver and bronze award in the video profile category and a silver award for its With Excellence (WE) magazine.
"I am incredibly proud of the work our team does every day in support of the district and its colleges," said Jack Beresford, SDCCD director of communications and public relations.
"We have some amazingly talented professionals who are helping the district better engage with students and the broader San Diego community."
Read more
Application period starts July 1 for Facade
and Property Improvement Grant Program
LA MESA — The City of La Mesa will begin accepting applications for the La Mesa Facade and Property Improvement Grant Program on July 1. The pilot program provides matching grant funds for business owners and/or property owners of retail, commercial, industrial and office properties to complete exterior improvements to their businesses. Applications will be accepted on a first come, first serve basis. For more information about the program, click here.
Cubic to provide contactless and mobile
fare payment services in Canada
SAN DIEGO — Cubic Transportation Systems will be providing contactless and mobile fare payment services to 900 buses across 30 transit systems outside of Metro Vancouver, as part of its contract with BC Transit. With COVID-19 and the Omicron variant an ongoing concern in Canada, contactless payment options are necessary to improve health and safety on public transit. This project will expand Cubic's presence to areas outside of Metro Vancouver, which is already serviced by Cubic's customer TransLink.
Makers Arcade Spring Fair returns
to the Broadway Pier for its sixth year
SAN DIEGO — Makers Arcade Spring Fair at the Port of San Diego returns to the Broadway Pier for the sixth year – Saturday, May 13 and Sunday, May 14 from 10 a.m. to 6 p.m. The popular annual shopping event will host over 110 local makers for a seasonal shopping experience with photo displays, gourmet food, live music, cocktails, workshops and more. The first 100 people will receive a free swag bag filled with vendor goods and merchandise each day. 
Melanie Palm, MD, brings non-invasive body
and facial contouring expertise to San Diego
SAN DIEGO — Art of Skin MD, a leading San Diego medical and cosmetic dermatology practice founded by Melanie Palm, MD, has expanded its noninvasive body and facial contouring offerings to include cutting-edge lifting, muscle toning and fat reduction treatments, including Emsculpt NEO, Emface, CoolSculpting, and more. The addition of this specialty is part of Palm's strategy to expand Art of Skin MD's practice in the San Diego area. To learn more, visit www.artofskimmd.com.
ZEISS presents new surgical workflow
innovations at May 6-8 conference
SAN DIEGO— ZEISS Medical Technology will showcase new surgical workflow innovations at the American Society of Cataract and Refractive Surgery (ASCRS) annual conference from May 6-8, 2023, at the San Diego Convention Center. ZEISS delivers intuitive equipment and consumables to support reliable patient outcomes for a wide range of cataract patients. ZEISS celebrates a new milestone with more than 7 million eyes treated with SMILE worldwide, building on its claim as a leader in laser vision correction with one of the most comprehensive LVC portfolios in the industry.
SOCi adds industry veteran to advisory board
SAN DIEGO — SOCi, the marketing platform for multi-location brands, has further cemented its position in the restaurant industry with two new partnerships and the addition of Ellie Doty to its Industry Advisory Board. These developments come on the heels of SOCi's recent strategic partnership announcement with Punchh from PAR Technology, which integrates SOCi's industry-leading localized listings management and reviews solutions with Punchh's loyalty and engagement platform for restaurant brands.
Viscient Bio announces first drug
discovered in 3D bioprinted models
SAN DIEGO — Viscient Bio Inc. announced it has identified the world's first drug candidate discovered primarily using 3D bioprinted tissue models of disease formed from human cells.  Viscient expects to develop the drug to treat non-alcoholic steatohepatitis (NASH), a growing epidemic disease that is believed to affect more than 10 percent of the U.S. population.  NASH can often lead to hepatocellular carcinoma or liver failure.  Due to the devastating effects of NASH on patients and its wide prevalence, analysis have projected future pharma industry revenues for the drug in the tens of billions of dollars per year. 
DreamStart Labs wins awards at annual
World Changing Ideas competition
SAN DIEGO — DreamStart Labs, an award-winning provider of digital banking technology for emerging markets, is pleased to announce its DreamSave 2.0 app won two awards at the 2023 World Changing Ideas competition hosted by Fast Company magazine. The annual awards ceremony, now in its seventh year, showcases innovative solutions to the world's most pressing global challenges. DreamSave 2.0 took home awards in two categories, including Best Finance App and Best Developing World Technology.
Custom business card printing now
available from Rubber Stamp Champ
SAN DIEGO — The Rubber Stamp Champ company offers a wide range of custom business card printing, including full color business cards, spot color business cards and specialty cards that include choices such as heavyweight stocks, synthetic stocks, lamination, spot gloss, raised spot gloss, raised foil and much more. At RubberStampChamp.com we seek to always make designing, proofing and ordering nearly 3,000 custom rubber stamp and related products, now including a full range of custom printed business cards, as simple, easy and affordable as possible, and that's why we have a 4.8 seller rating and over15,000 Five Star reviews.
AWE teams up with Amazon in a
broad content distribution deal
SAN DIEGO — Herring Networks Inc. announced  that its AWE (A Wealth of Entertainment) entertainment brand has teamed up with Amazon to deliver more than 500 episodes from its programming library to Fire TV as part of the new Fire TV Channels experience. Fire TV Channels is Fire TV's new, flagship, free ad-supported TV (FAST) video experience.  The AWE content will be featured within the new Travel content category, with additional categories coming soon. Herring Networks also announced that the AWE Plus channel debuted on Amazon's free streaming service, Freevee, in April. 
Source link