In Stoke-on-Trent, the potters are working seven days a week, while in Knaresborough strings of bunting are whizzing through machines. In London, icing "artists" are painstakingly decorating Westminster Abbey-shaped biscuits.
It's a race against time to fill customer orders as the clock ticks down to King Charles III's coronation. Buoyed up by the public's enthusiasm for last year's platinum jubilee, businesses are cranking out memorabilia, decorations and party food ahead of the blockbuster royal event.
Pamela Harper is chief executive of Halcyon Days, where staff are working round the clock in Stoke-on-Trent, Staffordshire, to produce fine bone china products for the coronation. She said: "Watching the factory floor is just a miracle at the moment. We are running seven days a week."
"It's definitely a bigger deal than a [royal] wedding," she continued. "We felt going into it that it would be equal to a jubilee but I feel it's going to outstrip it. Our business is very strong."
The nation is expected to spend nearly £250m on souvenirs and memorabilia, with crockery, coins, flags, books and stationery the big sellers, according to the Centre for Retail Research (CRR). However, this is just the tip of the iceberg, as the CRR thinks the overall figure could top £1.4bn if cash spent on hosting parties and going out, as well as by tourists, is totted up.
Emma Bridgewater, founder of the eponymous pottery brand, said: "This mysterious thing happens around a royal event. People are very inclined to put aside what their actual politics might be in favour of a bunting-swathed event because it's so nice."
Bridgewater's distinctive cream earthenware is made in Stoke-on-Trent and "royal events have always meant jobs" for the city, she said. Sadly, there is no "coronation quiche" dish. "If we could we would, but we can't make earthenware cookware at the moment,"said Bridgewater.
The company has already sold more than £1m worth of its commemorative ware, which urges "three cheers for King Charles", despite the fact that "normal sales are a struggle at the moment".
"The cost of living is bearing down hard on all of us and our customers are real people," said Bridgewater. "We put a lot of heart and soul into the designing and it works when we read the mood of our customers right."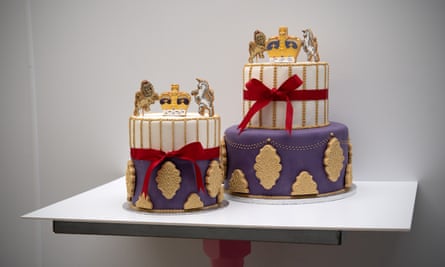 The royal souvenir trade is a broad church. For every £2,250 enamel music box playing Handel's Zadok the Priest produced with great skill by Halcyon Days, there are a million union jack T-shirts and tea towels. The high street is currently awash with patriotic cushions, tote bags and throws rushed into production after the date was confirmed last autumn.
Much of the merchandise riffs on the country's love of tea and biscuits, with stores expected to sell 3.8m cups, mugs and plates as well as 10,000 teapots and millions of collectible biscuit tins.
Marks & Spencer said that more than 200,000 customers had searched its website for coronation gifts and biscuits this year. It rapidly assembled its dedicated product range – which includes a £25 light-up cushion and special coronation Colin the Caterpillar cake – after the date was confirmed in October.
M&S's food development director, Kathryn Turner, said its customers "love a keepsake", and the retailer expects to sell more than 1m of its collectible tea and shortbread tins. Indeed, its classy-looking £6 all butter shortbread tin is hard to find in store and is already popping up on eBay.
The London-based firm Biscuiteers said orders are rolling in for its coronation biscuits which come in different shapes, including a crown and Westminster Abbey, and include a keepsake tin (with a kingly price tag of £58).
Its managing director and co-founder, Harriet Hastings, expects to sell 100,000 royal biscuits. She said: "We're overwhelmed by demand. We're down to the wire now really because it is a handmade product. There is a question of just how many we can make over the next couple of weeks."
Party hosts are also expected to spend £20m on flags, bunting and table decorations. At Flying Colours Flagmakers, a family business in Knaresborough, North Yorkshire, owner Andy Ormrod has received some big orders. Its small team of machinists sewed hundreds of flags over the winter to ensure it had enough stock and they've just finished an order for 22,500 metres of bunting.
Ormrod said: "That was a hard, hard job but we have put that to bed now … we are flat out. People are buying the specialist coronation bunting with the design on it that has been authorised by the palace … and lots of hand-sewn union jacks."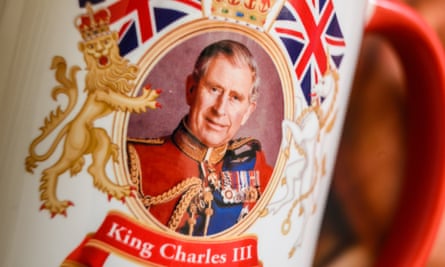 He said that the coronation was generating "healthy" sales for the company, which makes flags for the royal household as well as for TV shows including The Crown, but business had "not gone mad". Ormrod put this down to "bloomin' awful April weather", which was making people nervous about outdoor events.
But while some Britons are content to head to the high street or online to buy souvenirs and special party food, sales trends elsewhere suggest that an army of DIY crafters and bakers is quietly mobilising.
Hobbycraft, the UK's biggest arts and crafts retailer, said 40,000 people had visited the coronation hub on its website and its coronation cake recipe has been downloaded thousands of times. Customers are buying bunting kits and scrapbooks for kids, while others are sharing images on social media of things they made themselves, including crochet crowns and Charles dolls.
Hobbycraft's customer director, Katherine Paterson, said anything red, white and blue was selling in big quantities as people worked on their coronation projects, whether yarn for pom-poms or fabric and ribbons for bunting. "We expect it to be a really big occasion," she said.
Source link