The tragic death of Michael Hutchence has been revisited in an acclaimed new documentary, Mystify. Side-by-side with this, a movie of INXS's 1991 Wembley show is a reminder of how great a frontman he was. INXS's Tim Farriss talks about his comrade's decline and fall – but also remembers the good times and the band's friendship with U2.
Wembley Stadium 1991 was the scene of one final high for INXS frontman Michael Hutchence before he spiralled into a series of lows that culminated in his tragic death just six years later. The terrible decline to follow was of course on the mind of the band's guitarist, Tim Farriss, when recently invited to watch a restored concert movie of the performance, staged that July before a crowd of 74,000. But he was proud, too, of how fantastic INXS were in their prime.
"It was weird," he recalls. "But kind of awesome. Eerie but very cathartic. All kinds of emotions. Good ones mostly."
As it happened, he was the only member of INXS around for the screening. So off he went, to an empty city-centre cinema in central Sydney. He was there all by himself – surrounded by vacant seats and memories. Up on the screen, almost as super-sized as he was in real life, was his old dear friend, Michael. The sight broke his heart. It also reminded him of the good times.
"We played it like it was just another pub gig," he says. "Nowadays you get the grand piano wheeled out for the ballads. You have dancers, ego ramps, pyrotechnics. Wembley was this famous, wonderful venue. We played it like it was anywhere else."
Watching INXS: Live Baby Live several things stand out. One is that INXS were very much a group, rather than a vehicle for the charismatic Hutchence. At the same time, he was clearly one of those rare frontmen who could effortlessly command a vast amphitheatre (one surprising footnote was that Hothouse Flowers were one of the opening acts that night).
"Michael was incredible at that gig," mervels Farriss. "How should I say it: he was 'methodical'. After his accident, he became quite erratic. We all noticed the change."
"The accident" was the punch to the head Hutchence would sustain just 12 months after Wembley, in an altercation in Copenhagen with a taxi-driver. Hutchence was in Denmark with his girlfriend, model Helena Christensen. Following the attack, he was never quite the same. In 1997, with his personal life in chaos and INXS a declining power, he would hang himself in a hotel room in Sydney.
"He changed after the accident but it wasn't something you could really put your finger on," Farriss reflects. "It was progressive. It kind of crept up and got worse as things in his life became more chaotic. Maybe it was because of the brain injury that things in his life seemed more chaotic. That was the real shame of it: none of us really knew what was happening. There was nothing you could do."
Hutchence lost his sense of taste and smell as a result of the concussion. Once a rock solid personality, he also became increasingly unpredictable. In Mystify, the riveting 2019 documentary about his final years by Richard Lowenstein, friends and colleagues recall how the singer would now suddenly fly into destructive tempers. Farriss recalls Hutchence destroying a bandmate's guitar during the making of 1993's Full Moon, Dirty Hearts.
"We had thought something was going on in his personal life," says Farriss. "I don't believe it was. He had brain damage. That is what was causing it."
Farris was interviewed for Mystify and attended the premiere with Lowenstein, a friend of the band going back decades.
"There were no great surprises because I already knew about all that stuff," he says. "I loved how it was put together. It showed the medical side [of Hutchence's decline] because I think that was missing so much from the media."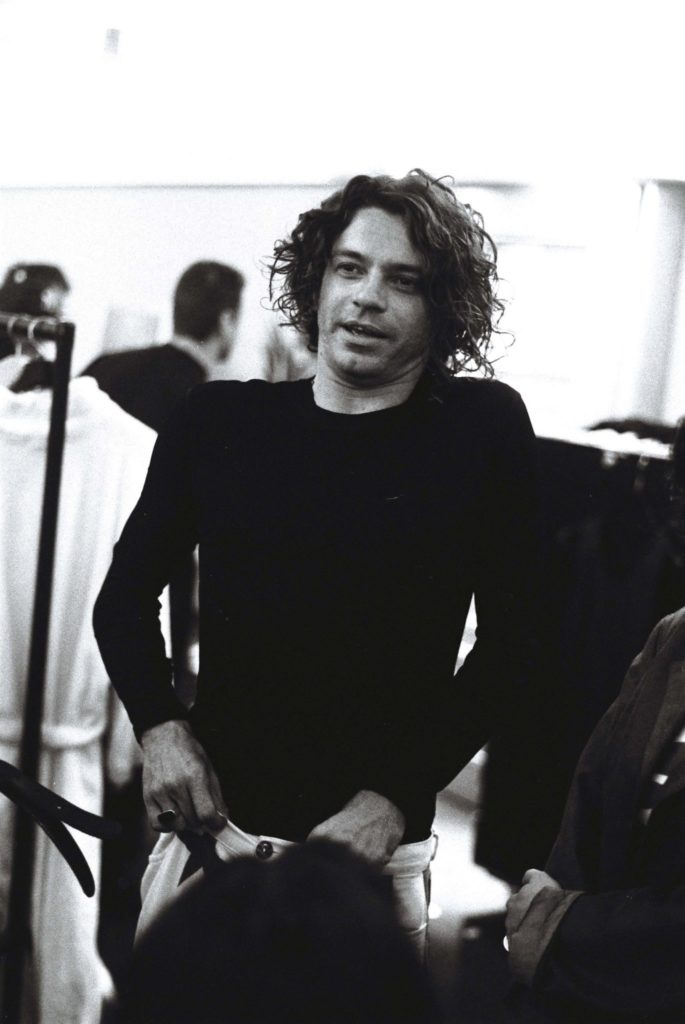 U2 touched down in Australia the week Farriss speaks to Hot Press. At a concert at Sydney Cricket Ground Bono dedicated 'Stuck In A Moment You Can't Get Out Of' to Hutchence. The two were close, having bonded as neighbours in the south of France where Bono and Ali keep a holiday home. 'Stuck In A Moment', one of the big singles off 2000's All You Can't Leave Behind, was U2's tribute to a fallen comrade.
"It meant a lot," says Farriss of the song. "And it would have meant a lot to Michael. Michael was very close to Bono and to Ali. It was the same as when we toured with Queen. There are some bands who, when you tour with them, you become mates. Queen and U2 were different to a lot of bands in that they hung out together. As did we."
He has warm memories of criss-crossing America with Queen and of opening for them at Wembley on two occasions.
"They'd take us to dinner. Just the band and the road managers. I remember being in Freddie's suite in Montreux. It was him and Michael and my brother Jon [INXS's drummer]. He was playing us these new tracks. He pulled out a microphone and played it through the speakers. He and Michael were singing notes. Freddie and Michael… I mean, wow. I had no idea at the time how profound a moment that was."
There were no egos in INXS, he says. No pecking order. Hutchence famously turned down a Rolling Stone cover because the magazine insisted he pose without his bandmates. He continued to demure even when the rest of INXS insisted it was fine to go ahead. It was one for all, all for one – a side of the group that comes through powerfully on Live Baby Live.
"At the very start when we were touring the US we could see similarities between us and U2. Even more so maybe than with Duran Duran, who were our other mates. We were all touring the US at the same time. It's a well beaten track. We could come across one another a lot. There was always a synergy. I remember making Full Moon, Dirty Hearts… We'd be in the studio tracking songs and Michael would be on the phone. And we're like, 'Michael who are you talking to?' He'd say, 'Oh, just Bono.'"
Mystify and Live Baby Live together present an affecting portrait of Hutchence. Mystify, by its very nature, focuses on the negative and the singer's slow decline. Live Baby Live, by contrast, celebrates a charismatic artist in his pomp. Together they serve as an antidote to the sordid rumours that followed Hutchence's death at age 37 in the Ritz-Carlton Hotel in Double Bay Sydney in November 1997 – in particular that his strangulation was an erotic experiment gone wrong. The New South Wales Coroner confirmed that his death was a suicide comitted while depressed and under the influence of alcohol and other drugs.
"There's all kinds of rumours going around here and there about Michael," he says. "Only a few people knew the real truth."
He hopes Live Baby Live will become part of the INXS legacy – a reminder that before the tragedy there was triumph.
"It shows how powerful a frontman Michael was. It's funny – when we started out playing together as teenagers, Michael could barely sing, he was very awkward, quite shy. You couldn't imagine he was going to become the frontman he became – so confident. He morphed into that throughout his career. Suddenly this butterfly emerged from the cocoon."
INXS: Live Baby Live will be available as a triple LP, double CD and live DVD.
You can read the interview with Tim Farriss in the Hot Press Annual – in which we distill the highlights and low-points of the year, across 132 vital, beautifully designed pages. Starring heroes of the year Fontaines D.C. on the front we cover Music, Culture, Sport, Film, Politics, the Environment and much, much more. Buy this superb publication direct from Hot Press here.
Source link