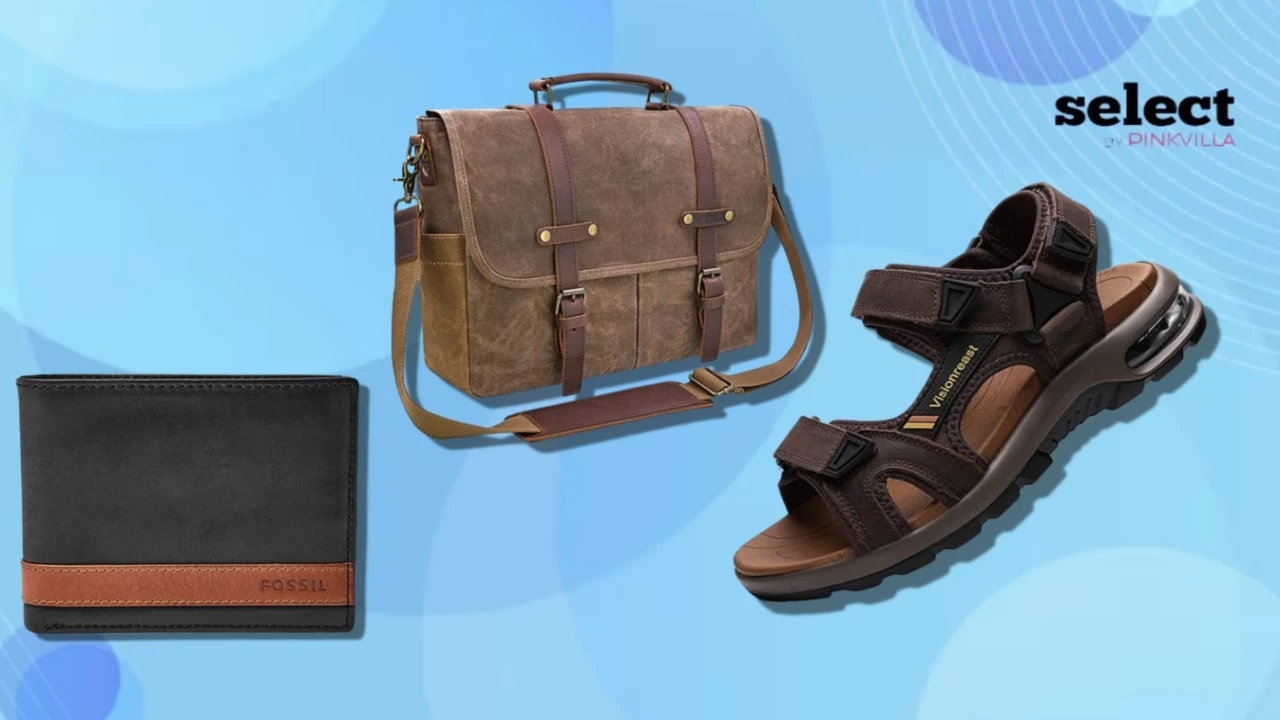 The products curated for this article are independently chosen by the
editorial team. If you make a purchase through the links mentioned below, we may receive a commission. Check out our product
research & curation process
Whether it's an anniversary, birthday, Valentine's Day or just an occasion to shower your man with love, a luxury leather gift for him is always a good idea. Leather reeks of luxury and a good quality product signifies class and grace that only adds more charm to a powerful demeanor.
There are a wide range of sophisticated leather goods available but a luxury leather belt, wallet, notebook and shoes make for a great gift. Here are a few luxury leather gift ideas that will leave an everlasting smile on your special man's face. Whatever be the occasion, spoil your favourite man with a luxurious gift.
17 Hand-Picked Luxury Leather Gifts for Him that Exude Elegance
Every modern man should have this Men's Messenger Bag. A huge cushioned pocket for your laptop and ample space for all of your items make up the nine pockets, which also include a back pocket with a zipper, two slide pockets, and two inside slip pockets. Plus, the padded laptop sleeve will protect your laptop wherever you go. The case may be worn as a crossbody, as a shoulder bag, or as a business briefcase. It's an ideal present for everyday use, overnight trips, business, and more.
2
Fossil Men's Leather Bifold Wallet with Flip ID Window
Fossil's Luxury Men's Leather Bifold Wallet is a stylish, timeless accessory crafted from 100% genuine leather imported from around the world and is the perfect addition to any man's wardrobe. It features an exterior flap with two ID windows, two slide pockets, eight credit card slots, and one bill compartment, offering plenty of space to store your cards and cash. This elegant leather wallet's refined design makes it the perfect present for any man wishing to replace their current wallet. 
3
Visionreast Mens Athletic Sandals Open Toe Hiking Outdoor Non-slip Sandals
Men's Athletic Sandals Open Toe Hiking Outdoor Non-slip Sandals from Visionreast are opulent leather gift ideas for him for this summer. These sandals are made of superior first-layer cowhide and flexible fabric, making them comfortable and gentle on the skin. They are perfect for wearing at the beach as they are waterproof. The sandals have three Velcro ties that can be adjusted and include closures with hooks and loops to make them easy to put on and take off.
4
Mens Chelsea Boots, Stylish and Comfort Leather Chukka Ankle Boots with Zipper
Men's Chelsea Boots are the ideal choice if you're searching for a special leather gift for a man in your life who values classic style. These fashionable and cozy leather chukka ankle boots include a zipper fastening for simple on/off and a rubber sole for further comfort and cushioning. They are perfect for any special occasion, including formal gatherings and parties, thanks to the Goodyear welt design, which improves overall comfort and longevity.
5
Bayfield Bags Travel Toiletry bag for Men Shaving Dopp Kit
This traditional lamb leather bag will win you over with its timeless leather appearance that only gets better with time. It contains a zippered extra section at the bottom that may hold various items including a shaving brush, soap, and an elastic strap for tweezers, clippers, and razors. To make the ideal travel kit, the spacious upper pocket may accommodate heavier items like shaving cream, aftershave, and toothbrush. The Bayfield Bags Travel Toiletry Bag for Men is a cool leather gift for him if he enjoys traveling.
6
Jousen Men's Dress Shoes
The 100% genuine leather used in the construction of Jousen Men's Dress Shoes makes them the ideal leather gift. Additionally, the adjustable laces ensure a secure fit for anyone wearing these shoes. They are perfect for formals, weddings, parties, jeans, and other situations thanks to the breathable lining, memory foam soft insoles, and flexible rubber soles with stacked heels that preserve shock absorption. These yellow-brown men's dress shoes have a polished plain toe and a distinctly vintage vibe. 
7
Jack&Chris Leather Briefcase for Men
This Jack&Chris Leather Briefcase is the perfect choice for any professional, artist, student, or businessman because it is intended to last. Its spacious interior is perfect for holding up to a 15.6-inch laptop, along with other essentials such as A4 documents, books, conference files, checkbooks, pens, wallet, and phone. It has both a briefcase and a messenger bag-style carry option thanks to its adjustable shoulder straps and strong top handle. The back side of the bag includes a belt attachment for attaching it to rolling luggage, so you can travel hands-free.
8
SEEHAN Leather Scrapbook DIY Photo Album Love Memory Book Scrap
The SEEHAN Leather Scrapbook has an engraved pattern that will not fade and a PU leather cover for greater resilience and moisture. With a total of 60 pages and 30 refillable sheets, you can easily store more than 120 4-5-inch photo pieces. This is ideal for keeping track of all those priceless moments and makes a fantastic memory book for couples or friends, as well as a vacation scrapbook. Furthermore, every picture book is covered by a 12-month guarantee and customer service if you want additional assurance.
9
Lawrence Frames Dark Brown Leather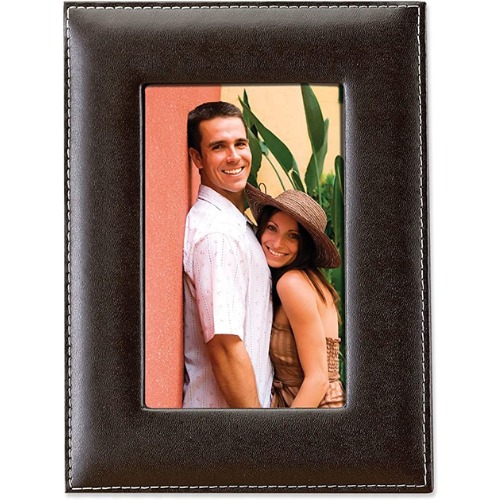 This classic piece is a lovely compliment to any decor. This frame stands out in any space since it is made of bonded leather, with white saddle stitching, and a luxurious black velvet backing. It can fit a 5-inch by 7-inch photo and is simple to wipe down with a dry towel. A charming image that brings back a special memory for him might add a personalized touch. This is the ideal custom leather gift for him due to its timeless and upscale appearance.
10
MAOGOAM's AirPods Pro Leather Case Cover
MAOGOAM's AirPods Pro Leather Case Cover is crafted from 100% top premium vintage oil wax crazy horse cowhide, this case provides your AirPods Pro additional drop and scratch protection, while the genuine, vegetable-tanned leather design develops a beautiful, glossy texture over time. Moreover, the two-piece construction is easy to install and disassemble, fully compatible with wireless charging, and the front LED is visible. It's the perfect way to give him a personalized, stylish accessory to go with his AirPods Pro.
11
Benchmark Basics Leather Watch Band
Spoil your man with Benchmark Basics Leather Watch Band. This watch band with a military design strikes the ideal harmony between classic leather and informal nylon straps. The leather watch strap is made from 1.4mm thick wax and oil-infused cowhide and molds to the wrist wonderfully. A stainless-steel buckle and three keeper loops provide a snug fit. Pick the ideal width for your watch and a variety of colors to meet any event.
12
KINGFOM Pu Leather Desk Organizer
The KINGFOM PU Leather Desk Organiser with 5 Compartments is the best leather gift for him to meet his needs for desk setup. High-grade PU leather is used to create the surface of this multipurpose storage caddy, and soft flannel is used to create the inside and bottom. A variety of objects, including remote controllers, mobile phones, markers, pens, notepaper, business cards, and more, may fit in this holder. Additionally, you may customize the organizer to fit your needs and add color to his desk.
13
The All American Leather Belt from Main Street Forge
This belt comprises old world, veg-tanned, full grain american steer hide leather. It can be used for business or as an EDC belt, which will last a lifetime! The buckle, the leather, the screws, and even the box it arrives in are all created in the United States, which is another benefit. In addition, Main Street Forge backs the excellence of all of their premium goods with a lifetime warranty. The All American Leather Belt is the ideal present for him as it's durable, fashionable, and made in the USA.
14
BOLOSTA-Carry on Garment Bag for Travel
This stylish and sophisticated duffle bag is perfect for business trips or weekend getaways. It contains a separate shoe compartment to keep filthy and damp shoes out of the main compartment in addition to being constructed of premium, scratch- and water-resistant leather. It's easy to carry and store, with a detachable shoulder strap, zipper pocket on the back, and zipper buckles on the side. Moreover, BOLOSTA-Carry on Garment Bag for Travel has a large capacity and multiple interior zipper pockets to maximize storage space.
15
REED Men's Genuine Leather Warm Lined Driving Gloves
The ideal wintertime elegance present for him is a pair of REED men's genuine leather driving gloves. These warm-lined driving gloves are made entirely of sheepskin leather, with Thinsulate fabric to keep your hands cozy in the wintertime. These Winter Gloves are touch interface-compatible and are designed to keep your fingertips comfy while you take the ideal shot or text a buddy. They strike the ideal balance between luxury and usefulness.
16
Diodrio EDC Leather Knife Sheath Organizer Pouch
Diodrio EDC Leather Knife Sheath Organizer Pouch is a sophisticated item that is fashionable, strong, and useful. You'll be able to maintain the order and be ready for anything. The leather has been processed to provide a tough, worn look that becomes better with use. This leather pouch is made to keep your pockets tidy while giving you easy access to your important EDC (Everyday Carry) items. Your loved one may quickly and conveniently reach the EDC tools with the help of this accessory. The pen loop that is included with it keeps your pen and other such objects organized and handy.
17
GelConnie Leather Cuff Bracelet
The GelConnie Leather Cuff Bracelet is a fashionable, cozy, and long-lasting item that will give any ensemble a dash of punk and cool flair. If he likes punk fashion, and rock music, or just wants to add a distinctive touch to their wardrobe, it is the best leather gift for him. Genuine leather of the highest grade is used to make the bracelet. Even in warm weather, you may wear it comfortably because of its lovely, airy texture. The bracelet is strong and won't deteriorate with use, making it a timeless addition to your outfit.
Conclusion
An amazing and luxury leather item, compared to other presents, is something that he can use throughout the year and at various times. You will undoubtedly find a luxury leather gift for him, if you just consider his preferences and sense of style. Furthermore, leather is a fantastic material for all different types of products since it offers useful properties for usage, including versatility that enables you to have garments without occasionally getting scars from them, and of course, this always gives you graceful and excellent taste.
Author BIO
Ankita is a budding journalist and a certified fashion expert. If the Fashion police were an official organization, A More
Why Trust select
Our product experts study the specifications of every product we suggest and try them out to bring what's proven to be worthy of your money, time, and energy. We also have subject matter experts from various fields like Fashion, Skincare, Haircare, Home Decor, and Health & Fitness onboard to make sure our suggestions are credible and trustworthy. You can trust select to be your faithful shopping guide for all the right reasons!
Source link