It's been 10 years since LG first released OLED, and in that time, much has changed. What's new for 2023's big TVs, and is it worth getting excited about?
It might be difficult to believe, but TVs are celebrating a bit of an anniversary this year, as OLED turns ten.
Yes, it's been a decade since the world of lab-grown organic light emitting diodes first showed up, giving consumers at home a type of colour that makes images pop off the screen and a black that is so infinitely deep, it may as well be off (because it is).
In that time, new players have arrived with OLED, while LED backlit TVs have grown in number, as well, and the technologies have changed, too. Not just for every brand, but for LG, as well.
"At LG, we are committed to continuous innovation across our home entertainment products and our 2023 TV range is no exception. And as our technologies have evolved, so has the role of the TV in Australian homes," said Tony Brown, Marketing Manager for LG in Australia.
"Whether it be the hub where people gather for the latest sporting match, game or movie, or a statement piece positioned to impress invited guests, this year we are providing a television for every consumer," he said.
With that in mind and TVs set to get updated in April, we spent some time with LG's latest to find out what the company has in store.
LED backlit and quantum dot: QNED vs QNED Mini-LED
Before we jump into the OLED goods, it's worth looking at the other part of the market: TVs for people who don't want OLED.
Price point is typically the reason why — because OLED isn't always inexpensive — but also there's the matter of light. Typically rooms with a lot of light don't always fare well with an OLED screen, though LG has news for those sort of rooms in one of its 2023 variations.
Regardless of the reason, LG will have a few options that won't be OLED this year, with a regular LED backlit UHD TV in the UR8050, which will start at $899 for a 43 inch, cost $1499 for a 65 inch, or as much as $2999 for an 86 inch, and then put a little more into its QNED and QNED Mini-LED technologies.
The acronyms and initialisms can be dizzying, but the quick explain action is this:
QNED is basically LG's LED backlit TVs with quantum dots to enhance the colour using two variants of the techonlogy, Quantum Dot and NanoCell, and
QNED with MiniLED marries quantum dots with tiny LEDs to make more dimming zones and control colour and blacks better.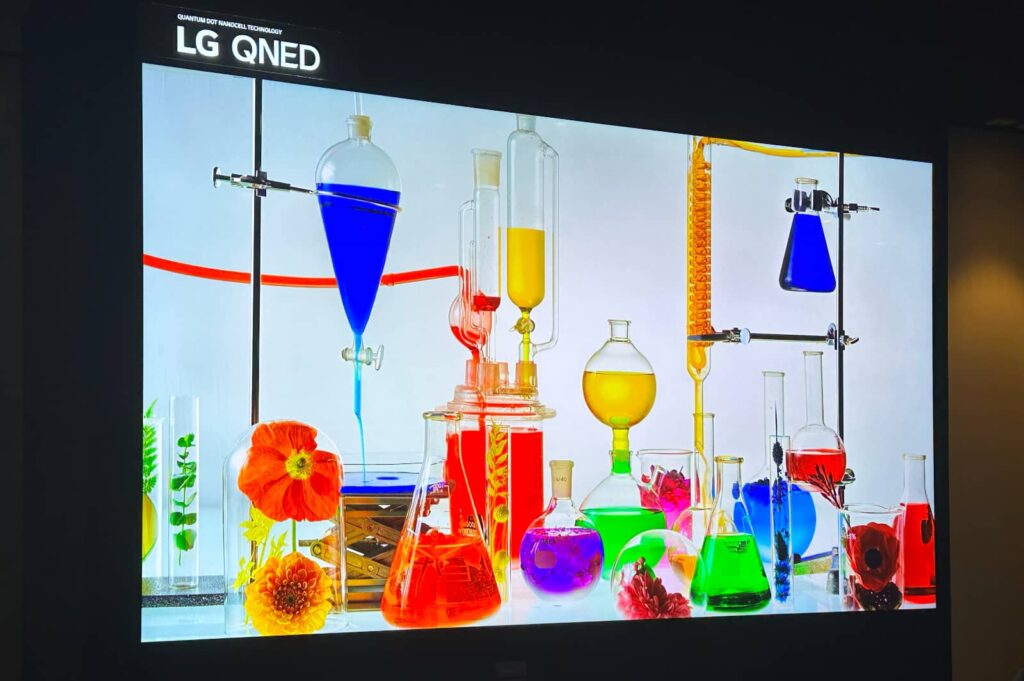 The difference between a QNED and QNED with Mini-LED is basically control of the shadows, with the latter delivering a bright experience with more definition and detail in the blacks, thanks to more precise dimming zones. Meanwhile, QNED screens offer bright and vibrant colour because of how quantum dots hone colour.
In person, the new screens are clearly bright and vibrant, but the clear winner is the QNED with Mini-LED, with better clarity applied to the shadows in content. It's a solid view for people looking for OLED-like quality without an OLED price, which quantum dot is clearly delivering some of. The shadows aren't the same, but the effort isn't bad overall.
There will be a few variations of QNED this year, with sizes running between 55 and 86 inches in prices from $1499.
More OLED, more price points: B3, C3, G3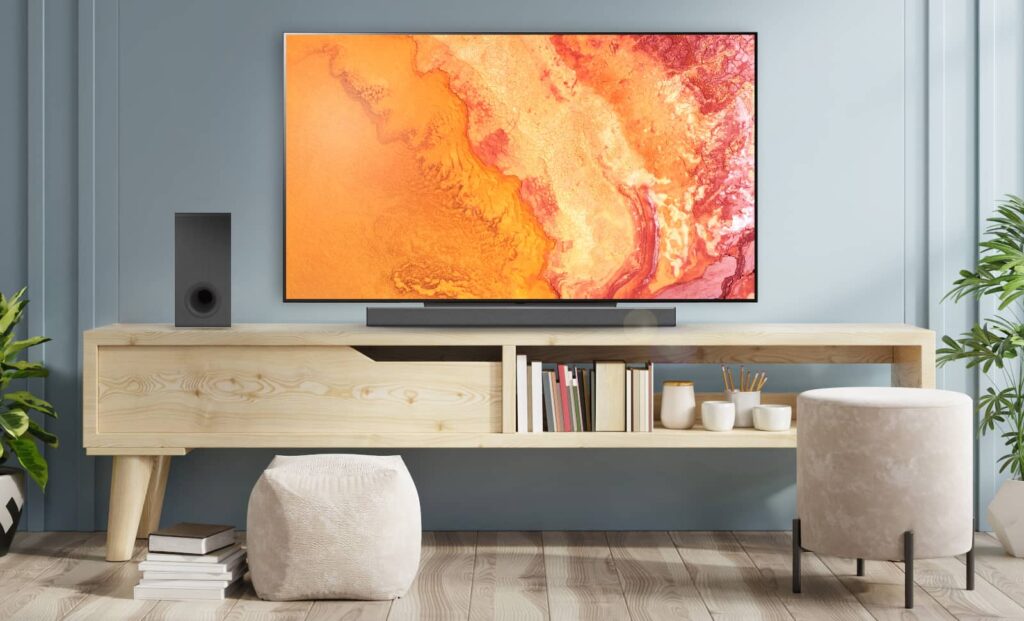 While regular LED backlit TVs, QNED, and QNED with Mini LED will make up the beginning of LG's TVs for 2023, the big focus will likely be on the OLED world.
After all, it has been ten years since LG first introduced OLED to Australia and the world, and in that time, a lot has changed. The first screens were curved and Full HD, before going flat and Full HD, and then flat and 4K, where they have largely stayed.
The idea of OLED has always been about organic pixels and panels grown in a lab, with the result being a purity of colour and black.
In an OLED screen, making a black doesn't need to be from a controlled dimming zone like it does on an LED TV. Instead, the TV just switches the pixel off entirely, so black is just "off". That results in a better black overall, because black really is black and off, while the colours pop naturally, as well.
LG does some other things to its OLED panels, making a variety of screens, and this year is very much proof of that with no less than four varieties of OLED, including an entry-level OLED panel, the B3.
Very much the entry point for what makes OLED affordable in LG's world, the B3 won't cover all the major updates, but will provide a beginning, offering the 55 inch B3 for $3149, with a 65 and 77 inch B3 fetching $4099 and $6499 respectively.
The more popular range is likely to be the C3, which covers more sizes, more price points, and indeed some updates.
While the design of the panel is similar, a shift from the B3 to the C3 sees 20 percent more brightness and just that little bit extra clarity from the new hardware.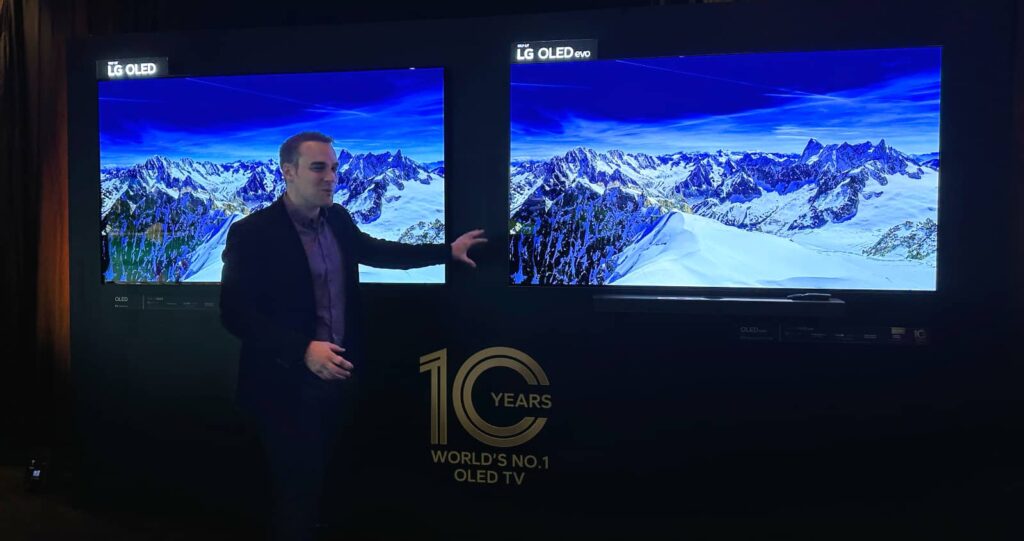 What's more, the difference in price between the B3 and C3 will basically be measured in the hundreds locally, offering a bit of a sweetener for people to opt to the brighter and better C3 compared to the entry-level B3. A range of C3 sizes will see the LG C3 available in Australia in April from $2599 for a 42 inch alongside other options, including:
48 inch C3 – $2899
55 inch C3 – $3299
65 inch C3 – $4299
77 inch C3 – $6799
83 inch C3 – $8999
Then there's the next step, arriving in the G3.
LG's "gallery" inspired design, this one slims down the bezels of the frame just that little bit more and improves the hardware stack of the LG OLED Evo panels to be brighter and more clarity driven again.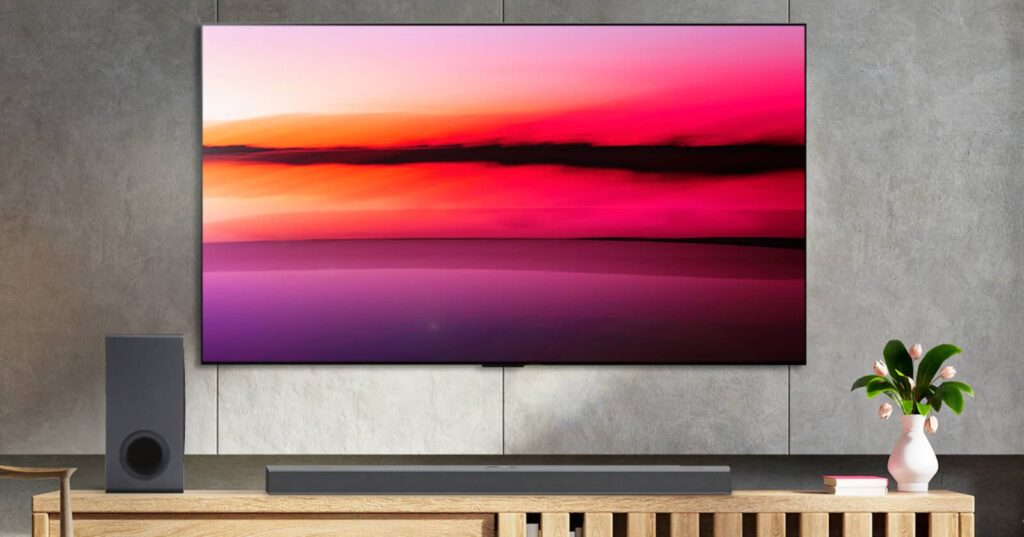 .
Inside each LG G3, LG notes is a combination of hardware and software that allows the G-series OLED TV to push out more light and colour than any OLED TV before it, even giving it the chops to compete with the typical brightness of an LED-backlit TV in a bright room.
You won't see it with your own eyes, but the LG G3 includes a heat sink to drive the hardware, an analytical process handled by the processor to measure the light and colour from the TV as media is being played, and a crazy 42 billion lenses across the screen's pixels, measuring it down to 6000 lenses per pixels to improve how the display handles clarity.
It's a result LG told journalists "stops light from escaping", and in person, the result is simply incredible, maxing out at 2100nits at its brightest point.
For a long time, LED-backlit TVs have been the recommended approach for bright rooms simply because of the amount of light and brightness they generate.
Even though OLED TVs have long been the "holy grail" for best-in-class TV picture quality, the brightness control has been an issue in well-lit rooms. While the testing environment we went eyes-on and hands-on wasn't entirely ideal, the amount of light put out by the LG G3 was unmistakeable: this is a dramatically bright screen, and one that isn't sacrificing sharpness or quality.
Content on the screen looked excellent and amazing, drawing you in and leaving you there to marvel at what the screen could do.
Sitting next to another LG panel from the C-series, the difference was stark and clear: while both offer a great experience, the OLED Evo panel and hardware in the models in the G3 and above are offering one of the best TV experiences you can find to date.
The range will cost a little more and be available in four options, including:
55 inch G3 – $4199
65 inch G3 – $5299
77 inch G3 – $8399
83 inch G3 – $10999
An even more premium signature Z series option will also use these panels and performance in the 77 inch Z3, available for $15999, as well.
A "wireless" OLED, kinda sorta: LG OLED M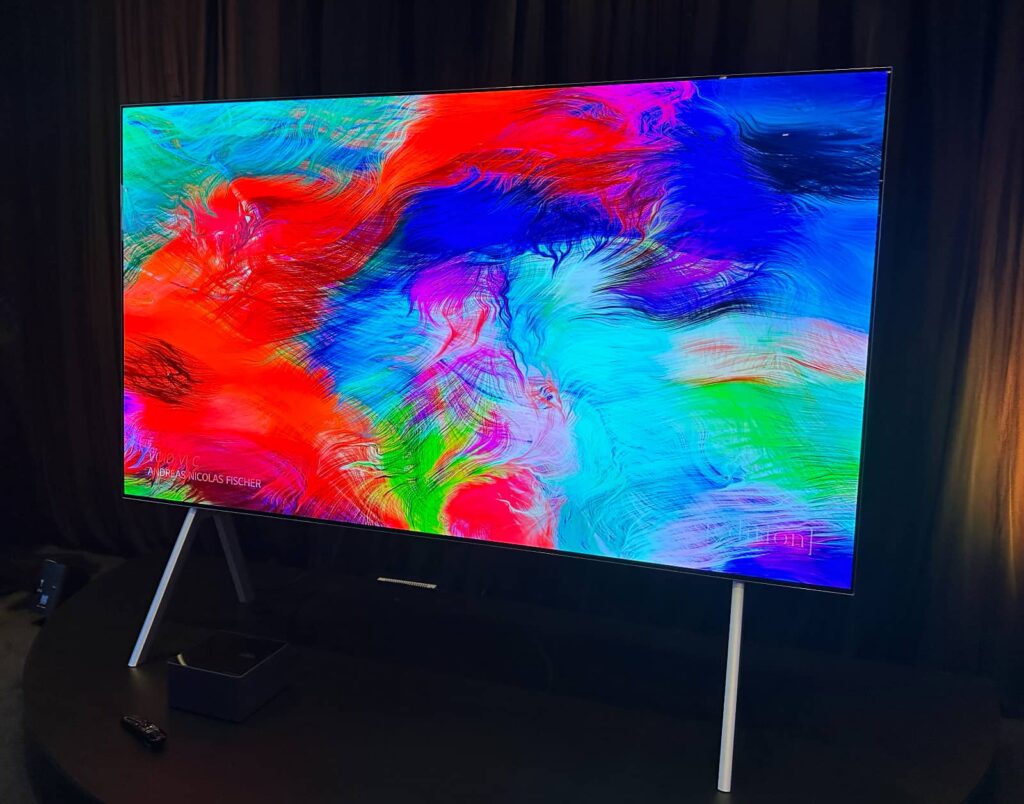 There's also another breed of OLED on the way for deeper pockets, as LG dabbles in a "wireless" TV, kinda sorta.
Set to arrive later in the year, the OLED M — or OLED M3 — is a version of the LG G3 that'll still get plugged into the wall like a standard TV, but won't need all those cables for the HDMI and so on, at least not in a regular sort of way.
Instead, it'll use a box somewhere else in the room to support those connections, and then transmit up to 4K 120 video by way of a proprietary wireless technology, allowing you to make the TV the focal point without cables anywhere near it.
This could mean having a box nearby, behind, or even at the back of a room, with the antenna aiming at the TV to handle all the heavy lifting. While it won't be for everyone, it does make it possible to deliver a big almost cord-free experience to a TV, and to a big one at that.
At Australia's first showing of the LG M3 OLED, the screen we were feasting our eyes on was 97 inches, which translates to 2.5 metres diagonally. Clearly, it's a big picture, and it's one that like the LG G3 we kept on glancing back at produces stunning images.
LG's lifestyle TVs: Easel, Pose, and Stanbyme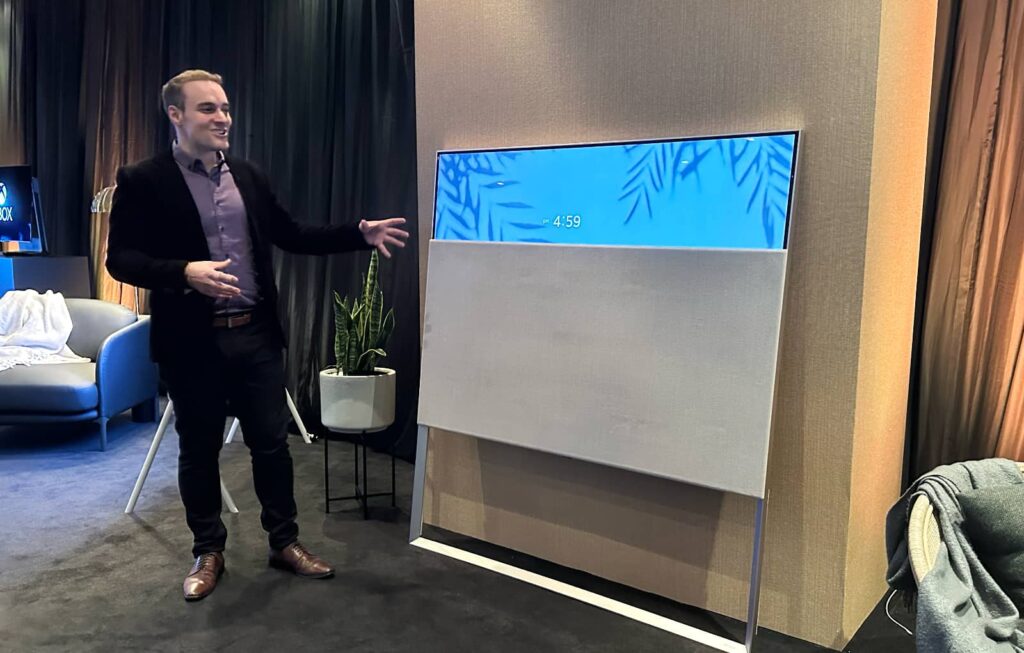 It's not just the big OLEDs that will get stunning images, but also the lifestyle ones, as well, though they'll be a little different.
There are two of those, with the Objet Pose offering an OLED that has a functional design, while the Objet Easel will be more of a showpiece, though both similar and capability.
They'll both feature an OLED Evo panel and a gallery mode, but the Pose will come in a design that aims to hide the cables with a sort of fabric-coated board for pictures or holding magazines and books, while the Easel will lean. It can also be mounted, but it sees a Kvadrat textile coating that can be lowered to reveal the full 65 inch TV, hiding a 4.2 channel soundbar.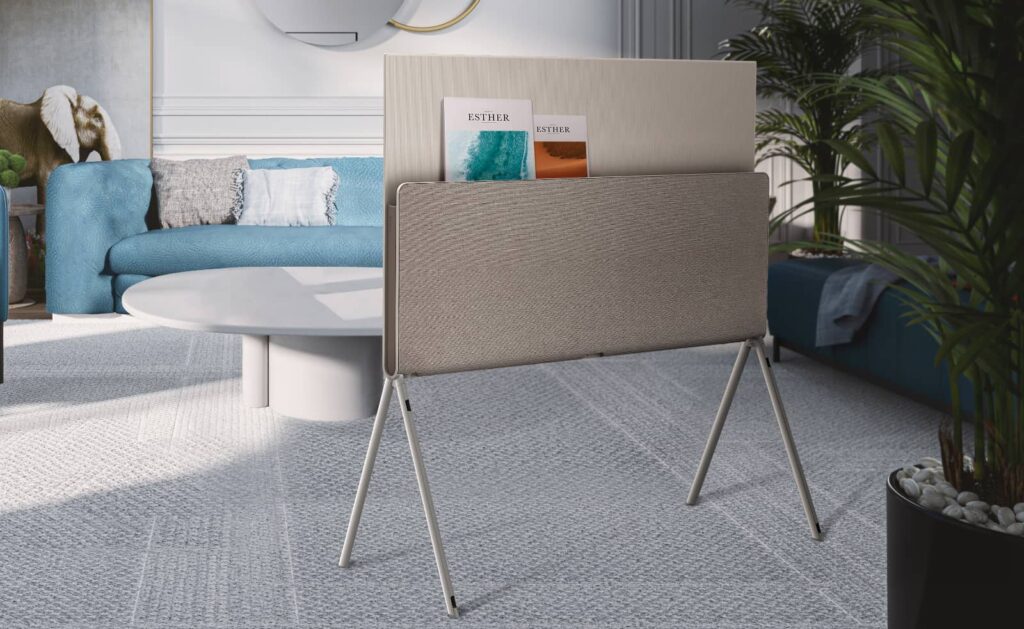 LG is also introducing a portable screen that isn't an OLED TV in the 27 inch "Stanbyme", and no, we're not making that name up.
The idea with this one is a 27 inch TV on a stand with wheels that can move around from room to room thanks to wheels, and be controlled using a touch panel in the screen.
You can also stream directly to the TV using AirPlay or cast to it using an Android device, while a battery inside the TV can keep it going for up to 4 hours of playback.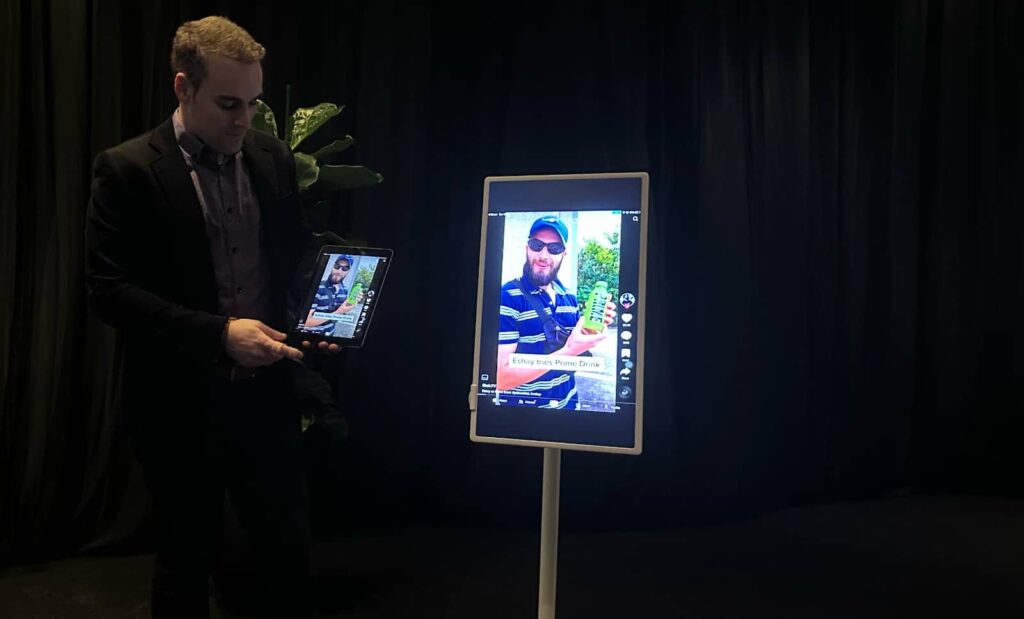 While there are three new lifestyle models, one of LG's current lifestyle range is disappearing, as OLED R looks set to be removed from the available models in Australia.
The rollable OLED TV was conspicuously absent from this week's launch and showcase of LG's 2023 screens, with LG's Tony Brown confirming that the TV sold in small numbers in Australia, but would disappear locally.
The idea of a rollable lifestyle TV was more of a proof of what the company could do with OLED technology, rolling it up and down, though it was for a very specific group of people with a very large amount of money.
In many ways, the LG Easel seems like the idea replacement for the OLED R, simply because it follows the same style, complete with a screen showing a line of information for media, time, and the weather.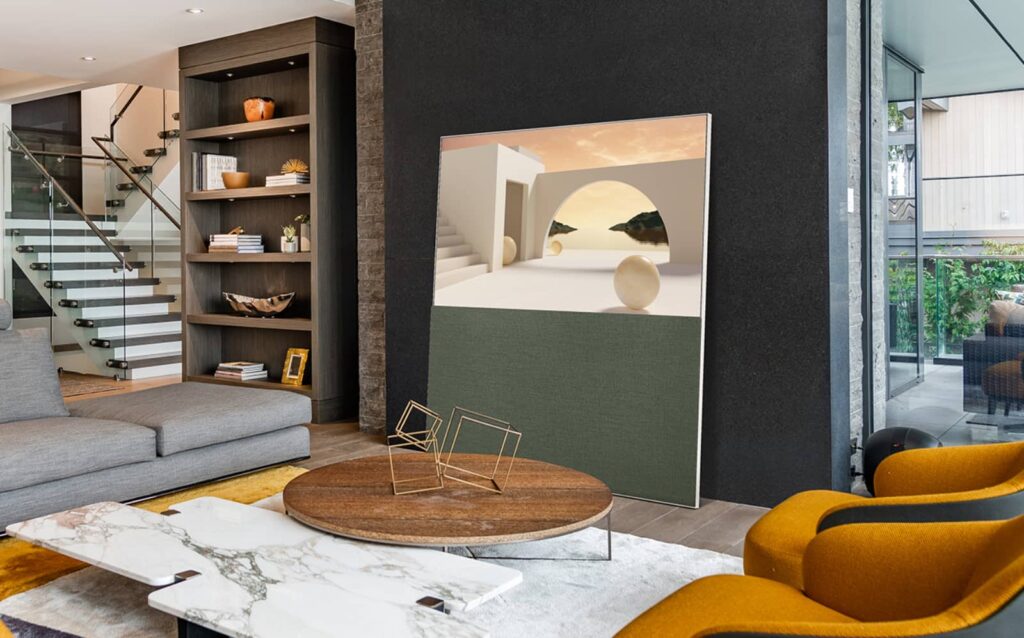 While the Easel won't roll out of a special body, its design does incorporate a soundbar much like the OLED R did, and uses its special rectangle of Kvadrat fabric to lower and rise in an automatic fashion similar to how LG's OLED R screen would roll up and down, adding to the cinematic experience.
It's a little like what Bang & Olufsen does with its premium OLED TVs, which also run on LG OLED panels, and will also be upgraded to OLED Evo screens from the 2023 batch when new variants arrive, LG Australia confirmed this week.
More than just hardware: additions to webOS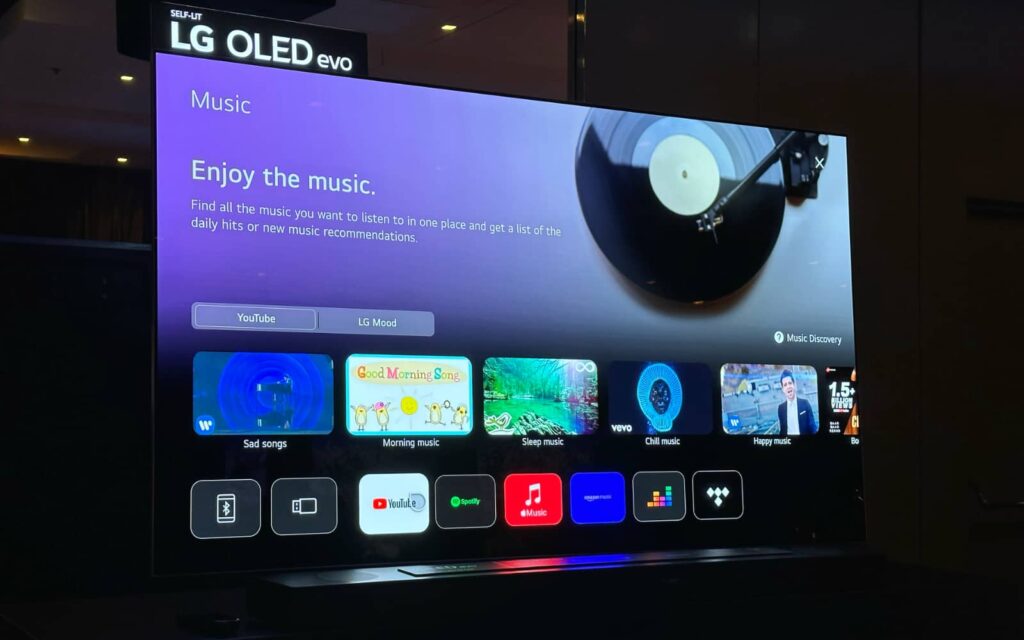 There are also some interesting features in the new range, thanks in part to changes to webOS, LG's operating system for its TVs. While an upgrade policy for future TVs is very much still a little bit of a question mark each year, new LG TVs will see quite a few new features in their use of webOS, ranging from media, gaming, and even the work from home office.
In the world of media, there's support for quite a few music services, and arguably the most popular, including Spotify and Apple Music, the latter of which LG confirmed supports Dolby Atmos playback to its TVs for spatial audio.
There's also quite a bit of gamers, including a direct link to GeForce Now with game controller support, something that gives gamers without a computer or console a subscription-based approach to cloud gaming that's semi-competitive with Samsung, which offers Xbox Cloud Gaming built directly into its TVs.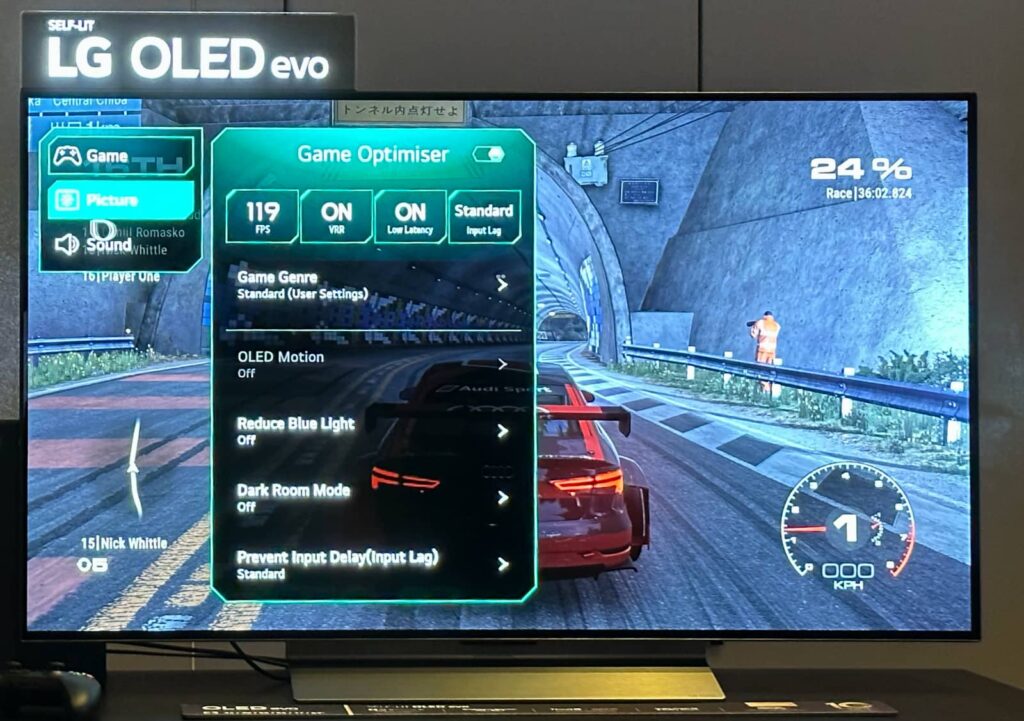 Gamers who do plug in a console will also find some really specific gaming settings on the TVs, with genre presets for games and more control to improve the performance, allowing you to customise what your TV does in order to make the game experience better.
That could mean switching off HDR, turning up the brightness in shadows, and a whole bunch more, with Game Optimiser giving you that little bit extra control for the TV and improving how you play the game.
And folks working from home aren't left out, because there's a "Home Office" screen in the 2023 version of webOS, with support for Windows 365 and Google Drive, as well as a Chromecast support. In theory, you should be able to turn an LG OLED TV this year into a large workstation if you wanted to.
Sound links: how LG soundbars will talk to LG TVs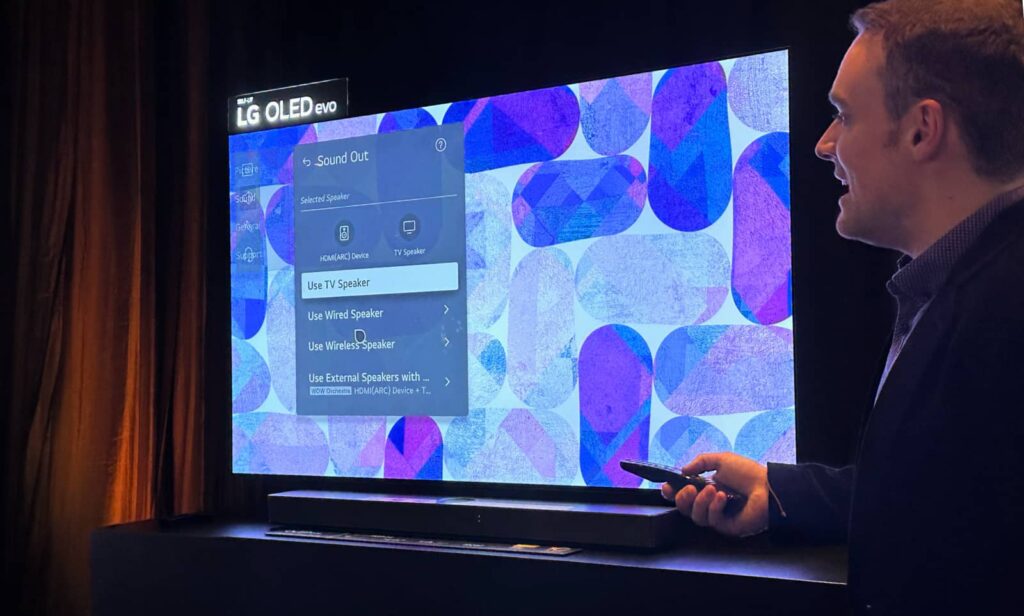 Sound also sees an upgrade with LG, provided you use an LG soundbar with something the company calls "Wow Orchestra".
The idea is one we've heard before, and Samsung uses a variation with its TVs, basically allowing a linked soundbar from the same company to use the TV's speakers at the same time as a soundbar.
Granted, you'll want one of the recently announced soundbars to make it work, plus a TV from either 2022 or 2023, but if you have both, the TV's speakers will work with the soundbar's for that little bit of extra impact.
Local availability for the LG 2023 TVs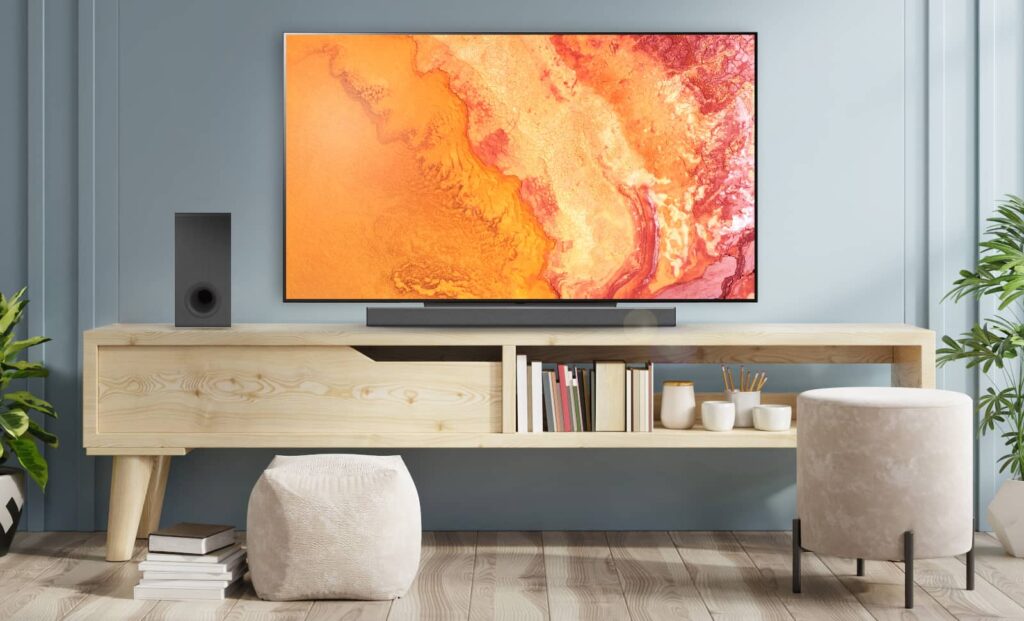 If you've been waiting until typical TV changeover season for something new, the good news is these releases aren't far away.
In fat, with the exception of the OLED M and some of the QNED options, everything else is targeting a release of April, meaning now or within the next week.
Meanwhile, the OLED M3 isn't expected until later in the year, while some of those QNED options will land in July.
TrendForce 2022 Mini LED New Backlight Display Trend Analysis
Publication Dates: April 30 and October 31, 2022
Language: Traditional Chinese/English
Format: PDF
Number of Pages: The two publications will total 120–130 pages
If you would like to know more details , please contact:
Source link