In the auditorium of a Vietnamese community center in Dorchester, music swells from the instruments of more than 50 community members that make up Me2/'s Boston ensemble. A sign on the door informs all participants they are entering a "stigma-free zone," part of Me2/'s mission to support those struggling with mental illness. 
Husband and wife duo Caroline Whiddon and Ronald Braunstein founded the organization in 2011, and now serve as Me2/'s executive director and conductor, respectively. 
Whiddon said the idea for a stigma-free orchestra was born from discrimination Braunstein experienced working in the music industry. The pair was working for an orchestra in Vermont when Braunstein was diagnosed with bipolar disorder. 
"After he disclosed his diagnosis to the staff and asked for time to get treatment, they still fired him," Whiddon said. "He was working on getting stable when he came to me and said 'I'm not going back into that rat race.' He wanted to create a safe space for himself and others to create music."
The first orchestra began in Burlington, Vermont with just 10 members. From the beginning, Whiddon and Braunstein designed the organization with mental health awareness in mind. 
"We made two important decisions early on," Whiddon said. "We wanted to include people both with and without mental health diagnoses. We thought that if we want to reduce the stigma around mental health we have to show that people with and without diagnoses can work side by side. We also decided to have no auditions and no fees. We wanted to remove any barriers to entry." 
As the Burlington orchestra grew and garnered national attention, the couple decided to create another ensemble in nearby Boston. Now, the group has around 50 members, and Whiddon estimates that around half of them have been diagnosed with a mental health disorder. 
Dan Kirsher, a violinist, decided to join Me2/ when he heard that no auditions were required. When he later found out about the program's mission to support mental health, he was excited to take part. 
"When I heard about 40 to 50% of people here have been diagnosed with a mental illness, what I like to say is that the rest of us just haven't been diagnosed yet," Kirsher said.
The ensemble is a diverse group, with members of all ages and backgrounds.
"For a while we had a violin stand where a young graduate student was sitting next to a man in his 80s, and there is something that is so beautiful about that," Whiddon said. "A lot of times we see mentorship relationships come out of [the program]. People are sitting next to each other at rehearsals and they start to get to know each other through the music."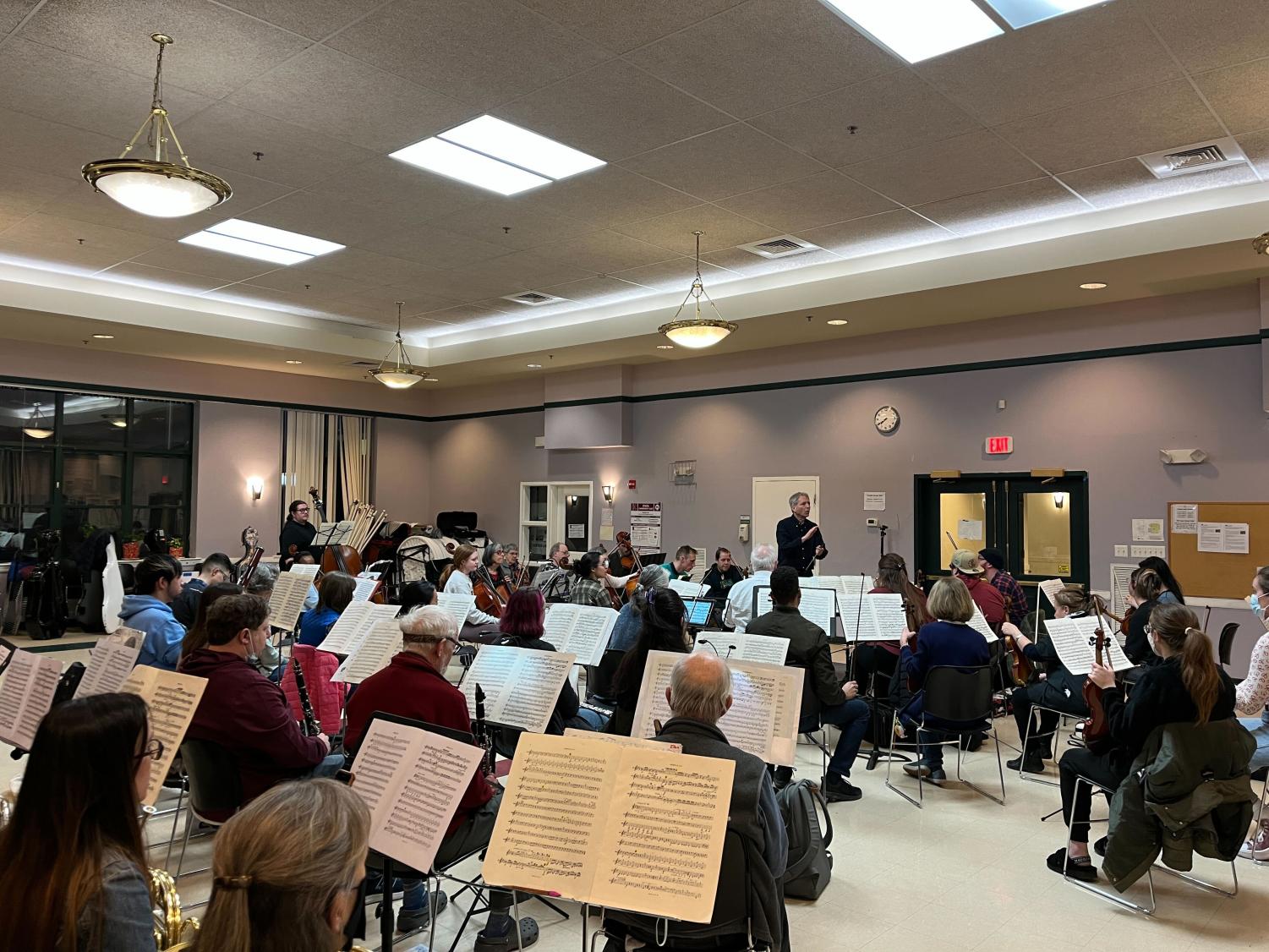 However, Whiddon said the program wouldn't appear extraordinary at first glance.
"It doesn't look any different because it is a mental health orchestra," she said. "It looks like any other community orchestra."
Me2/ focuses on classical music, taking traditional pieces and playing them in a safe environment. 
"There's something that I love about playing classical music for mental health," Whiddon said. "There can be this stereotype of classical being stuffy and uptight and then we combine that with mental health, which is something that people often don't want to talk about."
Josh Santana, a violinist, attended music school and now appreciates the supportive environment that Me2/ provides. 
"The normal classical music environment is much more regimented and there's more pressure," Santana said. "We have a stigma-free zone here and it really makes a huge difference in terms of the cultural norms … People aren't afraid to make mistakes."
This setting allows Me2/'s members to foster friendships that go beyond traditional working relationships. Bassoonist Chris Lee said Me2/ stands out in his musical experience. 
"Everyone's more friendly and open to talking here," Lee said. "It's a more intimate environment than a lot of the other orchestras I've been a part of."
Each weekly Me2/ rehearsal begins with a breathing exercise, helping members block out external stressors and focus on the music. The group works through a piece with Braunstein conducting from the podium, stopping to offer constructive feedback along the way. However, this supportive environment does not stop the group from turning out high quality music.
"What I like most [about Me2/] is that we play standard pieces with a very high level of instruction, both at the ensemble and section level," Santana said.
This high standard is mostly thanks to Braunstein himself. Me2/ members who spoke to The News were quick to praise the program's conductor for his work and compassion.
"I like to say that Ronald Braunstein is the one director who has never thrown his baton at me," Kirsher said.
The ensemble is currently working on Beethoven's Symphony No.5 for an upcoming performance. Whiddon explained that the group performs around three times per year, and that they try to hold at least one performance in a non-traditional space such as a hospital or correctional facility. 
"We play this music at facilities like prisons and hospitals where people may not have heard live classical music before," Whiddon said. "I had a guy come up to me once and say 'I always thought this kind of music was only for rich people, but now you're playing for me and I feel like a million bucks.'"
While studying at music school, Braunstein and Whiddon trained to perform without much attachment to their audience, separated from listeners by the stage. Me2/ takes a different approach with their performances.
"We'll do Q&As at concerts and we like to have the lights turned up so we can look back at our audience," Whiddon said. "We want to bring that connection into classical music." 
Me2/ continues to add members and expand its programming. It has symphony orchestras in Vermont, Massachusetts and New Hampshire, in addition to a flute choir and a new choral program. No matter how much momentum they gain, however, Whiddon and Braunstein remain committed to their original mission.
"We want rehearsal to be a place where someone with bipolar disorder can come and play Beethoven and forget about their diagnosis in a safe and healthy way," Whiddon said. "I stand in the back of the room during rehearsal and I watch these people, I know a lot of their stories. I know that when they walk out the door they are going to return to the challenges of their lives, but for the time during rehearsal they are feeling calm and at peace with the music."
Source link