The SSO performs Vibrant Light on April 15 at TCU Place.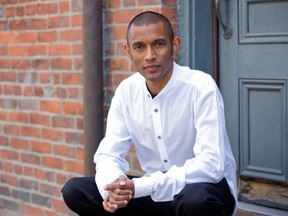 Reviews and recommendations are unbiased and products are independently selected. Postmedia may earn an affiliate commission from purchases made through links on this page.
Article content
In its latest offering, Vibrant Light, the Saskatoon Symphony Orchestra sets out to prove that music is a universal language capable of bringing cultures together.
Article content
This weekend, the SSO invites audiences to experience the fusion of North American and North Indian classical music with Canadian-based composer Dinuk Wijeratne's Concerto for Tabla & Orchestra (or Tabla Concerto).
Article content
In the role of guest conductor, Wijeratne is excited to direct the orchestra through his popular work, which he says reflects his own dual life — growing up in Sri Lanka and Dubai and training in England and North America.
"In the sense that it tries to combine East and West, it's quite an autobiographical piece," he said.
This is Wijeratne's first time conducting both the SSO and Canadian tabla player Shawn Mativetsky, with whom he has worked before.
"I think the collegiality of music is very special. You just keep meeting different families of people and different collaborators and you get to share these experiences with them," Wijeratne said.
Article content
Mativetsky said he's excited to work directly with Wijeratne on his Tabla Concerto.
"Because who knows the piece better than the composer, right? So to work with him on this is kind of the best case scenario, really," he said.
"He'll be able to share and to lead the piece in the way that he designed it, that he conceived it."
Trained in both western and North Indian classical music, Mativetsky said bringing the two musical cultures together is important to him. He hopes it will create more western awareness of the tabla, a pair of North Indian pitched drums that are played with the fingers.
"If people go home and they've heard something new or they've developed a new appreciation … that would be great," he said.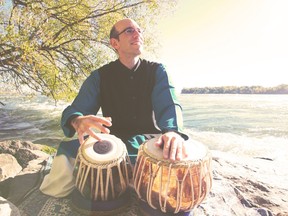 The concerto includes moments when Mativetsky speaks to the audience, in what he calls rhythmic recitation.
Article content
"I speak the compositions and then play them. So, the audience will hear the poetry of the composition, then followed by how it actually sounds on the drums," he said.
With the concerto, Wijeratne said he set out to showcase the tabla and the orchestra in the context of one another.
"What they share in common is a lot of colour that's very captivating," he said.
"I hope people will be captivated by colour in the concerto just in the same way as they usually are with Scheherazade … where the orchestra really sort of bursts with colour."
Performed in the same concert, the tabla concerto and Nicolai Rimsky-Korsakov's Scheherazade Op. 35 showcase a contrast between the old ideas of the Eastern world and modern awareness.
Article content
"Scheherazade is a depiction of the East as some kind of fantastical place … In a more connected world, there's more of an authenticity in the Tabla Concerto," Wijeratne said.
"I think it's good to see the juxtapositions of these things and understand certain kinds of cultural contradictions … I think it invites you to ask and answer a few questions for yourself."
Whether the audience has heard the tabla before or is experiencing it for the first time, Wijeratne hopes to show them something new.
"If people know the instrument a little bit, they will hear, I hope, a whole range of what it can do. I hope they'll hear it in the beautiful context that is a Western classical orchestra. And if people don't know the instrument, I do hope that something magical happens, that they'll get a good introduction to it and really hear a wide range of colours and things," he said.
Article content
The SSO performs Saturday at TCU Place at 7:30 p.m. The concert will also be available on livestream. Tickets are available at saskatoonsymphony.org.
jbennett@postmedia.com
Five Saskatoon gallery exhibitions to see this April

Persephone Theatre encourages looking beyond taboos with latest comedy
The news seems to be flying at us faster all the time. From COVID-19 updates to politics and crime and everything in between, it can be hard to keep up. With that in mind, the Saskatoon StarPhoenix has created an Afternoon Headlines newsletter that can be delivered daily to your inbox to help make sure you are up to date with the most vital news of the day. Click here to subscribe.
Source link