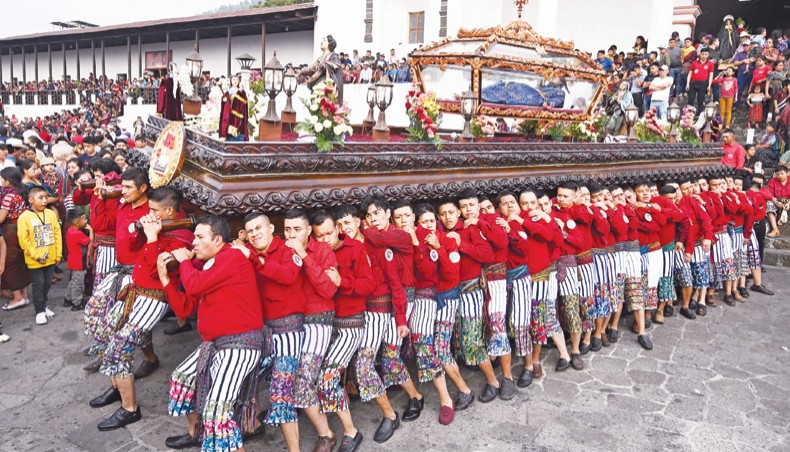 Thousands of Guatemalan worshippers wearing black hoods and purple tunics funnel slowly through the streets of Antigua carrying images of Jesus over a multi-coloured carpet of flowers and scented sawdust as sombre music rings out.
Guatemala's Holy Week celebrations, which mix Mayan rituals with Catholic religious fervour, were given UNESCO heritage status in November, bringing special meaning to this year's Good Friday processions being carried out across the country.
Despite its name, Guatemala's Holy Week festival actually stretches over six weeks, reaching a fever pitch at Easter as the Central American country is transformed by extravagant processions, vigils, and the laying of brightly colored carpets throughout the streets.
'For us it is cause for great joy and is a very special day to participate in this offering, especially now,' lawyer Roberto Matheu told AFP, referring to the new UNESCO recognition.
The 45-year-old spoke as he finished creating a carpet of flowers with his family, an activity he has done since childhood.
Guatemalans 'experience Holy Week differently to the rest of the world,' said Culture Minister Felipe Aguilar.
Guatemala's customs, music, food and art are the result of a 'cultural fusion' between the Catholicism of Spanish conquistadores and the ancestral beliefs of the Indigenous Mayan population, he said.
Thousands of faithful and tourists have flooded the streets of Antigua, the colonial capital, since Thursday to take part in the processions.
This tourist town, some 40 kilometers southwest of the capital Guatemala City, is known for its Jesus of Humility procession marking the final part of his life, with some faithful dressed as Roman soldiers.
'The Jesus of Humility has always blessed us… we don't want to lose this tradition that identifies us as Guatemalans,' Jose Perez, 44, a restaurant cook, told AFP.
Close to churches, street vendors sell food, soft drinks and other products.
Spanish colonizers brought Holy Week celebrations to Guatemala in the 16th century but the local Mayan population soon syncretized it with their own traditions and worldview.
Guatemalans prepare typical colonial dishes, such as dried fish, pickled vegetables and sweet preserves.
'I feel very satisfied… and I will remain here to be with this devotion,' farmer Jorge Pines, 65, told AFP, adding that he had taken part in such processions for the last 40 years.
In Mayan neighborhoods, locals wearing traditional outfits take turns carrying images of their saints through the streets.
'People are happy because it has been three years' since the last such procession due to the pandemic, said Susana Leimi, 45, a trader in the village of Santiago Atitlan, around 100 kilometers (60 miles) west of the capital.
In the northwestern San Andres Sajcabaja municipality, home to indigenous people from the Mayan K'che' ethnicity, around 15 devotees crawl on hands and knees some five kilometers through the streets to mark the Passion of Jesus, the short painful period before his death.
The 'crawlers,' dressed only in loincloths with their faces covered, wear thorns on their heads or backs to atone for their sins or give thanks to God.
Other devotees place rugs in their path to protect their knees.